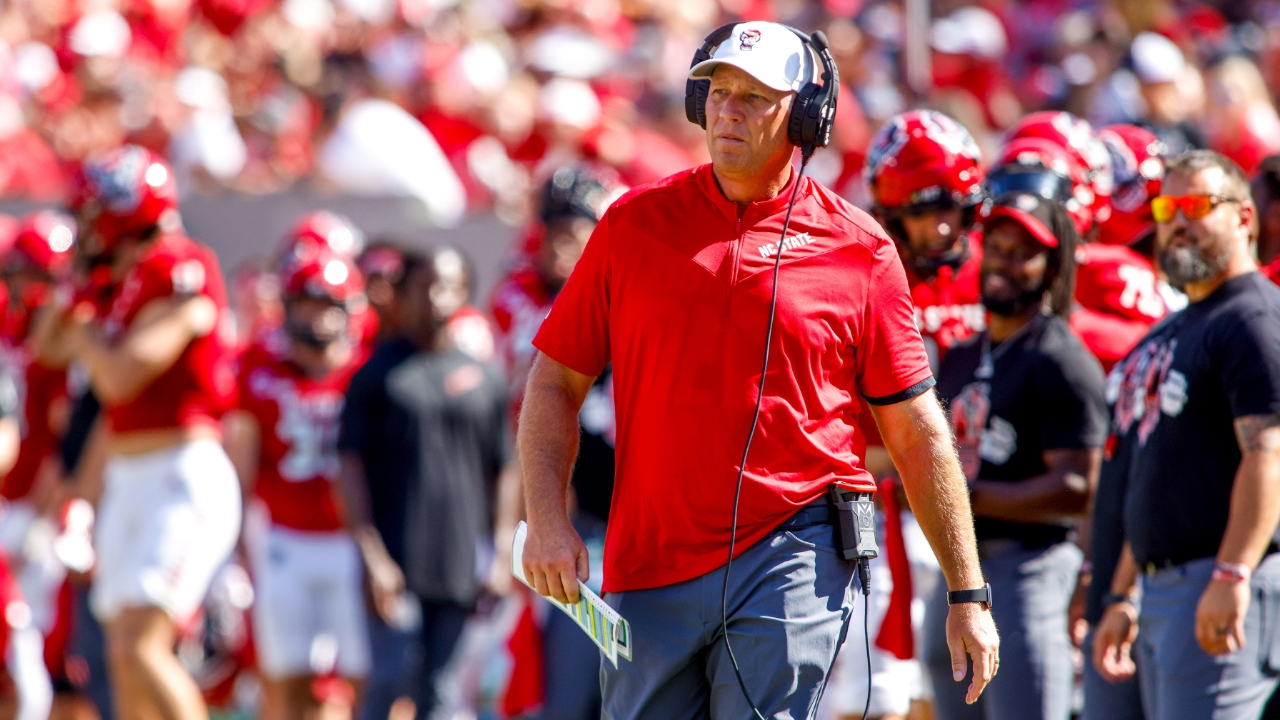 Photo by Steve Murphy/Inside Pack Sports
NC State Football
VIDEO + QUOTES: Dave Doeren's Weekly Quotebook
---
NC State head coach Dave Doeren met with the media via Zoom Monday evening to discuss the Wolfpack's 45-7 win over VMI as well as its upcoming ACC opener at Virginia.
NOTE: Click on the video in the player above to watch Doeren's press conference.
---
Opening Statement
Starting with our recap from VMI, it was a great day in a lot of ways for the team. There was beautiful weather. It was a packed house. It was a game where we scored touchdowns in all three phases, and we were able to play a lot of guys on the roster. We improved in a lot of areas that we were really focused on in that football game. It was well documented how uncomplementary we played in the Notre Dame game, and in this game, I don't think we could have played more complementary football. You just go through the series, starting the game with a touchback by Collin Smith. Our defense goes three-and-out. Jalen Coit returns the punt for 26 yards. Our offense goes on a 12-play drive and scores a touchdown. Smith kicked another touchback. Next defensive series: pick-six. The guys just really set each other up and played off of each other, and it was fun to watch.
Positives on offense: We had four drives over 12 plays. We had a 17-play drive, and it's hard to sustain drives like that. We played a team that really played a "bend but don't break" style of defense which wasn't what they showed prior to our game. It forced us to play pitch-and-catch in front of them to run the football, and you have to be able to obviously catch balls, run after the catch, and block things to get your running backs efficient runs which we were able to do. You can't have pre-snap penalties, holding penalties, or things that move you back. I thought our guys did a great job of that. We were very physical in the game. We finished blocks, runs, and catches which were our goals in that game. We had 24 pancakes, and out of all the balls thrown in the game, there were two drops, both catchable balls. I thought Brennan [Armstrong] really operated well. He managed the attack that he had to manage. Going into the game against their prior two opponents, they were putting a lot of guys in the box, putting a lot of guys on the line of scrimmage, and playing a lot of Cover Zero. Versus us, it was drop-eight Cover Two and drop-eight Cover Three. He adjusted well. He used his legs when he had to, but he just delivered the ball to a lot of different people. I thought our running backs rotated in and out well. It was good to see Michael Allen and Kendrick Raphael get going in a regular part of the game in the run game. Obviously, Delbert [Mimms] continues to be a force in short yardage and goal line for us. Probably one of the biggest things that people didn't notice, but I noticed: Lyndon Cooper came in and played center after the first series for the entire game until the end. I thought he did a tremendous job. He was our player of the game on offense. He graded out at 99 percent in his first real game playing that much at that position. Jacarrius Peak really helped our run game as well. He's a guy that we look at as one of our future starters. He's moved and played some tight end. He's also playing some tackle. He's playing at a high level. He's very physical on the edge.
Negatives on offense: we gave up a sack, one that we shouldn't have given up. We did have the two drops.
On defense, Robert Kennedy scored a touchdown. That was a great play. He also had a nice sack on a blitz later in the game. I thought we played really well on third down. Throughout the game, our D-line continued to improve. I thought there were a lot of guys involved in that one on the defensive front. We got a lot of knock-back and did a good job setting edges and containing things. The linebackers, a bunch of guys got in and played, and all of them played well.
The negatives: we had four penalties on defense. One was an offsides by Travali [Price] that ended up negating an interception by Bishop Fitzgerald, so that was disappointing. We had two DPIs; those will be good, teachable moments for Brandon Cisse. Then, on the explosive pass that we gave up, we had poor eyes on a deep ball. It's something that we've got to work really hard on, and Terrente [Hinton] will improve from that play. We had one run that we misfit, and it ended being an explosive run. There are some things that we definitely can continue to get better at and work on defensively.
On special teams, obviously the return game has been very good for us. Julian [Gray] had two great returns. Jalen Coit continues to average 10 yards per return. We had a great pinned punt by Caden [Noonkester], and Bradley Rozner did a tremendous job downing it inside the 10. Brayden [Narveson] made his only field goal attempt, and it was great to get Kanoah [Vinesett] in at the end to make his first extra point. We had two special teams penalties, both technique-oriented that we have to work on.
Now, we move onto conference play and our first road conference game on a short week against Virginia on Friday night. [It's a chance] for us to continue to improve and focus on the details of our play; I think that's really the biggest thing. There's a lot of ways you win and lose football games. I think execution is all about details and the fundamentals that come with being a better player each week, and that's really a good recipe for our football team.
Watching UVa, Coach [Tony] Elliott's done a good job there. You can see they're playing spirited football. They're playing hard. They have really good skill in that running back room and at receiver. [Malachi Fields] and [Malik Washington] are making plays for them. Their defense, up front is their strength on defense. Those guys have played a lot for him. Their two defensive tackles are good football players. I really like watching [Jahmeer Carter] play. If you watch last year and this year, those fronts are almost identical with the exception of [Nick Jackson] being gone. Those guys have played a lot of football, and they played well in some games.
Defensively last year, I know they played against Coach [Robert] Anae last year when he was at Syracuse. All games in this league, regardless of where people are in the standings, are games you got to really play well in. These are important games to these kids. They're players that know each other through recruiting. Every team is well-coached. Every team has talented guys, and these games mean a lot.
Regardless — you saw it last week with Florida State and Boston College — it doesn't matter. You've got to show up, and you got to play extremely, extremely, extremely hard and extremely well. You know that every game is up for grabs in this league. That's the one thing I know, being in this conference now for my 11th year: every single game is a one-possession game in this league. There's a lot of them. I'm excited you know to get into this week and go against the staff. I haven't had a chance to coach against Coach Elliott as a head coach, and I have great respect for him. I know our players look forward to playing against them. It'll be a great contest, and it'll be a great opportunity to play on national television as well.
On coaching against Des Kitchings after he spent eight years on the Wolfpack's staff…
You know, you coach against a lot of guys in this profession: some guys that you're friends with, some guys that you've worked with, guys you meet on the road. When you start these games, it doesn't matter. You don't even know they're over there. You're worried about your own football team, and that's just how it is, so it's really nothing different. In every game you go, if you really watch the coaches in pregame, a lot of them are close friends. You see him out there catching up and things like that. It's just another game.
On Dylan McMahon and Aydan White…
We expect to have Aydan White, and Dylan's day-to-day. There's nothing on the tests after the game that are worrisome. There are no surgeries or anything like that. Dylan has had things in the past. He's a very quick healer and a very tough guy, so he's going to do everything he can to play in this game, but we're two days from that game. We'll have to see where he's at tomorrow, but I know he'll do everything he can to be out there.
If Cooper's performance versus VMI gives him confidence in the position regardless of McMahon's status…
Yeah, we're excited about Cooper. I was [excited] last year when he started getting reps behind [Grant Gibson], so we've known for a while, and we've kind of set ourselves up progression-wise with the guys we have. I think putting Cooper at guard allowed him to get playing and not have to worry about the snaps and all that. He's improved a lot, so we feel great with him in there. He understands the system and what to do with it. There's great confidence if he's the guy we have to roll with.
On narrowing down a playmaker at wide receiver with the reps played versus the Keydets…
Yeah, it's growing. Like I told you guys last week, I think the offense is going to continue to evolve with Coach Anae, maybe through the first half of the season as guys continue to make plays. Sometimes, guys will make some errors; do they recover from them? In this past game, I think K.C. [Concepcion] and Porter [Rooks] both played well; in the game before, they both had drops that hurt us, and we saw them gain confidence and get back into the flow of things that way. I think Bradley Rozner has become a consistent playmaker. Keyon [Lesane] has been consistent. Julian Gray is playing really good for us right now. It's starting to come together, but it's not there yet. We're still bringing some guys along. I think Terrell Timmons and Anthony Smith are two guys in our system that could emerge over time, too. It's a long year, man. A lot of things can happen, and where we're at in Week Two or Week Three is not where we're going to be in Week 10.
On Sean Brown as a starter last week…
He's getting better. I thought he was more active. He was more productive. His eyes were better. He played faster. Being a starter for the first time in the last week [helped him], and now it's something he's more comfortable with, being in that role. He improved from the last one to this one. Obviously, competition wasn't the same — I get that — but it's just the little things about his play. The volume, the level of communication, the eye discipline, those were all better.
On what he saw from Raphael that earned him carries last week...
Well, he's a natural guy when it comes to seeing things on the field. He's got really good balance and vision. I talked about him a lot during training camp; he's impressing us as a runner. As you know, that's not the only thing running backs have to do. You have to understand the protections to take care of the quarterback, and as a freshman, that takes a little time, so the one part of his game is, as you've seen, he's pretty good at running the football. He can see things. He's got balance, he's strong, and it's just continuing to get him game-ready in all the other areas: improving his ball skills and improving his protections. We also want to keep these guys fresh, so it's good to have that rotation back there between Jordan [Houston], Michael, and him, and then using Delbert and DeMarcus [Jones] in the way that we are. I think it's nice to have that to sustain what we want to do in the run game over a 12-week season.
On helping Armstrong stay focused leading up to and during his return to Virginia…
Well, you focus on the process. I've gotten to know him now; regardless of who he is playing, that kid is über competitive. He's going to be that way no matter what. I think it's just getting him to understand the process which he does already. We've talked a lot about the process of what makes him a good player: "What do you need to do to see the coverages the right way and understand the timing of the plays? Your progression in the meeting room with the coaches, how you're talking to the players, the way you practice." It's just a game once that whistle blows. Now, when he gets in that stadium for the first time, I'm sure he's going to have some feelings. He loved that place. He has great friends and memories there, but he's playing for our team, and he knows that. He's going in there to win a football game and to make it about us and how he has to play, and that's kind of where it is. You can get into these types of games, and you guys are asking all the questions about the things that don't matter. You know, it doesn't matter that he used to go to school there. It doesn't matter that we have coaches that used to coach there or that they have coaches that used to coach here. What matters is: "Can we execute? Can we win the ball security battle? Can we strain harder than them? Can we finish plays better than them?" That's what matters. We want to go win a football game, so we're going to focus on the things that matter.
On the difference a freshman quarterback such as Virginia's Anthony Colandrea can bring to a rebuilding team…
The kid's got a lot of guts. You see him go in there, and there's no flinch. He plays hard and is definitely energetic. You can see his enthusiasm with his teammates. Then [Tony Muskett], when he was in the game against Tennessee, even prior to the injury, he's got a quick release. He threw some really nice dig routes in that game into tight windows. You can see he's got a talented arm. He didn't run a whole lot in that game, so you didn't really see that part of it, but they've got two good quarterbacks. Obviously, it's [Elliott's] team. He's going to do what he knows is best for those guys, but you can see why they're excited about not just the older guy that's there, but the younger guy. I think they're both guys that can help their offense and have proven that, when they go into the game, they have the talent.
Never miss the latest news from Inside Pack Sports!
Join our free email list