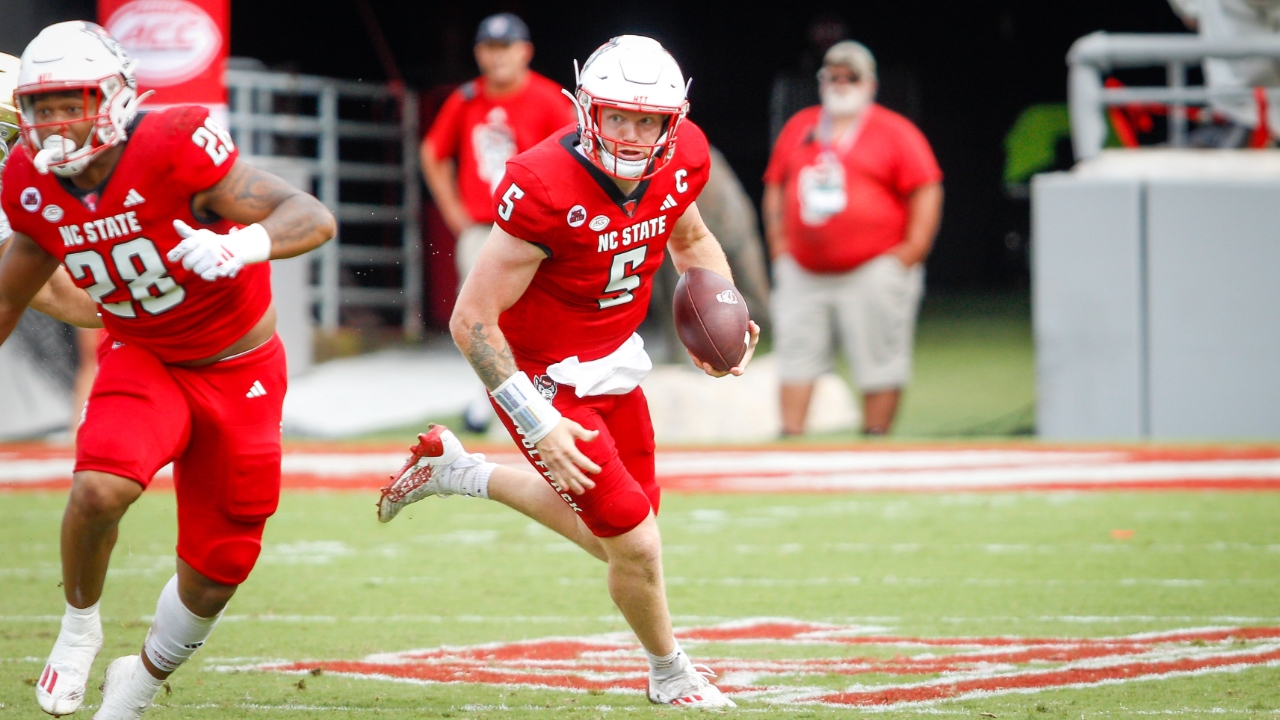 Robert Kennedy
Julian Gray
Brennan Armstrong
NC State Football
LOCKER ROOM REPORT: Armstrong, Gray, and Kennedy Meet The Media
---
NC State's Brennan Armstrong, Julian Gray, and Robert Kennedy met with the media after the Wolfpack's 45-7 win over VMI.
NOTE: Click on each video above to watch a specific interview.
---
NC State Quarterback Brennan Armstrong
"It feels good, right? You know, you try to look to bounce back. And, you know, this game was kind of our bounce back game after,coming off a hard loss against Notre Dame and not playing really well, especially offensively speaking offensively. So yeah, this is a great game for us, just get back on track play ficient we prepared for them to be in a certain thing, and they changed on us. And we I thought we played really efficient now. They're dropping a lot of guys in coverage. So we were able to run the ball and get the ball in my hands quickly and just stay efficient, stay in front of chains. And I thought that we did a good job this week with doing that."
"You want to be explosive. And I kind of have that mindset. And I got to be careful with that sometimes, too. Right. It can get me in trouble with trying to be so you know, explosive and big play oriented. But I think that's what the offense needs. Right? We need to be a little bit more explosive. So I was super happy to see that from Julian, you know, fit it in a tight window there. And you know, he made a play a great catch and run. Yeah, I was super happy to see that kind of felt good. You know, what was that being the second series, I think, our second second drive for the offense there. So yeah, it was a good, it was a good thing to see. And I think it just kind of carried us a little bit and gave us a lot of momentum."
"Yeah, I thought, like I said, I thought this week that we prepared for him to be in some zero stuff. And there was a lot of communication that we had to deal with throughout practice this week. And it came a few times during the game and I thought our communication was really, really good. With the receivers to me. I had to check certain things into out there that we needed to make sure we were on the same page. And overall, we were so I thought that side of it was chemistry building was great."

"I think overall, I think there was good I think guys were in spots that I thought they're going to be there was one to a day with Keon that I thought one thing he thought another but that's going to happen so I think overall, though, we were on the right track I said it's a work in progress. Still never be perfect."
"You want to be able to sustain drives to help defense has been really efficient. But like I said, these guys were the defensive dropping eight. So we had to stay efficient, we had to run the ball, they're keeping us in that type of game to try to just make us march to feel because we were able to hit big plays a score could have got out of hand a lot faster. And we put up a good we put up like 21 in the first which still a lot of points in the first quarter. That's to be expected. But the same time they were playing a lot of drop, drop eight coverage drop seven, they were just dropping a lot of guys trying to keep everything in front. So it made us play, you know, 10,12, 13, 14, 15 play drives made us be in those type of things.
"So I think our guys handled it. Well. I think we were able to capitalize and, you know, be really efficient through first, second, third down."
"It's gonna be awesome. I'm gonna treat this week, just like every other week, prepare, get ready for him. And then, you know, just take it all in when I get there, right? Whatever happens happens. I'm just here to play a ball game and just enjoy the moment. And that's kind of what I would keep my mindset as it's just enjoy this moment. And it's another game and it's another important game for the SEC. So that's just kind of where I'm at and enjoy this one and then get get to work on Virginia's defense tomorrow."
"We didn't play complimentary football last week. And I thought that this week, you know, we were able to get all three phases into the game and you know, put points up and that's kind of what you want. As an offense as a team in general, like Coach talks about playing complimentary football and that's we showed it today and we didn't show it against Notre Dame, right. So it was a good bounce back from us and put all three phases together and Uh, you know, getting points on the board. So that was super exciting to see. And like you said, it helps us out, you know, you're putting points up and we don't have to be on the field. It's a huge, huge, you know, relief off your shoulders as an offense when the defense and special teams put points up."
"We'll start to get into some tendencies. I haven't looked at what other people are doing. Right. So we'll start to figure out what they do. And, you know, prepare, like, like I said, this week, we're prepared for one thing, and you know, we're able to adapt and, you know, play off the next one wherever they show us that week. So, yeah, I'm just taking a game by game we'll figure out what this next defense likes to do and be able to adapt. And that's kind of what good offense is able to do is when you're out there and you prepare one thing and you're able to adapt to another if they give you something else. So yeah. Same preparation new week.
Nickel Robert Kennedy
"It was really amazing because that was my first pick six in division one college ball. So I mean, it just feels... it feels real good, and we won. So it always feels even better."
"I kind of anticipated the slant, and whenever he dropped it on me, I was just once I got a ball on my hands, it's just trying to score it's not really anything else."
"It all starts with practice. I mean, even if it's on a Thursday or something, people still have to be locked in, and that's something that we really got to work on. Because the past years, like even before I was here, that's something that never happened, and that's something that we really had to work on a really hard one, because explosive plays, that's really killing us in our defense."
"Watching a whole lot of film and knowing offensive tendencies and stuff, it gives you just a little edge on where you're supposed to be in the angles you could take. So really just just watching a lot of football and really studying the team's tendencies. Like, that really gives you a little a little bit of edge."
"Yes, I fully believe in our offense and everybody over there, going against them in spring, and in the fall, it was always a battle. I truly believe in our offense, and I know what they can be. That's why we all believe in that locker room, we all believe, by everybody in the offense, because we've all seen it. We know what they can do. They just have to show it and be and be consistent."
"I'm probably one of the more confident dudes on the team... it obviously builds confidence."
Wide Receiver Julian Gray
"It felt really good. It felt really good finally to see, you know, have the opportunity to score in the quarter. So, you know, it felt really good. And, you know, I just thank God every day just for the opportunity just to play football, you know, so it was obviously fun. And not only that, getting to celebrate with my teammates, it was a really fun experience."
"We're about to enter conference play. So you know, I feel like we had a lot of things, we can still work on a lot of things you can still get better with. So that's really our plan coming into this week just to get better. You know, it's always things you can get better with. So that's really the plan."
"Oh, it takes off a lot of pressure from the offense, it's a whole lot of pressure that comes off an offense. It's just a part of the whole complimentary football thing. Special teams obviously doing a job, whether that's me or a punt returner, whatever it may be. So it takes pressure off the offense. And it just not only that builds momentum and just allows the team to succeed."
"I kind of that's kind of my feeling with every return, I kind of hoped to take every return to the house. So with this one, I don't really think it was anything too much different. I really just after I kind of got second level I I kind of turned on the jets."
"Absolutely. I feel like a lot of teams do that because we have a lot of speed."
"That's really our main focus right now is how we just got to get our receivers the ball. So that's really the main focus."
"Oh, absolutely. I feel like this game will show just a part of what like we can do. I feel like in conference play, we're really going to put a lot of teams on notice."
Never miss the latest news from Inside Pack Sports!
Join our free email list