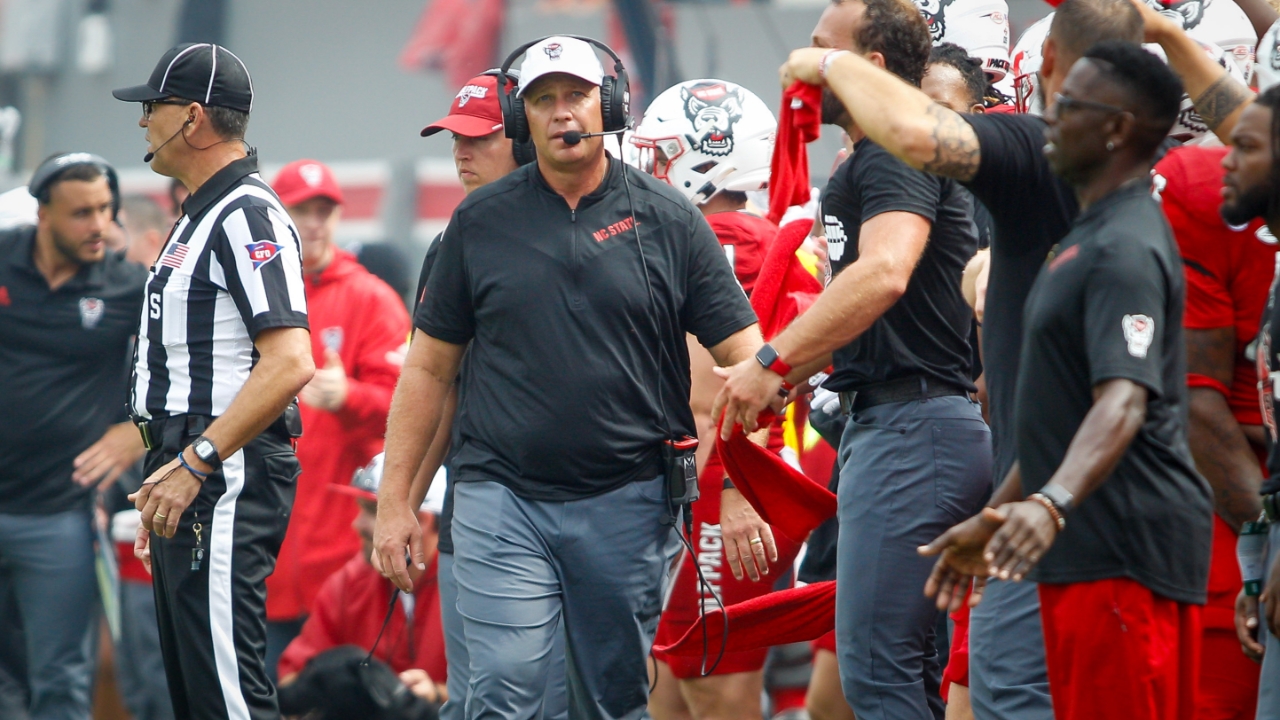 Photo by Steve Murphy/Inside Pack Sports
NC State Football
NC State Head Coach Dave Doeren: "It Was Great To See"
---
NC State head coach Dave Doeren met with the media after the Wolfpack's 45-7 win over VMI.
NOTE: Click the video above to watch the press conference.
---
Opening Statement...
Yeah, it was great to get a win, and play so many guys. The things we really wanted to focus on felt like we improved in those areas.
No turnovers on offense, scored in all three phases. With the kickoff return, it was great to see Julian, and the unit really that blocked for him get that done.
We scored on defense. So you know, to get a touchdown in all three phases is really awesome for the guys.
We got to play a lot of people, and so that was good. It's good to see our run game get going there and just a tremendous run by Kendrick Raphael at the end of the game. It was exciting to see that.
I thought we threw and caught the ball very well, you know, we had one drop the whole game and Brendan was in a good rhythm. I thought he did a good job adjusting. VMI came out and played a lot of cover two, soft coverage and on tape hadn't done that this year. Good job by him just adjusting in the game.
Proud of Lyndon Cooper, he came in and played center for us today when Dylan got nicked up and did a really nice job. So that was good for him and for our confidence in him as a center, he's been playing guard for us. So to get him those reps is really valuable to good football game.
Great crowd today. It's fun to have just a beautiful, fall day great weather and appreciate the fanfare. It was really good to have the fans in there like that.
Thoughts on complimentary football...
Yeah, it was great to see. And you know, like I said, those were the things we pressed on them all week, I think we learned a tough lesson and the Notre Dame game, obviously, and you love about these guys, and they've been like that here for the last three years.
They're very coachable. You know, when they make mistakes, they listen, they take them to heart, they work really hard and improving. And they did that today.
We did play complimentary football, we got better in areas that we needed to get better quickly. Obviously, we have a short turnaround here getting ready for conference play on a Friday. So you know, it's gonna be the same approach just you know, excited about the improvement I saw on the field, you have to play complimentary football, and we have to build off of each other's momentum and seize moments of opportunity in this sport.
When you get field position, it's critical, especially now with fewer possessions and short fields, you've got to be able to take advantage of them. And defensively we have a long field, keeping it that way. So I think our guys really did a good job of that today and really proud of our kickoff return and punt return units. I think both of those units all year have been very valuable to us.
And just take it one more step you know to see a touchdown was huge.
Through three games, both Jalen and Julian have been super productive when you're consistently winning the field position battle thanks to their production, just how does that transform games like this and Notre Dame and UConn?
Yeah, well, statistics that are out there, the shorter the field, the more you score, and so your field position through your special teams is very, very important. Our return game has been a strength through three games and you're seeing more and more confidence from Jalen Coit. In the first game he was just happy to catch the ball his first time doing that and then he really performed well and tough conditions with Notre Dame and the rain.
You'll see even more that I think would be Julian Gray. He's dynamic with the football and his confidence is growing.
Thoughts on Robert Kennedy's play...
Yeah, Robert has been a really good addition to our defense.
He's very consistent. He understands the defense, he's learned really quickly. He's tough. He's a kid that can do a lot. You know, play man to man, can play deep half, can blit, can fit in the box in the run game. He's got a high football IQ. He has good ball skills, as you saw today.
So we're very thankful that we have him here and excited, you know that he had that touchdown today. It was an awesome moment for him.
Thoughts on working the ball up the field against drop coverage...
Well, we had to today, that was their MO.
As you saw with Brennan, he was very accurate. He was patient, the o-line did a nice job giving him time. Just trying to read a stat line, but 27-32.
So you know, not a lot to take advantage of down the field just because of the high safety defense they were playing. But guys found voids in the zones, and he was able to deliver the ball and then caught it well and ran after the catch.
So you know, they're going to make us play like that, and we're going to have to be able to move the ball in that fashion and run the football efficiently.
So we'll see if we get more of that or not. You know, each team you play has a different approach. Notre Dame was not that approach. They were blitzing every snap.
Each week in conference... we are having different challenges. We face different coverages, blitz packages, and philosophies as coordinators change.
Brennan did a good job today. Coming into our game, they were a team that had done a lot of blitzing with a lot of guys on the line of scrimmage. We had to prepare a lot for that and this is something that they did back when the D coordinator that they have was at Delaware.
We watched that film, we knew that that was something they might do that they hadn't done it on tape this year. And so I thought Brennan did a really nice job of understanding what they were doing, and where the soft spots were. And the receivers worked for him and the zones.
Thoughts on freshmen having great days and bouncing back...
It's one of the beauties of youth, you know, these kids are very quick to respond and bounce back more so than the adults. As coaches we dwell on these things a lot longer I think sometimes then the young guys and they're just excited to get back in and prove that they're better than the play that somebody's remembering, and they're talented.
So I think as your confidence grows as a young player, your playmaking ability that we've seen in practice, because that's where obviously they've earned these reps, starts to come out on game day.
Every play that a guy makes builds confidence, and like the run that Kendrick jumped over guys are tremendous play, like that's going to build confidence for him. The play that KC had there at the end on the deep over and run after that catch, that's going to build confidence. So those are good plays.
Porter Rooks had two great contact catches today that's going to build confidence for him.
That's what the game is about. It's execution and X's and O's, this and the other, but it is a confidence game, and as a player, you have to believe in yourself and I think those plays that those kids made today will help them with that.
Never miss the latest news from Inside Pack Sports!
Join our free email list