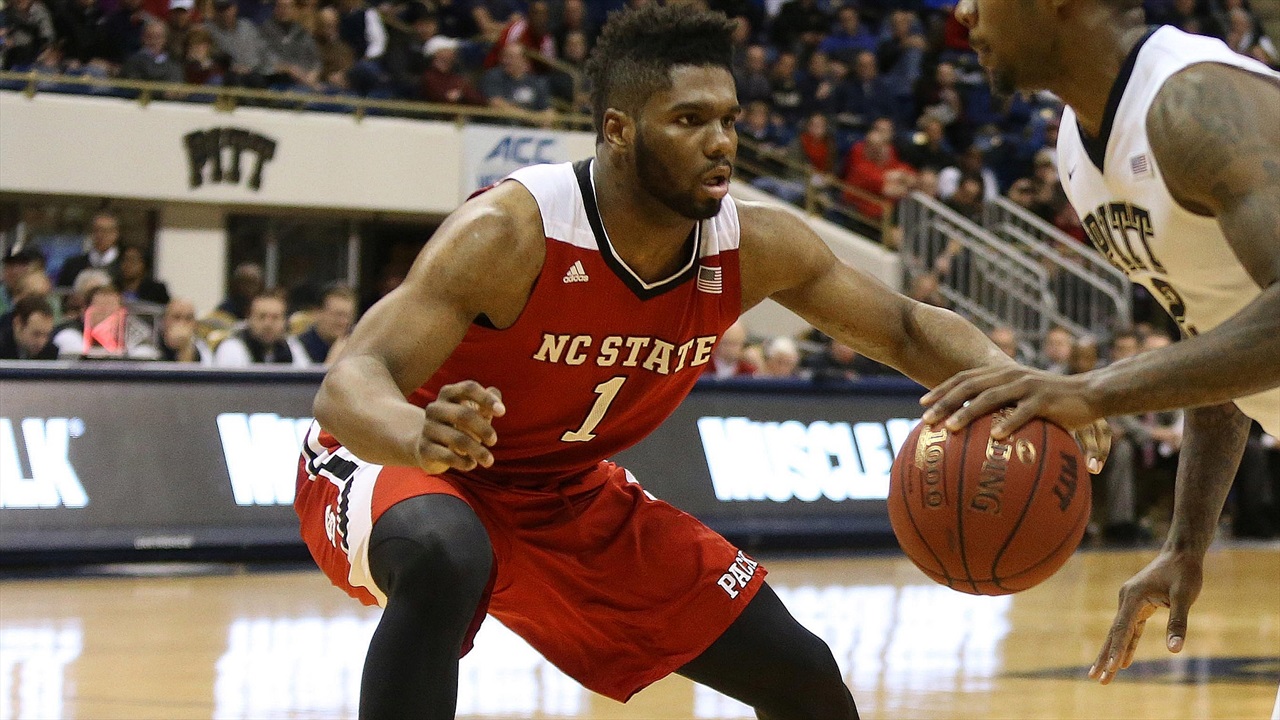 NC State Basketball
Freeman: "I Feel Great"
---
Redshirt senior forward Lennard Freeman met with the media to discuss NC State's upcoming Italian tour.
*****
Opening Statement...
Coach [Kevin] Keatts is the first track basketball coach I've ever had.
How are you feeling physically?
I feel great. I'm not going to say I feel the best I've ever felt because I haven't always had an 18-inch rod in my leg, but I feel better than I've felt in the past two years.
You seem to have lost weight recently. How was the rehab process, and how much weight have you lost since returning?
The rehab process has been long. Every day has been hard. The first couple [days] fresh out of surgery, not being able to run and jump, that's the main thing. So you start to pick up weight when you can't run and jump. You have to be on the bike and stuff like that.
After a couple of months down the road when I was able to run, and our old trainer Ryan Holleman did a great job, and after I got cleared to run and practice with Coach Keatts and when Coach Keatts stepped foot on campus, I think I've lost 22 pounds or something like that.
With the influx of guards coming in, how important is your role moving forward?
I feel like it's going to be extremely important, especially when we go with four guards. I, Omer [Yurtseven], [Abdul] Malik [Abu], or whoever is the 5-man at the time is going to be expected to rebound and to control the glass.
Then, with it being four guards, I feel like there are more opportunities since the court is so spaced out. You're going to be expected to control the paint, and that's your job. You're the only big man in there, so you're going to have to hold your own down there.
With all these new faces coming in, do you ever say to yourself, Where did everybody go?
I say that all the time. Me and BeeJay [Anya] talk about that because I work out with BeeJay sometimes on the weekend, and we come in and look around like 'I don't know anybody on the team,' and I'm like, 'Yeah, you really don't know anybody.' I practice with them, but I look at it from him and think, 'He hasn't seen him, he doesn't know him.'
Everybody's cool, and I feel like everyone's adapted quickly. We started to get to know each other. We've got a whole bunch of Charlotte boys on our team. I don't know how I feel about that, but everybody's cool. This is a good group.
How excited are you for the Italy trip?
I can't wait. I'm excited. We need to hurry up and get there because track practice is starting to get [tiring].
How different are Keatts' practices than Gottfried's practices?
I would say it's night and day honestly. With Coach Keatts, everything is competitive. He wants to bring the best out of everybody. Everything we do has consequences to it. You're going against each other. Every drill, you're going to go against each other, and if you lose, there's a consequence.
He wants everyone playing hard, and everything is fast-paced. That's really the main thing with Coach [Keatts]. [Mark Gottfried's practices weren't] as fast-paced, and there wasn't as much running as Coach Keatts.
Did it take time to adjust to those kind of practices?
No, it didn't take that long honestly. When you start losing and you start running, I feel like you catch on real quick, especially when you're not playing hard. He doesn't accept not playing hard and not giving it your all. I feel like it didn't take long for people to catch on and do what he expects.
How would you describe your experience for 2016-2017?
It was hard watching our team not do as good as we thought we were going to do, and knowing what I can bring to the table, it was hard for me to just sit there and watch knowing I can't sub myself in. It was a learning experience for me. I feel like I learned more last year mentally from the game of basketball just sitting and watching than I would from actually playing, so it was a good year.
Do you think you could have played?
I could have, but I don't think it would have been a good idea.
Now that you're here, are you glad about how things have turned out?
I'm so glad. I feel good. My weight is down, I'm out there playing, and I don't feel like last year or the year before. I feel like there's nothing holding me back now but myself.
What's your weight at now?
I think the last time I weighed in was last Saturday or something like that. I was 239. That was the lowest I've ever been. I'm usually around 240-245.
Never miss the latest news from Inside Pack Sports!
Join our free email list