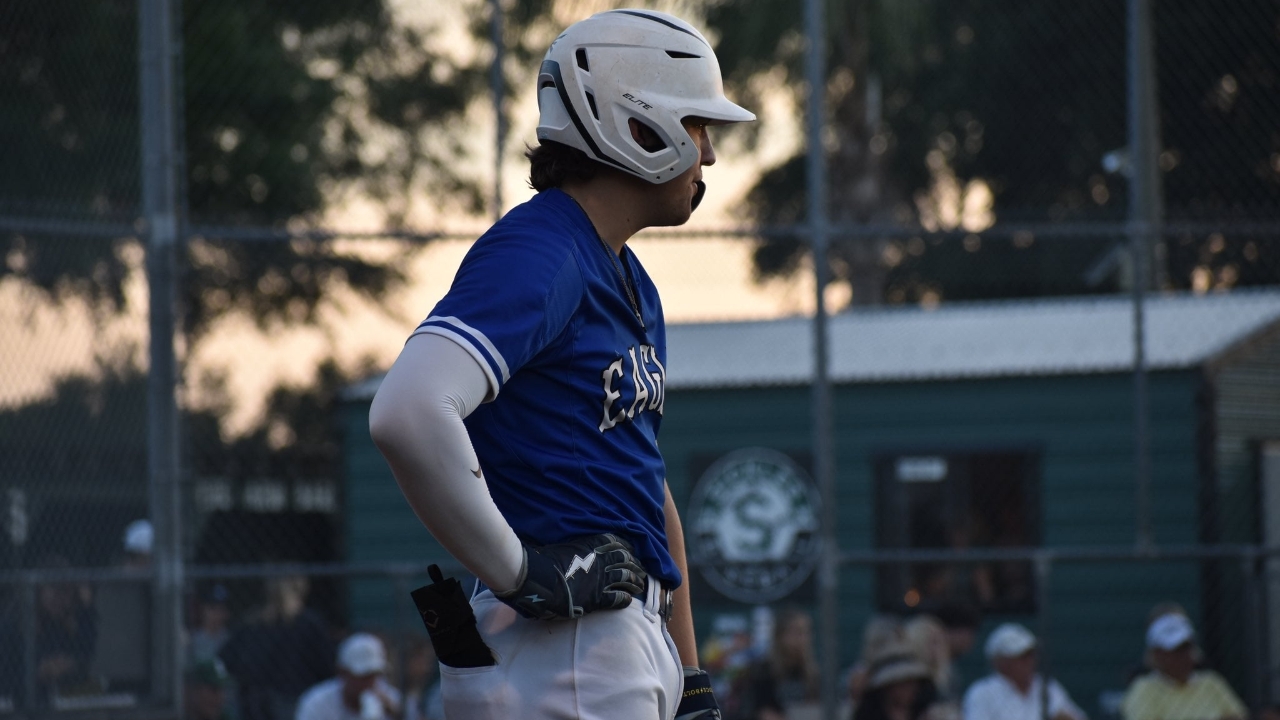 NC State Baseball
GET TO KNOW: NC State 2023 Baseball Signee Jake Bechtel
---
Jake Bechtel is a 6-5, 235-pound, class of 2023 outfielder from East Lake High School in Palm Harbor, Florida who will be joining his high school teammate, Cooper Consiglio, at NC State in the fall.
Bechtel, the son of a high school baseball coach, knew immediately that Raleigh was the place to be not long after receiving an offer from the Wolfpack.
Inside Pack Sports recently spoke with one of the newest members of the NCSU baseball program.
Get to know Jake Bechtel.
Inside Pack Sports: Hey Jake, what position did you play in high school?
Jake Bechtel: I mostly played outfield. I pitched very little, just because I never really got into it that much.
Inside Pack Sports: Isn't there a strong family presence at East Lake High School?
Bechtel: Yes, my dad is there. He played college ball. He was a pitcher.
Inside Pack Sports: When did baseball become a thing in your life?
Bechtel: It was at a young age. I was playing tee ball, as young as I could do it. My dad was a big inspiration behind me playing baseball for sure.
Inside Pack Sports: It seems like you have a big support group with your family.
Bechtel: I love my family. They mean the world to me, especially my dad. His name is Kevin. He's been on my side fully. My mom is one of my biggest supporters as well. She doesn't miss a game ever. She's probably going to be up here more than she needs to be sometimes, which is going to be funny, at all my games. I have a sister as well named Bailey. I love her to death. She's supportive. She misses me right now because I'm up here. I love my family and I have a whole big support of my family with my awesome grandparents. My uncles and aunts and all that stuff.
Inside Pack Sports: At what point did you realize that perhaps you could take baseball to another level?
Bechtel: I feel like I'm really good, but there's a lot of untapped potential I have left. Just because I'm the two-sport guy from football and baseball, I feel like I can grow a lot better after playing a full year of baseball, so I'm excited to be able to play at one of the premier schools in the ACC. It had been a big goal of mine.
Since I was 12 years old during little league, I think I was pretty good. I think that's when it kind of turned to where I wanted to continue to play the sport.
I'm somewhat younger (than the player he plays against). My birthday is in May, but when I was a young age, I practiced with the high school guys, because my dad used to coach at East Lake. That always helped me get used to the environment of high school and stuff, and I was always more of a mature kid growing up.
Inside Pack Sports: Does it give you an advantage to come from a baseball family in that way?
Bechtel: A hundred percent, especially with the coaching staff at East Lake High School and all those seniors from that high school class. They all brought me into the program and helped me have the confidence to go up there every day and compete even though they're older than me. I always had a blast with those kids.
He's still coaching right now. I believe he's still deciding if he's coaching or not at this point, but at the same time, our team next year at East Lake's going to be good with a couple of really good D1 players that are going to grow out of that program. I think he wants to stay around. Those are kids I've grown up with my entire life too, from the area. I think he might want to stay around for a year and then around my sophomore or junior year, he's probably not going to do it, and then just follow me around, and kind of do his thing.
Inside Pack Sports: At what point did you start getting offers?
Bechtel: In all honesty. It was kind of late in my baseball career because I played two sports, football, and baseball. I was always striving to be that two-way kind of guy, see what I can take from football, see what I can take from baseball. I didn't commit to baseball until I guess you could say late, but I have a few offers from baseball and a few offers from football.
It was awesome (receiving his first baseball offer). Just being able to feel comfortable, knowing I have a potential place to go, and I have a decision to make between like that school or football. It was just awesome. In all honesty, what I have here at NC State now is un incomparable to anything like I where I could have gone.
Inside Pack Sports: What position did you play in football?
Bechtel: I've grown up playing quarterback.
Inside Pack Sports: Did you always know you would play baseball over football in college?
Bechtel: No, it was back and forth through my freshman, sophomore, junior, and then my senior year. I had some offers on the table for football, but I felt like my potential in baseball was so much better. I just think to myself, I know I could have been so much better at baseball if I just played that singularly without playing football. It was my senior year in the spring when it just really clicked in my mind like, 'I am really good, I feel like I'm good at this game and I feel like I can take it to the next level if I focus on it.'
Inside Pack Sports: Do you remember when you first heard from NC State?
Bechtel: It was kind of late. I talked to Coach Hart a little bit during my senior year before the actual offer because my coach was close to him. That kind of helped. I mean, overall, it was senior year. Senior year is when it started to click.
It was awesome. It was kind of life-changing because I have one of my best friends here as well, Cooper Consiglio. He's from the same high school I go to. When I heard I got that offer, it was one of the craziest things in the world. I kind of slept on it for the night. I woke up the next morning and I'm telling my parents, 'I know this is the place I want to be. I know I want to compete here, and I know I want to have a good time.'
I came up on a visit with my family and we couldn't just stop talking about how beautiful the area is and I haven't even explored half of it yet. Just this campus alone, we visited and checked out some restaurants around the area. It was just awesome. I knew this was the place for me, especially to live here for the next three years for sure.
Inside Pack Sports: What do you think about the campus?
Bechtel: I've been taking some summer classes up here. We just came up here to get adapted to the environment and I am absolutely in love. The place is beautiful. There's no other place I'd rather be.
[Doak] is just awesome. I love it here, just walking to the locker room every day. It's something that clicks. It's just special to me. Every time I walk through the doors and to this facility it's crazy. I'm here. I'm super happy and super excited.
Inside Pack Sports: Do you plan on being one of those students that are active on campus, such as exploring things to be a part of and supporting other Wolfpack teams?
Bechtel: Yes, of course. I still love the game of football. You can't take that away from me. Even though I'm not going to be able to play, I want to go support the teams, and all the sports programs around here, because I know they're going to be good too, especially with that recruiting class, the freshman coming in.
Inside Pack Sports: What do you think about Elliott Avent?
Bechtel: He's awesome. He's the nicest guy in the world. The first time you meet him in person is entirely different than over the phone. He is a cool dude to talk to. He's supportive of all of our guys here. He wants us freshmen to be together and close so we can make a huge impact hopefully next year and in the following years after that.
Inside Pack Sports: What was Chris Hart's reaction when you told him you were committing to NC State?
Bechtel: He was super excited to get another kid from his hometown area. It was the best choice, I believe, in my mind. I'm not regretting it once, even when I stepped on campus, and it's awesome.
Inside Pack Sports: What was the reaction you got from NC State fans when you announced your commitment?
Bechtel: It was just shocking. They are just out there, and they love supporting guys that are coming up. I know what they want. They want to win games and the way that's going to help is by them coming out and tuning up us. They're just awesome. I love it, and the community is just awesome here.
Inside Pack Sports: What are your impressions of NC State's baseball program?
Bechtel: It is an ACC program. It's a big-time program here. I'm just super excited to get on campus and work with all these dudes that have been here and are experienced. All the kids here are just awesome. All the freshmen are awesome, and all the other teammates I have also talked to. They are trying to get us all together to get that camaraderie early, so we can have a good year.
I just wanted to be at a place where I felt welcomed, and I felt a part of the team at first. This is one of those places where I feel like I'm welcomed, especially by all the older guys. They're cool. We talk and all that stuff and it's just awesome.
I'm telling you; this summer has been just awesome for all of us boys. Coming in here, I didn't know a lot of these other freshmen and it took me maybe two days to get close to all these guys. These guys are amazing. I'm just excited to see the next step in the process.
Inside Pack Sports: NC State is renovating its baseball facilities. How meaningful is that?
Bechtel: I'm just going to say right now, it's awesome. It's fantastic. I've been seeing stuff that we're doing, all the renovations and stuff. It is just going to be a beautiful place. I don't know when it's going to be done, but when it's done, I don't think there's going to be a kid that doesn't want to come here. I think this is just the perfect place to live, especially with this field, getting these upgrades, even though it's great already. It's just awesome.
Inside Pack Sports: What will you major in?
Bechtel: Sports management.
Inside Pack Sports: What are some of the things you want to improve upon over the next three years within the context of your individual game?
Bechtel: I want to focus on becoming a better overall hitter. I know I have a lot of potential there. I just think to myself that I have good power. I have good bad speed, but I just know I can be better, and I know I'm not going to stop until I get better.
Inside Pack Sports: Do you feel like you are a power guy, an average guy, or maybe a little bit of both?
Bechtel: It's a little bit of both. I hit for a solid average each year in high school, but then it just clicked my senior year where the power just came naturally to me, and I could just flick balls out of the ballpark sometimes.
Inside Pack Sports: Did you have favorite players or players that maybe you modeled your baseball game after? What about your favorite team?
Bechtel: I can say honestly, sort of later in my career, I kind of felt that I was like an Aaron Judge -- kind of like a big power guy, had some solid defense in the field. At the same time, I don't know if I can model myself after anyone. I know must be myself.
My favorite team is the [Tampa Bay] Rays. I know it's weird to say Yankees players like Judge, but I do see myself kind of having a little bit of comparison between me and him.
Inside Pack Sports: What emotions or thoughts do you think you will have when you take the field for the first time as a member of NC State?
Bechtel: Just the adrenaline rush of just being on a field like this and being in a program like this, it's just going to be probably one of the best feelings I've had ever. I felt that same feeling going into a high school game my first time playing, but I feel like this is going to mean so much more to me because I'm on a college level at a very high-level team at NC State that is in the ACC and even in the whole college baseball realm. That's what excites me.
Inside Pack Sports: The Wolfpack brings back several players, has a solid class of 2023 players incoming, and seems to be doing well with the 2024 and 2025 classes. Where can NC State go during your college career?
Bechtel: I think we can compete for the NCAA championship. I believe it, especially with all these young guys and the older guys with experience. I do think it could potentially be this year, next year, or the following year. I don't know, but I know we're going to make a big run and I know we're going to be a very good team.
Inside Pack Sports: If you could speak directly to NC State fans, what would your message be?
Bechtel: I would tell them I'm super excited just overall being here, number one, and I'm super thankful for all the support so far.
Thank you. Let's go Pack.
Never miss the latest news from Inside Pack Sports!
Join our free email list