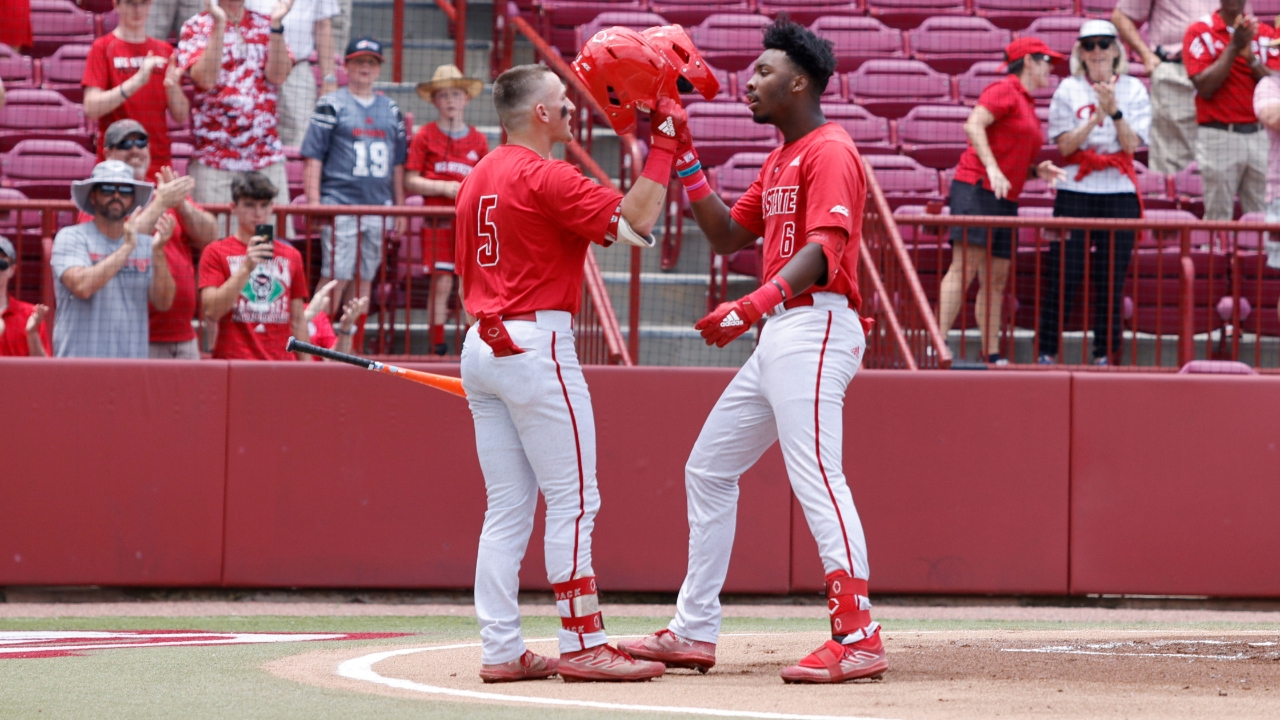 Photo by Steve Murphy/Inside Pack Sports
NC State Baseball
NC State Smokes Camels In Columbia
---
COLUMBIA, S.C. — NC State used combined hitting heroics from LuJames Groover and Trevor Candelaria along with a great pitching effort from the duo of Logan Whitaker and Justin Lawson to defeat Campbell, 5-1, at Founder's Park in the opener of the Columbia Regional.
The victory moves the Wolfpack to the winner's bracket of the regional where they will take on top-seeded South Carolina. That matchup will be Saturday at 6 p.m. following Central Connecticut State versus Campbell at noon.
Groover smashed two homers, including a solo shot in the first to give NC State a lead it would not relinquish. Candelaria went a perfect 4-for-4 at the plate, topped off with a solo homer in the top of the eighth inning to give the Pack a four-run advantage.
Lawson pitched the final 3-1/3 innings to pick up the win and improve to 5-0 on the season. The righty allowed only one hit and fanned four while walking one.
Whitaker navigated 4-1/3 innings and did not allow a run as he deftly wiggled out of jams despite allowing five hits and walking two.
A PACK OF CAMELS
Campbell had its chances. The Camels left nine runners on base, and while NC State can point to the 13 runners it left on base as proof that there were more runs on the table, the bottom line is the Wolfpack pitching did enough to thwart the scoring chances for the 2023 Big South champions. The Wolfpack was 1-for-7 at the plate with runners in scoring position which indicates that most of NCSU's stranded runners were left on first base.
Whitaker was especially adept at getting out of trouble. Campbell was 2-for-12 with runners in scoring position for the contest. Most of those at-bats were against Whitaker and Rio Britton — with the latter getting four outs in between Whitaker and Lawson but also allowing four hits and an earned run in the eight batters faced.
It was Whitaker who gave his team a chance to win which the Wolfpack hitters and relievers took advantage of.
WEB GEMS
NC State, a team that has struggled in the field this season and, at times, mangled the simplest of plays, spared itself a harder task with some solid glovework against Campbell.
There were several diving plays in the outfield, including two in a pivotal third inning when Campbell had two singles but did not score due to terrific catches from Noah Soles in right field and Chase Nixon in left. Whitaker then fanned cleanup hitter Logan Jordan to escape trouble.
Eli Serrano also gloved a grounder that somehow hopped above his head in an unassisted groundout that prevented a Camel run.
The Wolfpack also showed great pragmatism in the field. Campbell scored only a run in the sixth inning despite having three hits and an NC State error in the frame. The Camels pushed its run across with a sacrifice fly, but Parker Nolan — who entered the game earlier as a pinch runner — wisely threw the ball to second base instead of making a vain attempt at home plate for the runner tagging up. The other Campbell baserunner remained at first base, and the Camels did not score again despite getting two more hits.
When NC State executes the simple plays and makes smart decisions in the field, the Wolfpack is much tougher to beat — and wins over ranked opponents are not that hard to believe in that scenario.
OPENING ACT
NC State has now won its regional opener in seven of the last nine tournament appearances, with losses in 2018 and 2019, the latter against Campbell in Greenville, as the only blemishes since 2011.
AVENT METER
998 wins at NC State
1,222 wins overall
CANDY
Trevor Candelaria's number of four-hit games in college baseball regular season: Once in 214 games
Trevor Candelaria's number of four-hit games in NCAA Championship play: Once in one game
THE LAST TIME
The last time NC State limited a ranked team to one run or less in a game was on April 1, 2023, against Louisville.
NEXT: NC State (36-19) vs South Carolina — Saturday, June 3 at 6 p.m.
Never miss the latest news from Inside Pack Sports!
Join our free email list