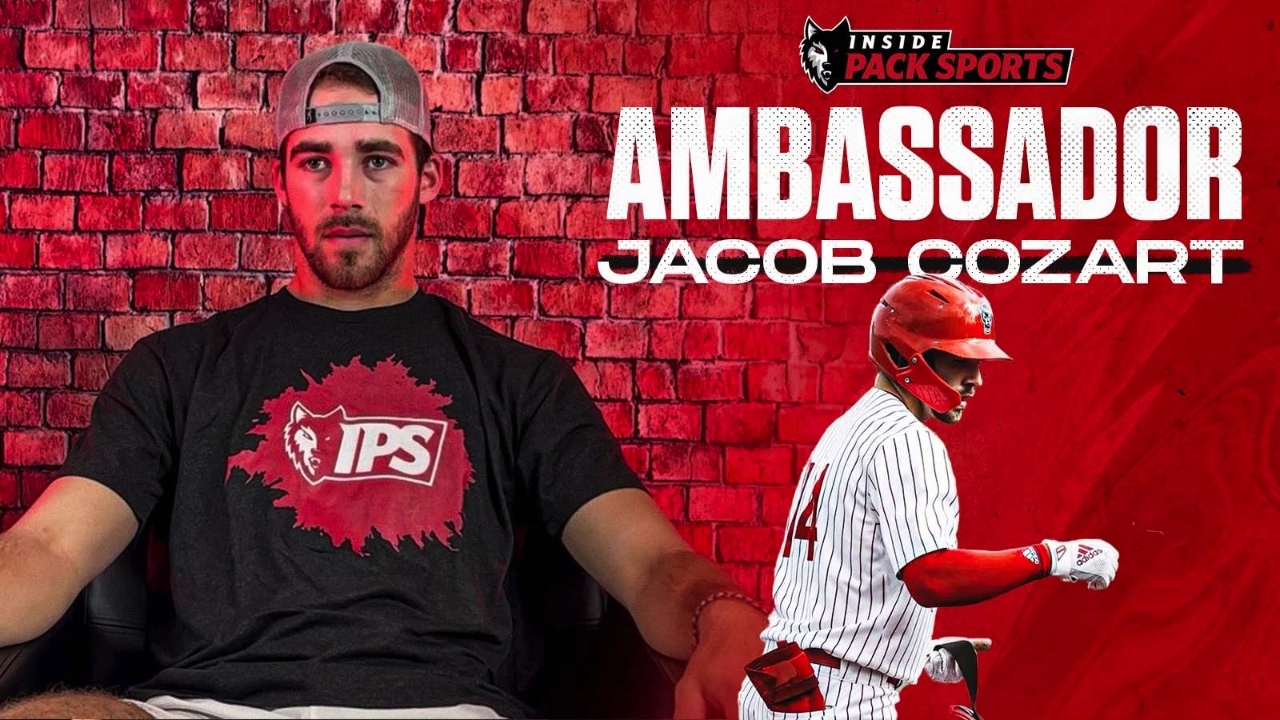 NC State Baseball
IPS Ambassador Jacob Cozart Checks In From Columbia
---
NC State star catcher Jacob Cozart is down in Columbia preparing for the regional, and the IPS Ambassador checked in with some of his thoughts heading into the weekend.
Mosquito Authority and Pest Authority are excited to sponsor the Elite+ platform. You can find them on the web at www.BugsBITE.com! And remember, No Contracts. No Commitments. No Pests. Guaranteed.
---
First of all, what were the reactions like sitting in the locker room, waiting to see your name called?
Well, obviously y'all saw the video that was posted by NC State, but there's utter excitement in the locker room. All of us, we were told that we were on the border, but we should be in. But the guys that were here last year remember us being told that we were two seed going in. So we all knew that we should have been in last year and never got to happen. So we remember that heartbreak, so we were scared that we were going to get it again, but then once we saw South Carolina come up, I kind of had a good feeling. But when we saw our name and against Campbell, I mean, that's a little in-state rivalry too, so it was a really good feeling.
It's funny, because, I don't know if you noticed, you guys weren't even the last four in, right? So, looking back on it, did you feel that confident in a sense that you probably shouldn't even be one of the last four, if that makes sense?
No, I didn't feel that at all. I go off of, because my dad has good connections with those guys and has been in this industry for a while, so he had us as the last 4-in, D1 Baseball, all those had us all as last 4-in.
So we thought we were in, but it was going to be close. And then we were watching some of the conference tournaments and saw that Selma went south, so we for sure thought we were our last four in. But then when we saw that and they were like wasn't even consideration, we were like, "Oh, we're in a better spot than we thought we were."
I did not think you guys would be last four in. I thought you'd be comfortably in, and my reason was simple: I did not see the ACC getting seven teams in. I thought the league was too strong to only get seven, and you guys have separated yourselves the way you were clearly the eighth.
Yeah, we were looking at that too. The 9th-team got in last year, and we thought Notre Dame was going to kind of be a lock too, but then they had a little fumble there then too. So we jumped in front of them, and that part right there. But the main thing that I think got us in as a no doubter was our RPI. If people listening don't really understand what that is, it's pretty much accumulation of strength of schedule, record, and records against the Q1, Q2, Q3, Q4 teams. So all of that into play and our RPI was 23 out of every single team, so that's really good.
How quickly did your mindset shift to... Well, I'm interested. When you see the bracket and all that, do you think Columbia Regional, South Carolina, or do you just go straight to Campbell, first matchup, little rivalry? How did you view that from a mentality standpoint?
Oh, straight to Campbell, because they're a really, really good team, and quite frankly they should have been a host, so they have that rep about them. They breeze through the big south this year, which it's not a super, super strong conference, but they're still a really good team. They beat Carolina, they beat ECU. So fairly, they're really good. They got a really good guy going, guy's name is Cade Kuehler, who was a team USA pitcher. So my mind went straight to them knowing what they're going to do, and I still have a little bittersweet feeling with them after they beat us last year, so I want to get after them this year.
I always think it's interesting, I know you guys want to win the ACC Championship, right? You compete at the ACC tournament to go and try and win. And then, you were not able to get it done, you were actually finished on Thursday this year. Once you get into the tournament, do you feel like that's kind of an advantage, in the sense of being done Thursday to where you guys have to feel like from a pitching rotation standpoint, lineup standpoint, you might be as ready as you are all year at this point going into Friday?
Oh, I agree with you. As much fun as it was last year going to the championship and almost winning it, our guys, we threw everything we had there. Not to say we didn't throw everything we had this year, it just didn't fall, because we ran into a good Miami team. But we have everyone good to go, completely healthy, we should be guns blazing this regional, and we're going to be well rested and ready to go. So that little almost week, it was a week break of just getting strong and recovered. It was actually really good for us.
Yes, because it's almost kind of like if you don't win it, you almost wish you didn't make it Sunday, right?
Yeah, I could. Last year it was hard to get play that long in that tournament with the high intensity games it was. So, it was kind of draining almost to say.
I feel really good about State going in because I think their three starters... you don't really say you have an ace in a sense, right? All three guys are very good. Whereas you look at South Carolina, you look at Campbell, it's almost like there's a clear separator there. Like you mentioned getting Kuehler the first game, but if you guys get to him and win that one... big picture, I think it's advantage for state to where you really could draw a name out of a hat on who you want to start on Friday, in a sense.
I mean, we could start anyone in our bullpen too. Britain's done it all year, Baker Nelson's done it, Justin Lawson did it last year where he gave us two really, really good starts. So we have unlimited tools to the point where, if, say Whitaker, or Wilson goes four innings, and give us good four innings, we can turn over the bullpen and they can bridge it and get us really good innings. With Lawson could even go five, Britain can go five, Baker can go five. So we can really, really stretch out our bullpen, and we can really pick and choose what we want to do. So it's a really good thing we have going for us.
What do you think is going to be the biggest key for you guys this week in Columbia?
I would say take it game by game, pitch by pitch. Just staying in the moment, doing our job, pitchers getting their throwing strikes, doing their thing, which they've been doing all year, they've done a really good job. And then hitters keep getting them on, and then doing our job once runners get in scoring position. So if we can just kind of piece together like we've been doing, like we did against Duke and against Pitt, if we play like that, even Miami, even though we lost we still played pretty dang good against a really good team. If we can play like that, I think that's what we need to do.
When you look at a regional, how do you view the Friday game versus the Saturday game?
The Friday game is definitely the most important, because it will determine how your path goes for the regional. Because the first game's the most important, especially against a good Campbell team. If we win a game, we'll play the winner of South Carolina, and if we win that game, we have to get beat twice by a team that's already played three, four games. So if we win this game one, and just I think honestly not look ahead to Saturday, and just stay locked in on Friday and Campbell, and win that game, that's really key for us because then we have momentum going into Saturday.
How much have you guys spent in terms of scouting Kuehler and getting familiar with what he likes to do and... How much goes into that? Because I don't know, do you view it a typical Friday guy in terms of preparation standpoint that you normally do going into it, an ACC week? Because I would imagine it's a little different because you don't have a midweek, in a sense.
Yes. It's pretty similar to what we usually do. We'll have our report on him probably tomorrow, but they hint at us like, "Hey, he is going to come at you with fastball, it's because he got a good fastball." So they'll kind of set up a machine to where they can switch it back and forth from fastballs to breaking balls to kind of do at bad top of that. And then it's really just the same stuff we've been doing these past couple weeks, just keeping us short and clean, and just keeping our bodies good and fine-tuned to say.
Hitting off a machine. It's interesting you bring that up. Does it really prepare you? Is it different? What is that like?
Yeah, it prepares us, because the machine has better stuff than what the pitcher's actually going to come with, because it spins the ball faster, makes it move more, so that when you get in the game it kind of simplifies it almost to say. And also you don't have an arm to time up, so it's harder to time up, so it makes it look faster too. So that 95 that he is going to throw will not look as quick.
Do you feel Kuehler is similar to anybody you faced? I mean, is there a comp that you guys know of kind of going into the game?
Honestly, no. I don't know, because he got a little funky arm action where it's short and compact, but not off the top of my head with the stuff he has.
Obviously Kuehler is billed as a power guy from a pitching standpoint. As a hitter, for you, do you prefer power guys, or a guy that may throw three, four pitches at you? I mean, I don't mean to say preference, but do you feel like one's maybe tougher than the other?
Yeah, it makes it easier for me to know what's coming, because then he'll fall into patterns, so I can kind of sit on the fastball, just time it up and rhythm it, and where he is just going to come straight at you. So that part. But other than that, it's still tough to hit. I mean, if you go one for three, you're still at 300 on the day, or 333, which is a pretty good day. So other than that, he's going to be good, he is going to come at us with really good stuff, so we'll just do our thing.
Going down playing at South Carolina, you know the environment's going to be great. They've got a good crowd, State's going to have a good crowd. Campbell, I'm sure they're bringing people thinking they were going to host. From an electric atmosphere you guys get the 1:00 PM start. How big is it going to be to come out and try and set a tone early? I feel like you guys did that in the opening matchup of the ACC tournament, right? Gino got you guys going right away. And even though Duke kind of fought back, you still rode that momentum out to a big lead. How big is it to get a fast start you think going into this thing, or try to, at least?
It's crucial for us, but at the same time we got to just keep riding it. We can't get ahead really quick and then just kind of laid back, because Campbell can really, really hit, and any time they can get right back in it. So we come out swinging right away, and then we get the chance to put them away, get a seven, eight run lead, and just put them away right then and there. That's huge for us, because they've got to worry about keeping arms healthy for that game. But if we come out guns blazing and just set a tone like, "Hey, we're here to play, we're here to win, we're going to punch you in the face right now," I think that just sets a tone for the whole week.
Do you guys feel like you're coming in with a little bit of a chip on your shoulder, knowing maybe the season hasn't gone the way you guys fully expected it could, but you're capable of going on a big run? Look at what Ole Miss did last year.
Yeah, of course. We love playing like this. We love playing as the underdog under the gun, not expected to do anything, because we thrive in that. People were counting this out a couple of weeks ago and here we are, we're in the tournament. So we just thrive doing this. We don't have any of the pressure, because we're playing free right now. They're the ones that have the pressure.
This week you guys were able to get a few sessions in practices, different things like that. What were some of the focal points? Was there anything you guys really wanted to key on before heading down to Columbia?
I think the biggest key was just staying to what we've been doing these past week or two, because that's best baseball we've been playing all year, so we just kind of fine-tuned everything and made sure we did the little things right, which is what our key point is, it's just doing that, because whenever we do the little things and don't beat ourselves, we're a pretty dang good team.
Never miss the latest news from Inside Pack Sports!
Join our free email list