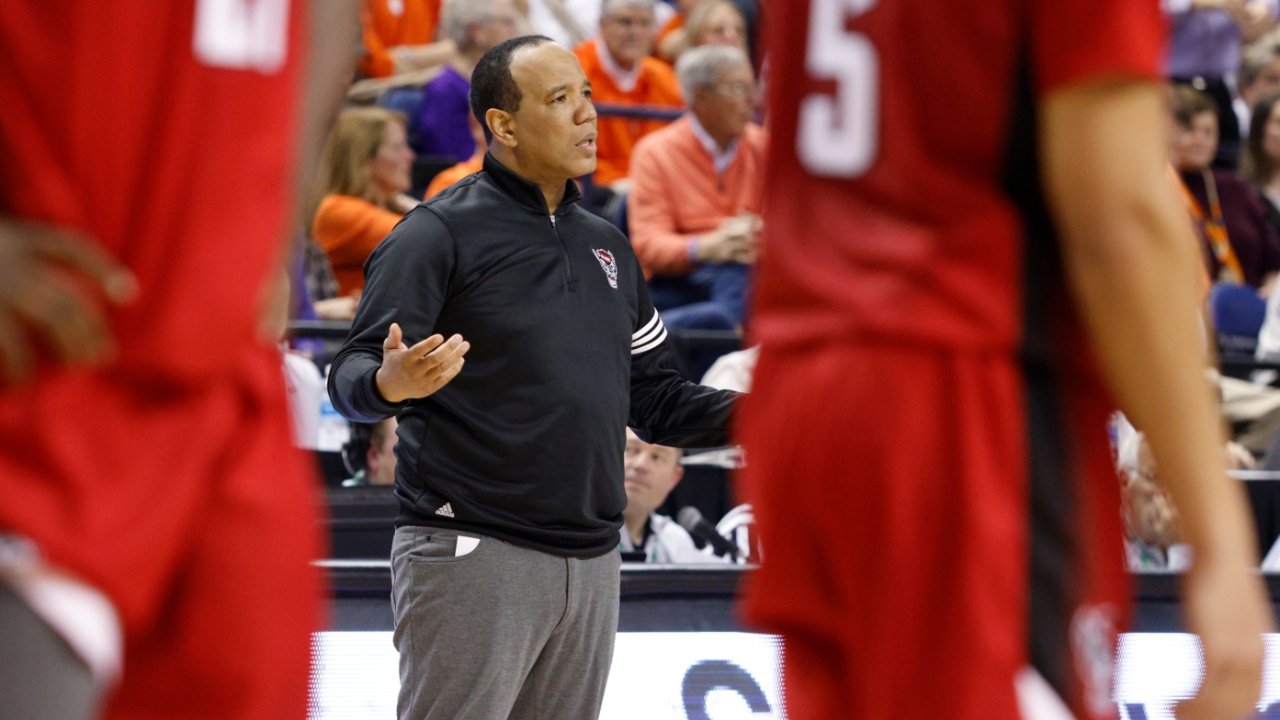 Photo by Steve Murphy/Inside Pack Sports
NC State Basketball
Kevin Keatts: "The Game Has Completely Changed"
---
NC State head coach Kevin Keatts met with the media Wednesday afternoon to discuss various topics as the Wolfpack progresses through the offseason in preparation for 2023-24.
NOTE: Click on the video in the player above to watch Keatts' press conference.
---
On building chemistry without the luxury of an overseas trip this offseason...
Last year's trip to Bahamas was so valuable to us. We started summer school last week — I think it was the 17th on Wednesday — and we could start our workouts. We started off Wednesday, Thursday, Friday, and Saturday of last week, and this morning was a third one this week, trying to do a little bit different stuff. We'll try to play a little bit more three-on-three, four-on-four, and five-on-five during our workouts to be able to develop chemistry. As you know, one of the things that was so special about last year's team is that was our chemistry was off the charts because of Bahamas, because of the relationship that they've had off the court, and we want to try to develop that this year. We'll try a little bit different things, try a little bit more outside of basketball team bonding things where we can get out into the community a little bit because I always feel like if you can connect off the court, then you're gonna be fine on the court.
On the first couple of months after the season ended...
Are you insisting or saying that we had an offseason? You know, the game has completely changed. After the season, you really go to work again. It's almost like you don't ever want to finish playing because the next day you finish playing, you know you've got to start working again, and that's because of the transfer portal. The first thing you have to do is you've got to talk to your own team and try to figure out what's next for them. In our situation, we had some guys who exhausted eligibility like Jarkel Joiner. We knew Terquavion Smith was going to be in the draft, and then we've got several guys we had to talk about what their future looks like here at NC State. It's kind of a balancing act the next day when you try to meet with everybody and try to figure out who's gonna be on your roster and then, obviously, start turning your attention to the transparencies out there and filling some needs that we may have.
On his approach to the transfer portal...
My approach is the same. I hear so much complaining about the portal, and I hear so much complaining about NIL. From where I sit, it's here, so you have to adapt to it, embrace it, and understand. We got four really good players from the portal last year. I think we've done the same thing this year. I wanted coaches that don't mind it. It doesn't bother me. I understand the changes as to where we're in and with sports today, and that's something that you have to deal with.
If his success with D.J. Burns and Joiner helps his pitch for potential incoming transfers...
I think my pitch is different. With our guards, you think about the guards, between the two of the guys we lost, they averaged 17 and 17.9 [points per game]. We're at almost 35 points a game, so we do have that selling point for a guard that's coming in. I didn't realize it snapped to the season, but I should have known that. Jarkel Joiner took 13 shots, and Terquavion Smith took 16, so 29 shots... who wouldn't want to play for me at the guard position? And I've turned into a great post coach. I didn't really become that great post coach until we played at Wake Forest, and I think we threw the ball inside 27 times at that point. Now I'm well rounded. I grew, and so now I can tell the post guy that we're going to get him to basketball, and I can also tell the guards that they're going be in the play.
On retaining Burns...
I think it's huge that he came back. He's such a tremendous personality. If you could say, "What's a great fit for NC State?" It's D.J. Burns. That's both on and off the court. In today's games, there are not many back-to-the-basket, low-post guys who can score and pass, and to have a guy like him to come back to our program means a lot, and it shows you that the love that he got in the program. He saw success both on and off the court. I thought it was important. When you look at last year team, I think we had maybe three guys that returned and had played a lot of minutes. In this particular team, having both D.J. and Casey Morsell come back that were starters for us and played a big role, it means a lot to our program.
On what Burns is working on this offseason...
Well, if you talked to D.J., he thinks he's a three-point shooter. Now, he catches the ball at the three-point line, too. Just expanding his game, having him to be a face-up guy, make a few plays off the dribble. Even though he is a very efficient passer, his numbers aren't always great. We want to make sure that he continues in that role. We know, because of his ability and losing Terquavion Smith and Jarkel Joiner, early in the year people are probably going to try to throw a couple of double teams at him. Being able to make the right decisions and ball handling and all that other stuff, as we tell all of our guys, I want everybody to get in the best shape of their life.
On the veteran players helping the new additions get acclimated to NC State...
I love the makeup of our roster. We have two incoming freshmen. We have six transfers, and we kind of took the approach this year that we were going to go Power Five, Power Six with those transfers, and then we got five returners. The five returners, you know, with Casey Morsell and D.J. Burns, guys who played the most, we want them to show everybody what our culture is about, how hard we work, and how hard we play, and it's always good. Though I don't mind how I teach my program year in and year out — I know that's what you got to do these days — it's always good to have a few guys back that can help you with that.
On the incoming transfers...
We'll start with M.J. Rice, a very talented McDonald's All-American. Obviously, he's from Durham. He didn't get the opportunity to play because he was at a very good Kansas team with some really good players that played in front of him. I personally think that he's one of the most underrated transfers in the portal. He was a McDonald's All-American, and you really don't hear a lot about him. He's talented. I think he could play any guard position. He's strong, and he's physical. We're working really hard. He's a tremendous kid that has a great body and can score inside and out. I think he's going to be really good. I'll stick with the same thing: D.J. Horne coming back home as a scorer and older guy who's been around. He reminds me similar of the Jarkel Joiner and Terquavion Smith type of guy who can really score the basketball, knows how to play, and has had success in college at every level, mid-major and high-major, and also playing in the tournament which has been really good. Then, we'll go to Ben Middlebrooks. He kicked our butt, offensive rebounding and probably had his best game against us, so I said, "You know what? We're going to take him on our team." He's a lot more skilled than you guys will know. You'll see him, and I'll talk about Mohamed [Diarra] here in a minute, both of those guys will play some four for us, and there will be a possibility for some bigger lineups. Because he played behind some really good players like P.J. Hall at Clemson, he's another guy who didn't get an opportunity to play as much as he could. We're working on him stretching his game, he can shoot it out to three very talented Mohamed is a really skilled post, a great rebounder, and good shot blocker, He runs the floor. He's going to be a really good basketball player for us, and I'm excited about him also. And [Jayden] Taylor, transfer from Butler, it's funny, my theme is we took three guys that we played against a little bit, and Taylor was good. He scored 19 against us, but we told him, "[You] lost the game, so we got to cut that in half." He can play one, two, and three. At his size, he's a really good defender. What I always love to hear a kid say, he's saying now: who's gonna pick take the best offensive guy on the other team between him and Casey, and you'd never get that. He can score the basketball, and he's a very solid, good passer who knows how to play good in transition. The last one would be Michael O'Connell who I have to give a lot of credit. He graduated from Stanford in three years and didn't transfer credit in before he got there as a freshman. Coming out of high school as one of the best lacrosse players in the country, and everybody knows Maryland lacrosse is really good, he contemplated going as a freshman. He brings toughness, a little bit more of a traditional point guard that we really haven't had, but we love his numbers. If you take his numbers, and he'll enjoy it as part of it, where he took at least 10 shots, he was 53 percent and close to 40 from three. I was like, "Dude, we've got to get you to take more shots. This is what we do. We shoot the ball here." We're excited about him. He's a breath of fresh air. I was really concerned going into one of his finals that he did a good job in so he could get a 3.5. I like where we're going with this. I love the group of kids that we have there. We've got great personalities. We've got really good kids. Give the assistant coaches a lot of credit. They went out and did a great job of recruiting these guys to put together a really good bunch.
On the pseudo-trade between NC State and Clemson with Jack Clark signing with the Tigers...
Well, we heard that Jack was going to announce at 12, and we wouldn't let them beat us again, so we said, "You know what? We're gonna get it in 11 o'clock." It worked out well. Brad [Brownell] and I teased each other at the ACC meetings about how it was a trade, and everybody else in the room, too. You know, I wish Jack luck there and Ben's going to be good here.
On the assistant coaches helping with player development...
They have been tremendous. I think all of those guys will be head coaches really soon. They remind me of the staff when I had Takayo Siddle and A.W. Hamilton who are both doing well at UNCW and EKU. They're doing a really good job. I think what makes staff really, really good is the chemistry of the staff. They kind of feed off each other. They do a good job. They bring a lot to the table. You know, I let them coach during this time, and we're working out; we're going about four days a week, I kind of want them to run the workouts three days, and then on the last day of the week, we kind of do some team stuff for about an hour which I jump in. I think it's important that assistant coaches have a voice, and they've been a really, really talented bunch of guys.
If he believes NC State is back on track...
[Reaching the NCAA Tournament] doesn't change my self-reflection. I do the same thing every year: get away and see how I can improve as a coach, and also how we can improve the program. I've done some of that, and we'll continue to do that. We are on trackl I like our group. We stubbed our toe for whatever reason — it may be bad luck, we can look at injuries, we can call it, "You just lost games," whatever you want to call it — but at the end of the day, I think our guys did a good job of getting things back the direction that we wanted to be in. We don't take for granted; winning 23 games is really good, and going 12-8 in any league is really good, and we want more than that.
On the areas of improvement he wants to see in the team...
Well, I want us to continue to evolve as a program where we're consistent every year. Now, the challenges of that is tougher. When we when you are returning seven or eight guys, and you could bring in classes of four or five freshmen, freshmen become sophomores, and sophomores become juniors, I think that that would help, but we got to find our niche in an era of transfers to be able to stay consistent, and that's one of the hardest things that all coaches will have to do now: trying to figure out how to build a successful programming culture with the transfer portal.
On the non-conference schedule...
I'm not ready to release a lot publicly. I think everybody saw the tournament in Vegas which I think will end up being Arizona State, BYU, and Vanderbilt. But it's coming along. We want to put together a very competitive nonconference schedule. The league was so tough this year, in a sense of meaning the ACC. Scheduling is a lot tougher than it's ever been because you don't know who's on everybody's roster until the transfer portal is done. What I mean by that is, you may think that you're scheduling a team that's not very good, and maybe a guarantee game possibly. They could be really good, but you also can go out and schedule a really good basketball team, and then at the end of the day, they lose a bunch of people to the NBA or to tranfers, and they don't give you the quad-one or quad-two win that you need. You used to try to speed up as much as you can and get you schedule done, but now it's a little bit more strategy to it. What was tough for our league this year which we really got hurt is that, for the first time, we had four quad-four games in our league. When you look at us, we had six quad-four nonconference games, which is not really bad, but you don't anticipate that you could get four more quad-four games in your league. I think one of the things that helped us is we didn't lose any of those games, but that's tough because a quad-four going into Louisville, a quad-four going into Boston College or a Georgia Tech is not quite the same as maybe a quad-four going somewhere else or playing someone else. I wish there was a different way. I'll speak on Clemson. I don't know why the committee didn't take them, but you can make an argument that the loss at Louisville late in the year could have caused them. That's really wasn't fair to Clemson, in my opinion, because they honored the national championship team, you're playing on the road in the ACC, you could lose every game no matter what it is. I wish there were super quads versus regular quads, but they're not.
On Miami's Final Four enhancing the ACC's overall brand image...
I think it helps a lot, but I would say we've had teams in the past that went to the Final Four, and we still got five teams in. Anytime you can get a team in your league to go to the Sweet 16, Elite Eight, or Final Four, I think it completely helps. I think what we have to do, and not just NC State, I think our entire league, we've got to do a better job promoting our league. I think our network has to do a better job promoting our league. We, as a league, have performed very well in the tournament, but you can't tell me that in a 15-team league with really good programs that we should be getting just five teams in. One of our jobs as coaches is we've got to do a better job of trying to win in November and December because the committee seems, to me, to be putting a lot of emphasis on your early wins opposed to what happens in your league. As coaches, we talked about doing a better job of trying to win November and December games, but I do think we all have to start talking up the league, for we have lived a little bit lately on the reputation of the league in basketball, and I think we need to get back to promoting it more than we do.
Never miss the latest news from Inside Pack Sports!
Join our free email list