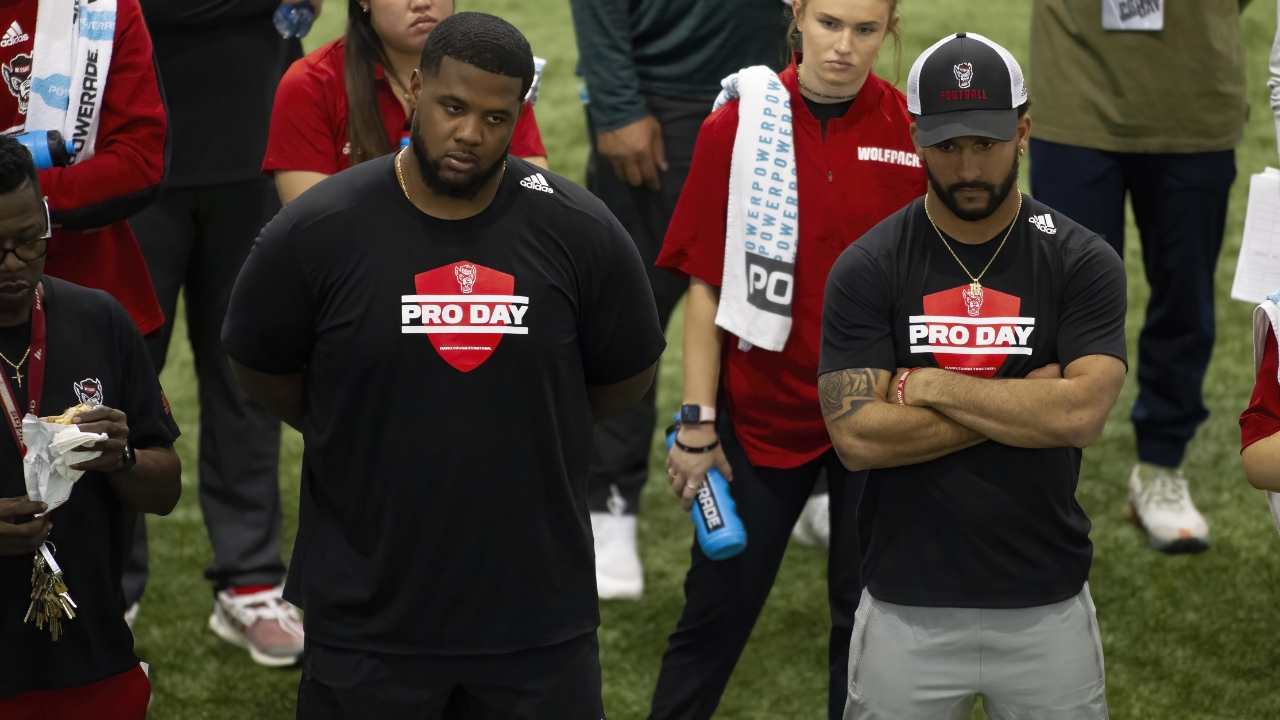 Photo by Steve Murphy/Inside Pack Sports
NC State Football
Grant Gibson on NC State Career: "It's Meant The World To Me"
---
NC State center Grant Gibson met with the media following his workout at the Wolfpack's 2023 NFL Pro Day.
NOTE: Click the video above to watch the interview. Below is a collection of quotes from Gibson.
---
"It definitely feelsl like a game. We've been waiting on this since the bowl game."
"It's been fun for us."
"I'm getting there. I just started to run last week so I'll have about four months left and I'll be ready to go."
"I was allowed to bench. I was alright with my number... I kind of got tight at the end and knew I had more left in the tank, but it was still good for me to come out here and show them I was still strong."
"The guys that got to run today looked fast. They were flying... it's packed out there... scouts all over the place. This program has grown a lot to where people come here to find good players."
"We've come a long way."
"With this, there are certain times you may not hear anything. You'll just have to work off faith."
"You have to keep working hard."
"He's been awesome. I've been here the whole time and he's had a sheet for me each day to work off of."
"I just want to thank them for everything."
"I've heard from the Rams, the Niners, the Panthers, the Lions, the Jets. I've heard from some teams and we still have one month left to see where we go."
"The craziest thing is to not be in school. I don't have to write essays anymore or turn something in."
"You have to make your own schedule."
"We're all blessed. There aren't too many guys who can say they've had a chance to go to the league."
"He gave us some sound advice on what to do and what to expect."
"It's meant the world to me. I've been here for six years."
"This place means the world to me and I wouldn't be who I am today without it. They've helped me grow... it's been awesome."
"I want to be an AD one day. That's the next step... so Mr. Boo, I'm coming for ya."
"Six years is a lot and you learn a lot in those six years, so I feel like I can pass on that knowledge."
"NC State does a great job of making you grow up... my time at NC State has prepped me to be a grown man."
"Thank you guys for the best six years of my life. When we're old men we'll still talk about the games we had."
Never miss the latest news from Inside Pack Sports!
Join our free email list