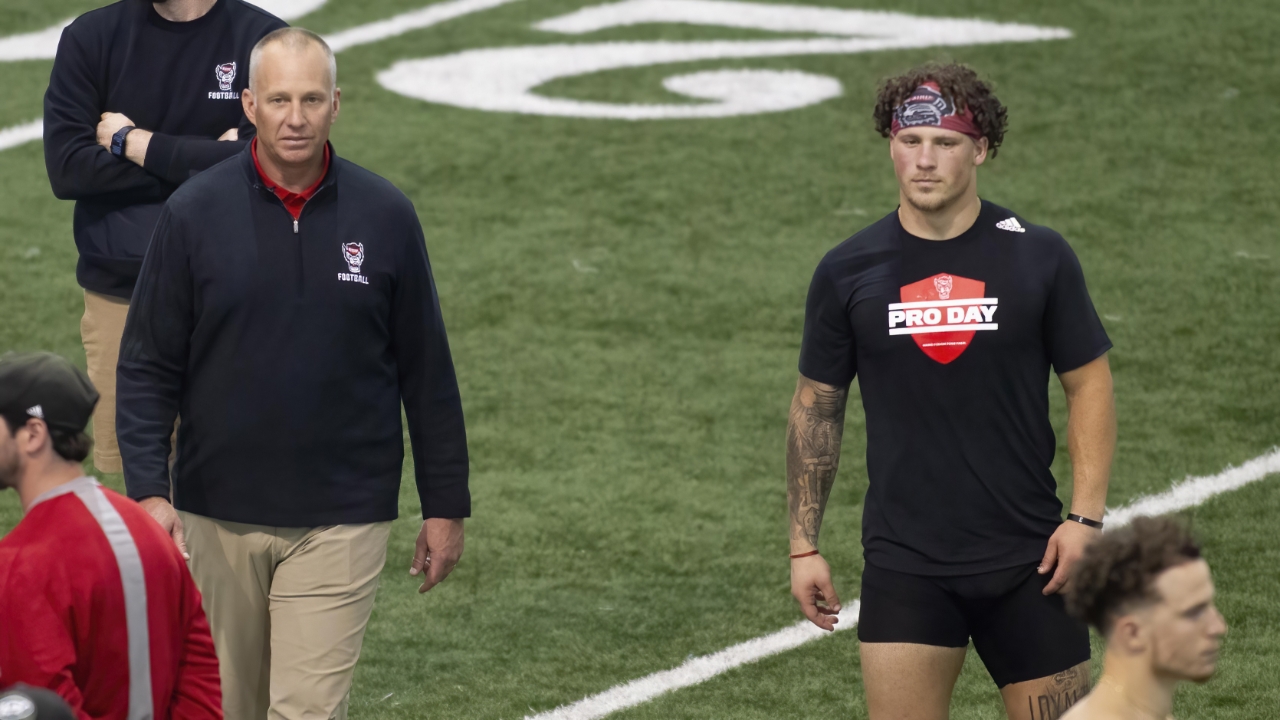 Photo by Steve Murphy/Inside Pack Sports
NC State Football
Drake Thomas Discusses His Pro Day, NFL Future
---
NC State linebacker Drake Thomas met with the media following his workout at the Wolfpack's 2023 NFL Pro Day.
NOTE: Click the video above to watch the interview. Below is a collection of quotes from Thomas.
---
"I jumped 36.5, I know that for sure. I hit 18 bench reps. I was hoping to hit a little more, but I'm not making any excuses, it is what it is."
"I heard anywhere from a high 4.5 to low 4.6 in the 40s. That's the range I heard. I don't know what they are going to come out with for the official but that's the range... high 4.5, low 4.6."
"None of them are PRs, but I set a range for myself going into this and I definitely hit in those ballpark ranges, areas I needed to be."
"We've literally been through everything together. We grew up together and every step of the way my brother has been there for me... it's a blessing for sure."
"I didn't think there was really anything left for me to prove in college football. Back-to-back All-ACC, I put together two very productive seasons... at the end of last season I sat down and prayed on it, talked with God on it. Where I'm at right now is exactly where God wants me to be... I have faith in him guiding me along this process."
"[Height has] never stopped my from making plays before. I've rised to every single level. People telling me I can't, trying to put limits or barriers on what I can do, based on how tall I am, but I continue to make plays and prove people wrong every single year."
"In college I got better every single year."
"Yeah, I've talked to multiple NFL teams. I was at the East-West Game and there were probably 20-plus teams there."
"At the end of the day, when I didn't initially get the invite it stung a little bit but I had to re-think of why I am, where I am. It goes back to my faith and God having me exactly where I need to be."
"Getting to meet the other linebackers in this draft class was a great experience."
"They told me I was explosive, fast, diagnose well... all the things I feel like most already know about me."
Never miss the latest news from Inside Pack Sports!
Join our free email list