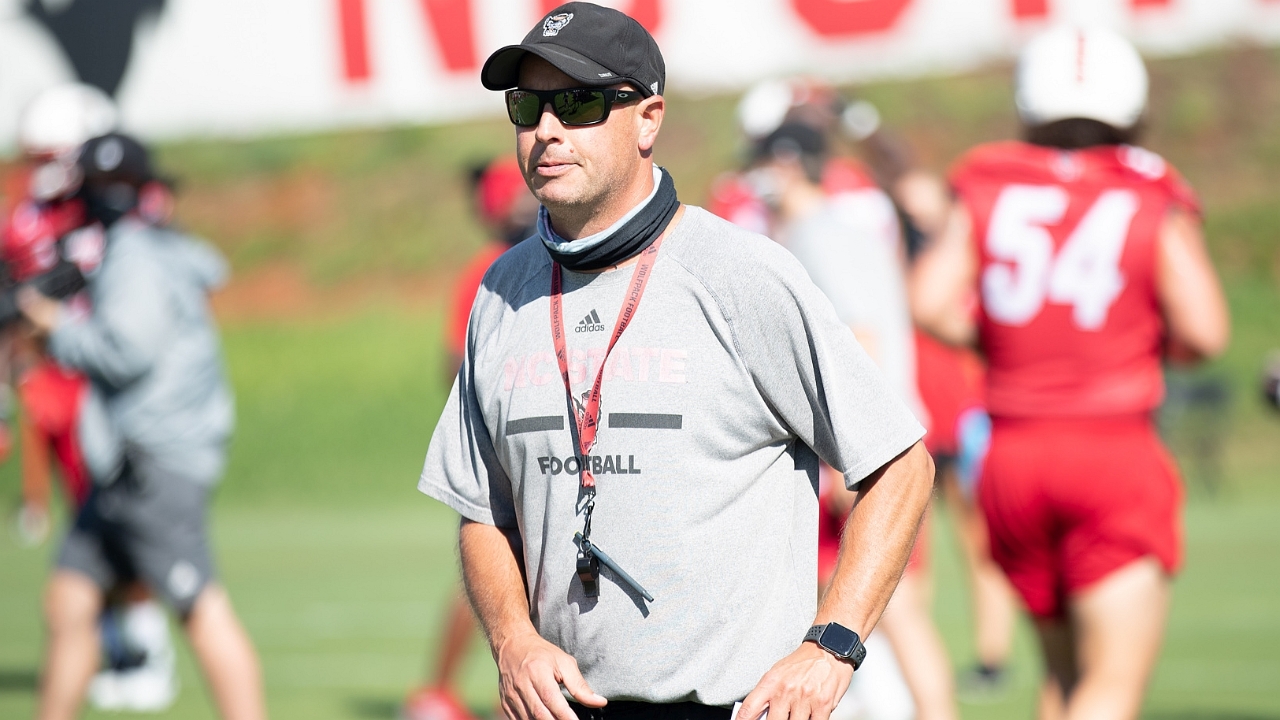 Photo by NC State Athletics
NC State Football
Kurt Roper Discusses Being Back As A Quarterbacks Coach
---
NC State's Kurt Roper spent multiple seasons as a running backs coach but is now back handling the quarterbacks. He recently met with the media to discuss the transition, his position group, and much more.
NOTE: Click the video above to watch the interview.
---
So how's that quarterback competition going?
It's fun to be back out there in spring and for me personally, obviously I've coached quarterbacks a long time and I enjoy that part of the game. It's a challenge.
Guys have a lot to manage each play. They have to have a good plan and be able to process their plan based on down and distance, situational football, what the defense is doing. It's a good challenge and I'm having a good time with those guys out there.
What are you looking for as far as separation is concerned between these guys?
You always look for consistency. The guy that does the best job of taking care of the ball and making plays. When you look at any game at the end of the game, the team that turned the ball over the fewest amount of times and the team that had the most explosive plays typically wins, regardless of every other stat that happens in a game.
So you're looking for a guy that does a great job of taking care of ball and taking advantage of the opportunities the defense gives us when they're there.
Brennan's the new guy. Just from a coach's standpoint, what's stood out about him in early spring?
Well, he is smart. He's got a lot of experience, so he understands... For a quarterback, to me, there's three steps in learning how to play and you have to master the first two to play. The third one is always a work in progress, but the first one is know the system, second one is understand situational football, third one is apply the defensive plan to help you. And he has played so long, now, defensive football's making sense to him, if that makes sense. He's able to get into the third area of that and have really good pre-snap plans.
MJ wasn't at spring last year. Just how has he progressed? Obviously he got to play last year, and how's he progressed?
That always helps. Anytime you get game reps, it's important. We practice a lot of football and practice is really important and you make a lot of decisions, but it's not like being under the lights. It's not like when the scoreboard comes on and you're responsible for winning a game and so we have real game reps for MJ and Ben, seeing what they're doing and so it helps in the evaluation process for sure.
Coach, a couple weeks ago, Ben Finley mentioned last year, your [name] come up and he called you the grandfather of football IQ, on the team last year. What kind of role did you play in giving the quarterbacks advice on, you said, like game management and stuff like that last year?
For the most part, they had a coach in Tim and Coach Proctor coached them and it was my job to get the running backs ready to play. And if they ever had a question on the sideline when Tim was in the box, then I was glad to help them, but this game is really tough mentally. It's a challenge and it has a way of breaking you down if you let it. So to me, one of the first places you start with a quarterback is you have to support the decisions they make if they do a good job at taking care of the ball. And you have to build the confidence to play this game.
I always go back to this example, Peyton Manning is, in my opinion, the best to ever play the game. And Eli Manning is right there with him, one of the best to ever play the game, to me, but Peyton was playing in the Super Bowl against the Saints, and if you remember, he throws an interception at the end of the game and the Saints go up two scores and basically end the game. Well, he's got to go in and answer questions after that game about how he didn't get it done, without it changing how he feels about himself. To me that's part of a quarterback IQ, is we have to build the confidence level in these guys, so they keep playing at a high level.
Have your recruiting responsibilities changed, too?
We still do areas and position, so it starts with areas and I have, really, southeastern part of North Carolina, Jacksonville, Wilmington, that area. And then position, obviously I recruit the quarterbacks now, not the running backs.
Well, what is that like for you to do that again?
I enjoy it. I've done it so long. I guess the thing that I think about, and it's not my first time. This is 18 years of it. So there's a lot of experience and I enjoy the process of going out and watching quarterbacks throw, getting to know them, who they are, what makes them tick. Just all the things that I think are important when you recruit a quarterback.
What traits do you look for?
Well, first thing, obviously they got to look like a college quarterback. When they walk in the room, you go, "Okay, this guy is really good looking guy." They got to really have a fast arm. They got to be athletic. They got to be accurate, and then they've got to understand their offense and be able to communicate to you their offense.
I want an accountable, trustworthy, competitive guy. That's what I'm looking for and usually guys that are talented in high school, they win games in high school.
Coach Anae has been described as a creative offensive mind. How would you characterize his way of doing things in this system?
Obviously the system is different and that's what we're all challenged with, learning the system. For the most part, you watch football, plays are plays are plays, and it's how you communicate them and maybe the little variances in them, right? But right now, that's what our first step is to learn, the system. Us as coaches, there's always things you learn on the field as a coach that, "Okay, maybe I didn't coach this well enough," or, "I've got to change how I'm coaching" and I think we're all in that process right now.
Never miss the latest news from Inside Pack Sports!
Join our free email list