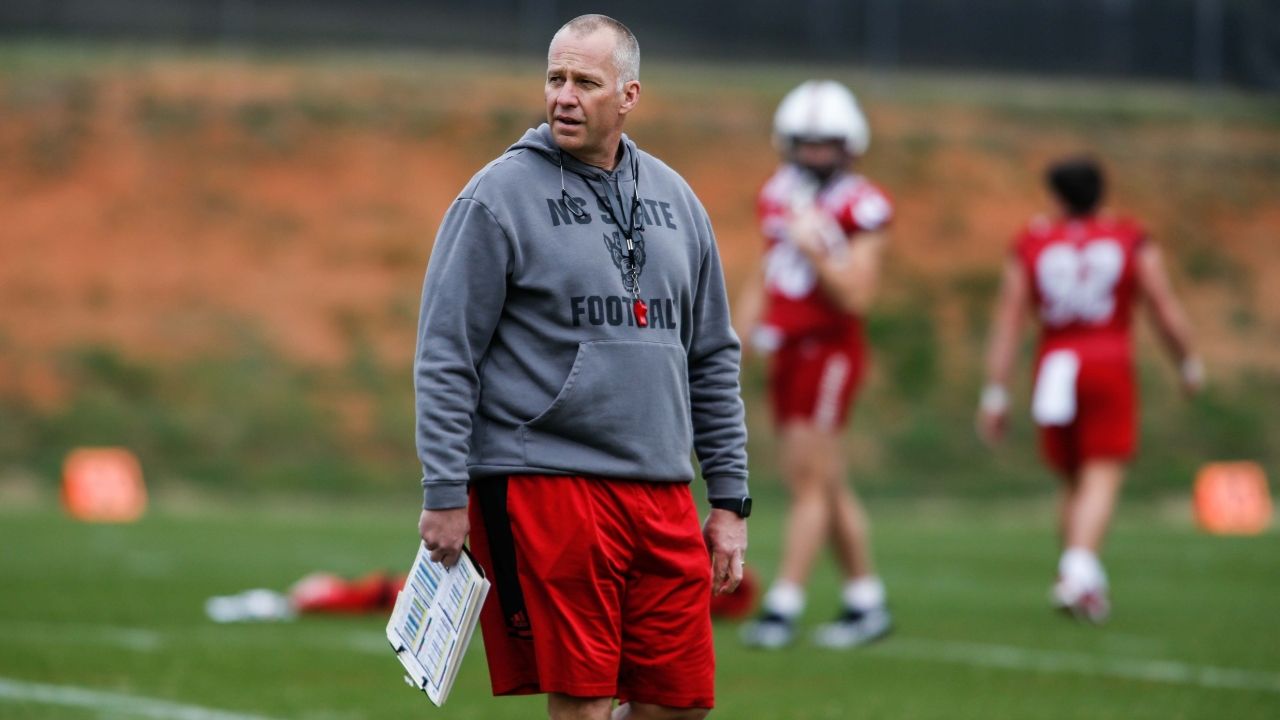 Photo by Steve Murphy/Inside Pack Sports
NC State Football
Dave Doeren: "This is One of Our Favorite Times of the Year"
---
NC State head coach Dave Doeren met with the media Tuesday morning to discuss the Wolfpack's spring training camp, Pro Day, and more.
NOTE: Click on the video in the player above to watch Doeren's interview.
---
On how valuable Trent Pennix can be in the new offense…
Well, he scores every time he plays. It'd be nice if we had him. He's a talented young guy. He's unique because he has running back skills and receiver skills, and he's really physical, so we can use him as a blocker when we want to. He's been through a lot with nagging pains here and there. Hopefully, we can manage keeping him on the field because, every time he plays, he's an explosive player for us that puts points up.
On what he saw from Pennix coming out of high school…
Well, we thought he'd be a running back or linebacker coming out. Then, his body filled out, and he got thicker and thicker. With the experience we had prior with Jaylen Samuels, we felt he gave us a similar weapon we could use in a variety of ways and create matchup problems. In the line he was in, he wasn't getting enough reps. Moving him to a position like that gave us more opportunities to play him.
On the importance of availability now and when the season begins…
Your chess pieces are important. Whether you're high school, college, or NFL, there are two things that matter with these players. One is the ability and how good a player they are, and two is the dependability and if you can count on having them every week. As a coach, they're very important words, and as players, all these guys want to stay on the field and stay healthy. Some injuries in football, you can't do anything about. That's the sport. Some, you can. That's the educational piece we do a lot of here with our sports science and nutrition people. As players, they've got to own that part of it. It's hydration, it's food, it's rest, it's prehab, it's rehab, it's all the things that go into staying healthy, soft tissue injuries, and then it's how you practice. Are your guys helping each other and staying safe, pulling off on a teammate when you could go in there and bury him like you would in a game? There's a lot to it to keep these guys in a good space.
On the work Jaylon Scott has put in…
He's done a lot. Not just physically, but he's done a lot emotionally and mentally too. He's come a long way and sat behind some really good players. He's played, he's helped us, and it's his time. We're excited for him and proud of the work he's done. We're going to keep pushing him. He's a guy every day that needs to come in here with that hungry mindset.
On retaining players with the transfer portal being utilized more often...
Our culture — we've seen this year in and year out — these kids like playing here. They're treated with respect. They're pushed. They're held accountable. They're loved. We surround them with really good teachers, and we surround them with great strength coaches and our sports med people. Boo [Corrigan] does a great job of allowing us to maintain staff, giving us opportunities to be competitive with other schools and keep people here. Raleigh is a great place to live. These guys like going to school at NC State. They've got good friends. It's hard. If you're going to leave all of that, you better be leaving it for a really, really good opportunity. As you guys all know, everyone in the world knows: the grass isn't always greener. You could be leaving this position, going somewhere else, walking into the same one, and having a bad culture that you have to deal with. When guys leave, I think it's because they know they're just not going to play, period. They need to go down a level or go to a school that has a bad depth chart situation. That makes sense to me because, ultimately, these guys came to college to also play football. If they don't get that opportunity, then it's probably not going to be the experience that they want. It's not what we want either. We want all these guys to be satisfied at the end of the journey.
On the feedback he's received from scouts with Pro Day approaching...
We'll probably get more this week. Last week, we were on spring break, so it was pretty quiet. Drake and Thayer [Thomas] just came in, and I talked to them about what they're hearing. The Pro Day is a big deal for a lot of our players. We don't have like we did with [Ikem Ekwonu]. You don't have that guy that you know is going to go right away, so a lot of these guys, where they fit in the draft, will be determined by these measurables, these 40's, how high they jump, and the drill work they go through. The interview piece, I'm not worried about. Our guys will do a great job on a board talking football and talking life. These guys that are 5-11 instead of 6-1, how fast they run will matter. It looked good. I know there'll be a lot of scouts here to look at our guys. I hope for a great day.
On how much looking at draft measurables has impacted his recruiting...
Quite a bit. The rubric we use for recruiting, the length, the hand size, all things you see in the Pro Day and combines, they're listed above the position groups. What the prototypical running back is, well, this guy's the same or bigger or smaller. It gives us a measuring stick. At the end of all things, we want length and speed. Those are the two categories when we talk about what we're looking for. Over a long period of time, it's been a pretty good formula for us as far as development and producing the number of players we have that were ranked three-star or lower. We're in the top three in college football for putting those guys in the NFL through our development.
On the players' excitement that's come with learning the new offense...
As you cycle through the offseason, they're excited to lift weights. As that goes on for seven weeks, they're ready to play football. They're ready to play. It's exciting as coaches, too, because we got hired to coach football. That's what we're in this profession to do: to mentor these guys on the field and teach them the game. For us, this is one of our favorite times of the year. There's excitement on both coaching staff and players. The strength guys get to watch the improvements that were gained in the offseason and think about how they can help them get better before August.
On discussing Drake Thomas' skillset with scouts versus his size...
To me, measurables are important, but how you play the game is more important. There are exceptions. It's no different for us; we do not want a bunch of exceptions on our team. The ones that you have, they need to be ballers. He and Tanner Ingle are two examples of that. They're going to be a little shorter than they say. They're also going to be two of the best football players they can get. The film doesn't lie. We tell those guys to watch the film, put them on the grass, and put them through drills. Get them in a meeting and talk football. All that stuff is going to cancel out some of the other measurables. They measure a guy that's 6-2 or whatever, get him in the meeting room, and he can't even come close to Drake when football IQ starts entering the equation. They look at his change of direction, or they get into his contact that he's going to make. He'll make up for those measurables with most teams. Some of them won't. Some of them won't give on that. They'll be the ones that miss out on coaching guys like him.
On having recruits in the spring…
It's great for the player to recruit, to hear the coach that's been recruiting them coach his guy, to pretend they're in the drills and see what kind of guy that guy is on the grass, how he's gonna teach. "Do I fit with his personality?" It's not just a "How are you doing?" phone call, I'm getting to watch him do his job. For us, it's good. These guys don't know, but we're watching them watch us. "Does this guy pay attention, or is he on Instagram during practice? Does he really like football, or is he in the corner?" We're watching them too. This evaluation thing that's going on, we're looking for guys that fit our culture, that fit our identity. When kids come to practice and watch, if they're not into it, then they're going to find out we're not into them. We want guys that love the game of football and love learning about it. Our camps in the summer are the same way. These kids that come to camp, and they get up in there and watch the coaches coach, they get a lot out of that.
On recruits that have been engaged…
There was a kid here two weeks ago — I can't say his name — that was taking notes during practice. He's a 2025 kid. He had his phone out and was writing notes into his phone during practice on the things he liked, and I was like, "That is pretty awesome to see." Things like that stand out to me because a lot of guys aren't wired that way.
Never miss the latest news from Inside Pack Sports!
Join our free email list