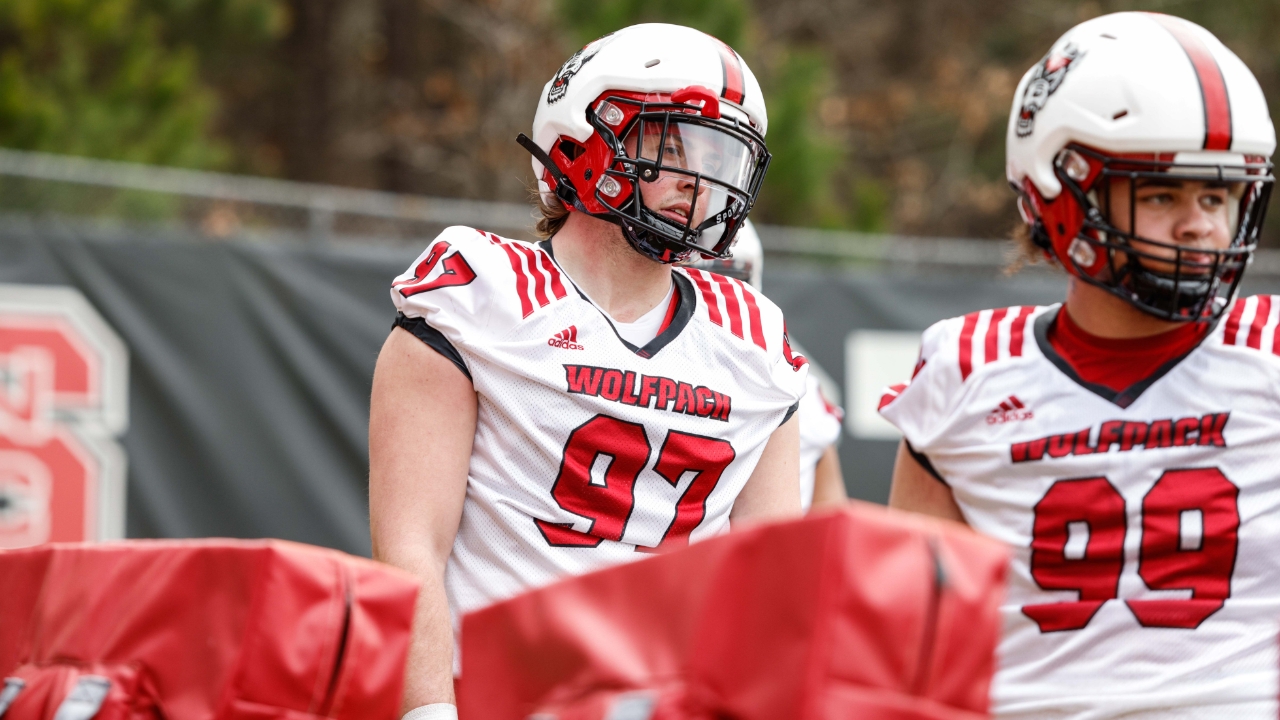 Photo by Steve Murphy/Inside Pack Sports
NC State Football
Noah Potter: "It's Been A Great Transition"
---
Transfer defensive lineman Noah Potter is working hard to crack the rotation this spring. He recently met with the media to discuss his transfer, spring practice, and much more.
NOTE: Click the video above to watch the interview.
---
How's this process been for you coming into a new system, new coaches, just new school, the whole thing?
It's been a great transition. I got family down here like an hour south, so being able to have support system close wise has been good. And coaching staff's been nothing but supportive. Coach Wiles, Coach Gibson, Coach Doeren especially, they've been really supportive, really confidence boosting and I love playing for them. So it's been good so far.
During the portal process, what made NC State stand out?
I think it's just the way they've been successful consistently. They've had the one down here in '19, but 2021 and especially last year were for good years. And I saw the opportunity to come in and make an impact. I think we have a good shot at winning ACC. That's our main goal. So place where I could win and make an impact. So that was a big deciding factor.
Who's the best athlete in the family?
My younger sister, she runs track at All State, so in a family of all athletes, she's probably the top. So I would say my sister, because she does all the sports soccer, track.
What was the portal process like for you? I would think as a defensive lineman who's played in some big program, there were a lot of schools that were interested in you.
Yeah, you have to put your phone on do not disturb. I knew going into the portal that NC State was one of the schools I was hoping to hear from. So when I got the (919) area code, I was keeping my eye out for that one. But you got to have the schools reach out to you, but you got to really have a plan in place to see who you want, that the coaches that you're talking to and see what type of program they run. So NC State did a great job with that. First day in the portal, I heard from Coach Doeren, Coach Wiles, Coach Gibson, a couple other coaches just wanted me to get down here. So it's a lot of love early on and these a great people to hear from.
How many schools would you say?
I don't want to get into it, but it was a decent amount. Like I said, I had to turn my phone into do not disturb because I wanted the main thing to be the main thing. So it was kind of overwhelming. But even in high school I was a big recruit, so having a lot of coaches talk to you isn't the most foreign thing for me. But I was trying to find a certain amount of schools that I was looking to hear from and know what I wanted to go to in a school. And I did my research, so it was pretty easy from there.
Just out of curiosity too, these days NIL is such a big part of a conversation. Was that part of the conversation?
I think in this day and age it has to be, it wasn't the main deciding factor because especially at every Power Five school that have collectives and other different types of endorsement opportunities, and I'm not a guy who is looking for that, but your name is your brand and you're playing as your brand. So it's definitely a part of the conversation now more than ever. So you have to just to do your due diligence, you have to have a part of the conversation.
How much did NC State try to recruit you in the past and then how much with Micah?
Yeah, so with Coach Gottfried, when he was the head coach of basketball, they were recruiting Micah. Then during my recruiting situation in high school, Coach Doeren was here, so like 2017 Coach Patrick was the D-line coach. And then always having family here that are fans, in Pinehurst that are big time NC State fans. They've always wanted me to take a look at NC State and I was trying to get a visit here. I took a bunch of schools down south, and never ended up working out, but everything comes full circle again. So I'm happy to be here and really excited to keep going.
What do you think about Coach Wiles as a position coach?
I just like his laid back demeanor. That's how I am. He's not a guy that's going to yell at you just to yell at you. He will get on you, but I just like getting in the room with him. He's a great guy. He's like a father figure to me so far, he's a really good guy to interact with and be around with. And he's a good coach too.
How have you handled the adversity of the different injuries over they years?
Yeah, so that's one thing that I could get into for hours.
I had the eye injury, I almost lost my right eye vision. And that was two weeks after I had season-ending foot surgery. So having two season-ending injuries, it really takes a toll on your mental. So having a good support system, being big in the faith, that's one of the things that... I was laying down on my side for two weeks straight just to get some fluid out of my right eye. So being able to read with one eye my Bible, staying praying and doing everything I needed to do to just keep my mental, because it's one of the toughest things to think about, losing your eye.
But on top of that, I lost my life, football's my life and not being able to do that. That was my first time I wasn't able to play because of injuries. So took everything in my power to get back to really feeling the drive to be the best player I can be. But I'm happy that I was able to get through that, through a great support system, great training staff too, great doctors that allowed me to get to where I needed to be to keep going forward.
Never miss the latest news from Inside Pack Sports!
Join our free email list