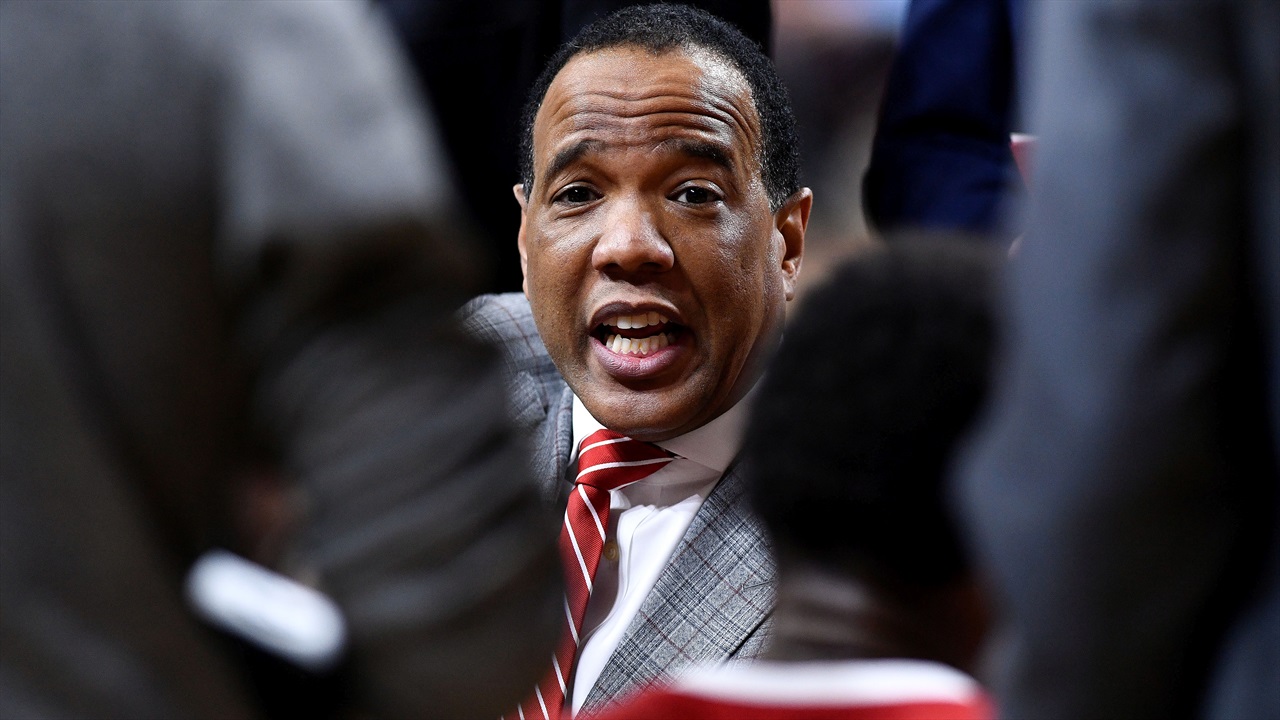 Photo by USA TODAY Sports
NC State Basketball
Kevin Keatts: "We Did Some Really Great Things This Year"
---
NC State head coach Kevin Keatts, Terquavion Smith, and Jarkel Joiner met with the media after the Wolfpack's loss to Creighton in the NCAA Tournament.
---
Opening Statement From Kevin Keatts...
You know, I thought our guys fought the entire game. We wanted to -- obviously they got a pretty good lead on us, and we wanted to cut the lead and put a little bit of game pressure on them, and I think we did.
Give Creighton a lot of credit. Very good basketball team, and every time we made a run, I thought they made a run, and obviously they made some plays down the stretch.
I am super proud of my team. I mean, this is -- when you look at where we were at last year to where we're at now and how hard our guys worked, what a season we had with 23 wins and guys playing their butts off. Guys like Jarkel Joiner and the other transfers and the guys like Terquavion Smith who decided to come back, it means a lot to us and our program.
I thought those guys completely fought the entire year. We did some really good stuff. We are going to walk out of here with our head up, continue to build and keep pushing this program in the right direction.
Kevin, heading into this game, obviously all the talk was on DJ Burns and that matchup with Ryan Kalkbrenner. How frustrating was that to not have that come to fruition with DJ getting so many fouls?
KEVIN KEATTS: That was more outside talk than anything. I certainly wished DJ could have been on the floor a little bit more. But guard play is really good, and our guards have been really good. These two guys have averaged 17 points a game between the two of them or more. On nights DJ has been really good, certainly never got into a flow, and I thought their big was tremendous. He did a great job. We fronted him, played him, he did a good job, they found him, he made shots.
Jarkel, how frustrating was it for you guys that you were kind of scrapping for shots at one end and trying to find openings and they would get down to the other end and dump it in inside? Did that take a toll on you guys a little bit in terms of frustration?
JARKEL JOINER: I wouldn't say that we were frustrated because we knew the game plan, we knew what they was going to do. I felt like we could have been a little bit more disruptive because they're a great passing team. But give credit to them, they found their big man.
Jarkel, so much at NC State is about legacy and heritage. How important is it to you that you've lifted NC State back up to that level where they're in the mix for the NCAA and competing for these type of awards?
JARKEL JOINER: Man, it's been great. When I first came on my visit, Coach told me we was going to go to the NCAA Tournament, and everything he said to me in the office came true, man. And I love him to death. I'm so glad I came here. It's so family oriented and I'm glad that we got back to the NCAA Tournament. Coach has been a winner all his life, and I'm so glad he's been able to coach me and get me to here. It's been fun.
T, you decided to come back. How things ended right now tonight, given everything you've been through over the last two years, what has it been like? What has your career been like and what do you take away from the things you've learned here in.
TERQUAVION SMITH: I'm just blessed and glad that I got to play with the group of guys I got to play with, and I'm glad I got the coaches I have and I've got the staff that I have, and I'm glad I chose NC State. Like he said, like Jarkel said, every time I talked to Coach and when he was recruiting me all the way till now, everything he told me that would happen happened.
I just had to believe in it and put the work in for it. I'm just glad to have this group of guys and the coaching staff that I have.
Terquavion and Jarkel, this is the only year the two of you will get to play together. What has that experience been like sharing the same backcourt throughout this year?
JARKEL JOINER: It's been fun, man. Me and T are like brothers. I love him to death. He's an amazing person. Like he's a more amazing person than he is a basketball player, and he's an amazing basketball player. And he's going to do great things in his career whatever he decides to do, and I love him to death.
TERQUAVION SMITH: I can say we're brothers. This is my big brother. I take everything he said into consideration. Whenever he tries to tell me anything as far as on the court, off the court, somebody I know I can count on, and I just love him. I wish we had more time together, just to try to make it better, make the chemistry better. But I'm glad he came and I'm glad it was the best fit for him, and I just love him. This is my guy.
Kevin, you went into the game knowing you had to defend a three, that they've had great success this season. What did you feel like the difference in the game was? Was it just a shot here and a rebound there and a call, a no call? What was the difference?
KEVIN KEATTS: Yeah, I thought we did a great job defending the three. When you look at them, they were 3 for 20. We obviously didn't shoot the ball well. I thought they got some interior baskets that helped those guys get a little easier baskets. It was a possession game, if you look at it. If the ball bounces one way or we make a couple shots here, it may be a different outcome.
But give them credit. I thought they made those threes out of -- those three threes they made I thought they made two down the stretch that were really huge that kind of put them over the top.
Kevin, Terquavion got the two fouls; I think generally this season you would leave him on the bench the whole half. You made the decision to bring him back. How well do you think he massaged that situation and what led you to make that choice?
KEVIN KEATTS: Well, he's a lawyer, and from the time he got the second foul, he's like, oh, I got it. So it was the end of the year, and hey, listen, these two guys have been tremendous. If I'm going to go down, I wasn't going to have him sitting on the bench with two fouls. I made the decision if he fouled out, he fouled out. Luckily he didn't.
But what a -- I haven't said this, but what a special backcourt this has been. You look at two guys that are right over 17 points a game, they trust each other, they fight each other, they compete against each other, they love each other, they hang out with each other. It's been a really special group.
And as a coach you don't get that all the time. You don't get two guys who are really winners who compete the way they do. I'm really grateful that both of those guys decided to come to NC State and play for NC State, because we wouldn't be in the position without those guys.
But I wasn't going to sit him down. We were going to go out, and if we were going to go out and we're going to win the game, it was because of our guard play.
Kevin, when Terquavion dunked on Kalkbrenner, did you have any sense at that point that maybe the tide had turned your way and that you just kind of had to see it out, and did you have that feeling sort of in your gut at that point?
KEVIN KEATTS: You know, I thought we made a couple big plays. I thought the dunk was a big play, the next possession Jack hit, a big three. And then we came down and we couldn't get stops. We went up, we couldn't get stops. The ball bounced a couple different ways. But it definitely shifted our momentum, the momentum towards our way. I thought we did some good stuff. I just thought they came down and made a few more plays than we did.
Kevin, these guys have helped lift this thing back up to the NCAA. The meaning that has to you, the gratitude you have for your team this past season.
KEVIN KEATTS: Yeah, just listen, it's a lot of -- what you guys don't understand, it's a lot of hard works that goes into winning. Winning is not easy. At some point in my career I thought winning was very easy because I was comfortable and we won.
When we had the year last year, I realized that it's not given to you, it's earned, and you've got to earn, you've got to work.
And Boo pushed me to look at everything. Had Chancellor Woodson's support, had both of those guys' support. And I wanted to make sure that I went out and I made some positive changes. The most positive change was probably in myself, looking at myself in a different way that I've never looked at myself.
But I also wanted to get out and find some guys that I felt like were NC State guys. They played hard, they competed. We talk about accountability. We have ART, accountability, relentless, toughness and together. Wanted guys to be able to do this.
I have an elite sophomore who was an elite freshman who decided to come back to school. Didn't have to. Wanted to bring an older guy beside him to be able to help him get where he needed to be.
I am proud -- we did some really great things this year. Maybe one of the best turnarounds in college basketball, and it's because of the people around me and the staff that I put together, and everybody's hard work and everybody's commitment to get us to where we needed to be.
We don't want to go back to that one year. I want to look at it as it was a bad year, and I want to continue for the program to rise.
The biggest thing is like, to be quite honest, with you, I got humbled, and when you get humbled, you look at things a completely different way. And I'm glad I got humbled because you learn a lot through going through some adversity, and that was something that I had never done in my life. But I went through adversity, and it made me look at things in a different light. I'm glad I did because we're where we're at today because of what we went through.
Never miss the latest news from Inside Pack Sports!
Join our free email list