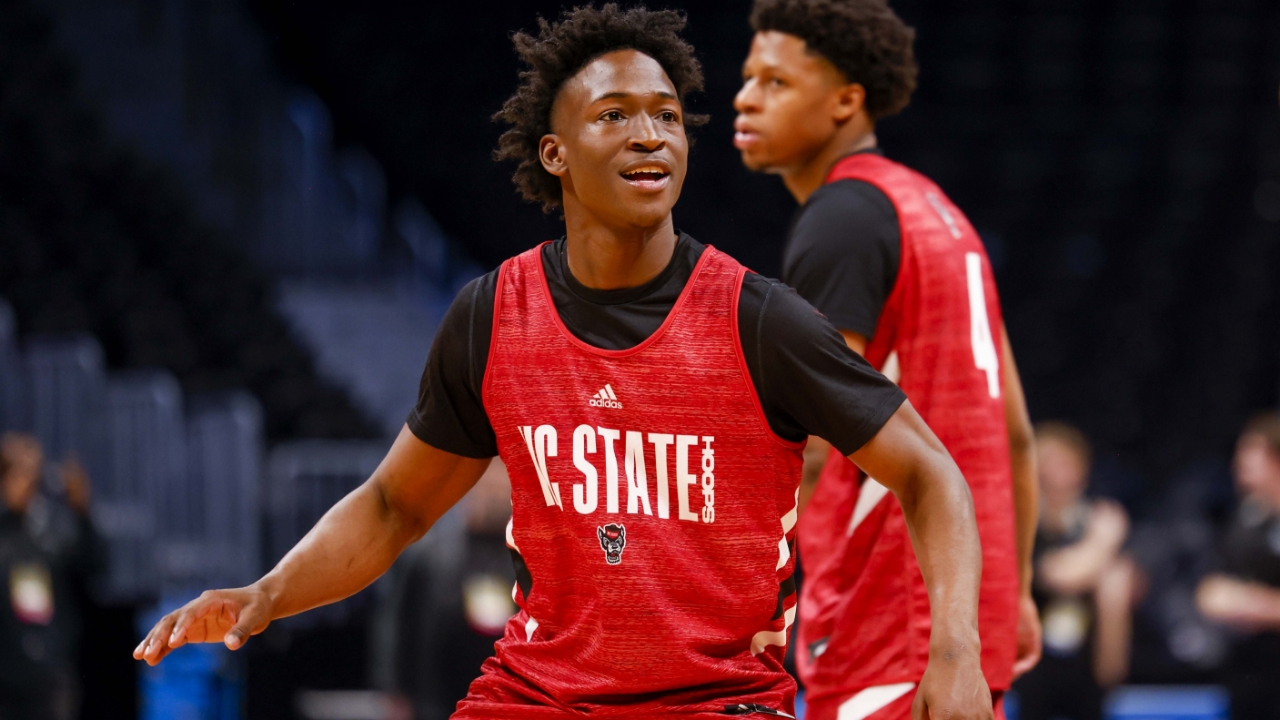 Photo by Michael Ciaglo-USA TODAY Sports
NC State Basketball
PC: Terquavion Smith and Jarkel Joiner Talk Creighton
---
NC State guards Jarkel Joiner and Terquavion Smith met with the media to discuss the NCAA Tournament matchup against Creighton.
---
Obviously Creighton has a few shot makers. Watching film this past week, what are your biggest takeaways from their offense and what will be toughest to deal with?
TERQUAVION SMITH: I feel like the biggest takeaways are that they like to shoot threes. They shoot at a high clip. They can shoot from anywhere on the floor, in their backcourt, so I feel like pressure is key for us.
For both of you guys, T, you talked extensively about wanting to get to the NCAA Tournament, how excited you guys were in the video when your names were called. How has this experience stacked up so far being here and just kind of realizing a dream that you've had since you were a kid?
JARKEL JOINER: Oh, man, when I first committed and T decided he was going to come back, that's all we talked about was get to the tournament. We knew how special we could be as a team. As you saw in the video, all the emotions came out for all of us and it's what we dreamed of as a kid.
TERQUAVION SMITH: I feel like it was a good time for us, it brought us together, showed us what we could do and accomplish if we played the right play and believed in one another, so that was a good moment for us.
This game figures to be an up-and-down battle. When you have teams challenge you because I know you like to run, do your eyes light up?
JARKEL JOINER: Most definitely. We like to play fast and, you know, they like to play fast. Like you said, we light up and it should be a fun game.
TERQUAVION SMITH: I feel the same way. We like to play fast. We like to get good shots fast, so it should be a great game.
What about the altitude? Have you guys experienced basketball at a mile high before?
JARKEL JOINER: We've been practicing, so this ain't that bad I feel like. We've been okay with it.
TERQUAVION SMITH: Yeah, I really haven't felt any different.
For both of you guys, this run that you had to get here to the tournament, what have you learned about yourselves to get to this point as individuals and then as a team? What have you learned?
TERQUAVION SMITH: Well, I would say that I learned that I have a group of brothers that have my back and care about me and that are going to do everything it takes to win games. I've also learned that if I'm not doing anything, I know they will help me and encourage me to keep being myself and playing hard, as well.
JARKEL JOINER: I agree.
I know you're excited about being in the NCAA Tournament, but how do you keep from being overly excited to the point that you might make mistakes? Seems like there might be a fine line there about wanting to play hard but not making mistakes.
TERQUAVION SMITH: I feel like we're locked in. Coaches keep us locked in in practice, making sure we know everything we need to know, scouting report all the way down to everything. So I feel like us being together and practicing, keeping us together and locked in for the game.
Jarkel, I know you'll be excited. How are you going to keep the nerves in check?
JARKEL JOINER: Man, I like to play emotional. But we've been doing our homework, watching a lot of film, and Coach has been telling us keep our emotions in check, and while we're here, we might as well try to win some games.
Obviously Ryan Kalkbrenner is one of the better defenders in the country. Do you see any similarities of him to anybody you might have played in the ACC this year?
TERQUAVION SMITH: I would say the big man from Syracuse, kind of similar.
JARKEL JOINER: Yeah.
When you guys get going, you guys are as tough an out as anybody in the tournament. How much pressure is associated with that, knowing that a lot of this team's success is riding on you guys and how you come out and perform?
JARKEL JOINER: I wouldn't say it's pressure, but I feel like we know what we can do each and every night, and we put a lot of work in, so it's confidence for us.
TERQUAVION SMITH: Yeah, I would say no pressure, as well. Like he said, we know what we can do. We've just got to put our mind to it.
NC State is one of the great turnaround stories in college basketball. You go from 21 losses to 23 wins, but you're not getting a lot of love from the national media. You guys know what you can do. If you can play to your potential, what do you think the ceiling is for this team?
JARKEL JOINER: The ceiling is really high. I feel like that's good we don't get a lot of love. Just always a good underdog story.
TERQUAVION SMITH: I feel the same way. I feel like it would be a very high ceiling. I feel like no national recognition keeps that chip on our shoulder. That just helps us in every way possible.
Never miss the latest news from Inside Pack Sports!
Join our free email list