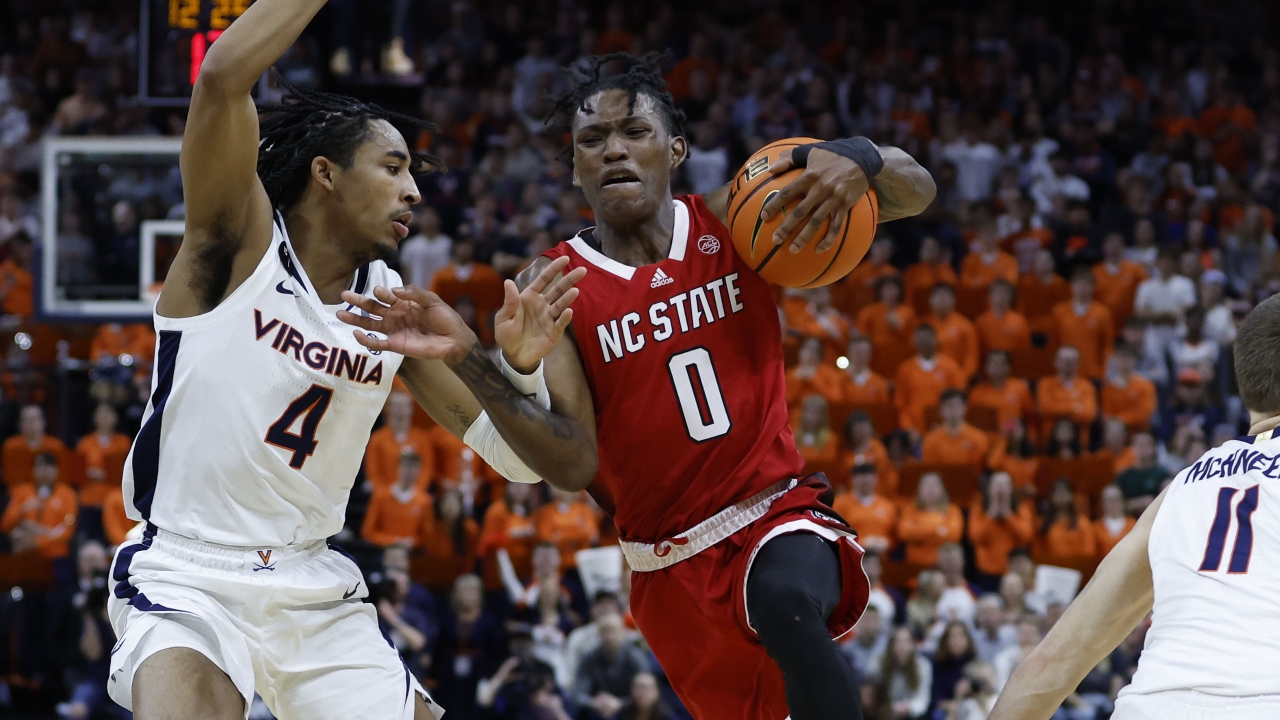 Photo by Geoff Burke-USA TODAY Sports
NC State Basketball
Terquavion Smith: "We'll Have To Defend Very Well"
---
NC State guard Terquavion Smith met with the media to discuss the Wolfpack advancing into the NCAA Tournament, Creighton, and much more.
NOTE: Click on the video above to watch the interview.
---
What was it like for you all to hear your name called last night?
It was a great feeling for all the staff, everybody around in the area. We loved it. We enjoyed it. We soaked that moment in for this group. But yeah. It was a good feeling for all of us.
Coach said this morning on a Zoom call that it was validating the success you guys had, especially after last year. Do you feel like it's all worth it after coming back and making the decision to come back?
Yeah, for sure. I feel like it's worth it. I feel like this is what I came back to do. This is what I came back for, to get this good group of guys and just work hard and...
Were you nervous at all coming into the tournament, not knowing where you guys stood?
I wasn't really nervous. I was nervous about where we would fall or probably our matchups in the tournament.
But you knew you guys were getting in?
Yeah. I kind of felt like we would get in.
How ready are you just to get back on the court given the way you left the ACC tournament?
I'm ready to get back on the court. Also, because we slipped the game again to Clemson, so that was our third loss to them. So that just makes me even more ready to get back on the court and anxious to show people what we have to prove.
Creighton likes to play up and down. That's kind of you guys' game. Are you looking forward to that?
Definitely looking forward to playing them. I've been watching a lot of film on them since Selection Sunday, so I've been tuning into their game. They like to shoot a lot of threes, so we'll have to defend very well.
What else stands out with them watching the film?
I just say they shoot a lot of threes. Even in transition, they're trying to get threes. Constant movement, trying to keep you occupied on the backside as well. But yeah. Other than defend the three point line, I didn't really look into too much.
Has preparation changed at all knowing that this is win or go home?
When you're playing for a national championship, I think preparation should change. I think the intensity should go up. The focus should go up. Everybody should be locked in. And the competition and practice should be good at a high level so you can be prepared for the high level team that you're going against.
State hasn't been to the dance in a few years, but you have some veteran players who have played in the big dance with different teams. Have you leaned on them? What have those conversations been like?
Yeah. I've been talking to Casey and DJ; [they] are the only two guys that have been... And coach Levi. Our coaches are familiar with that environment. But yeah, I've been talking to everybody who has this experience. They're just telling me to be ready, stay calm, don't let it get to you. It's just another game.
Did you ever think about this moment when you were younger, when you were playing basketball in the gym by yourself?
Yeah, I always thought about going to the tournament. I always watched the tournament every year growing up. Yeah. So this is one of my long-term goals and I finally got to achieve it.
Never miss the latest news from Inside Pack Sports!
Join our free email list