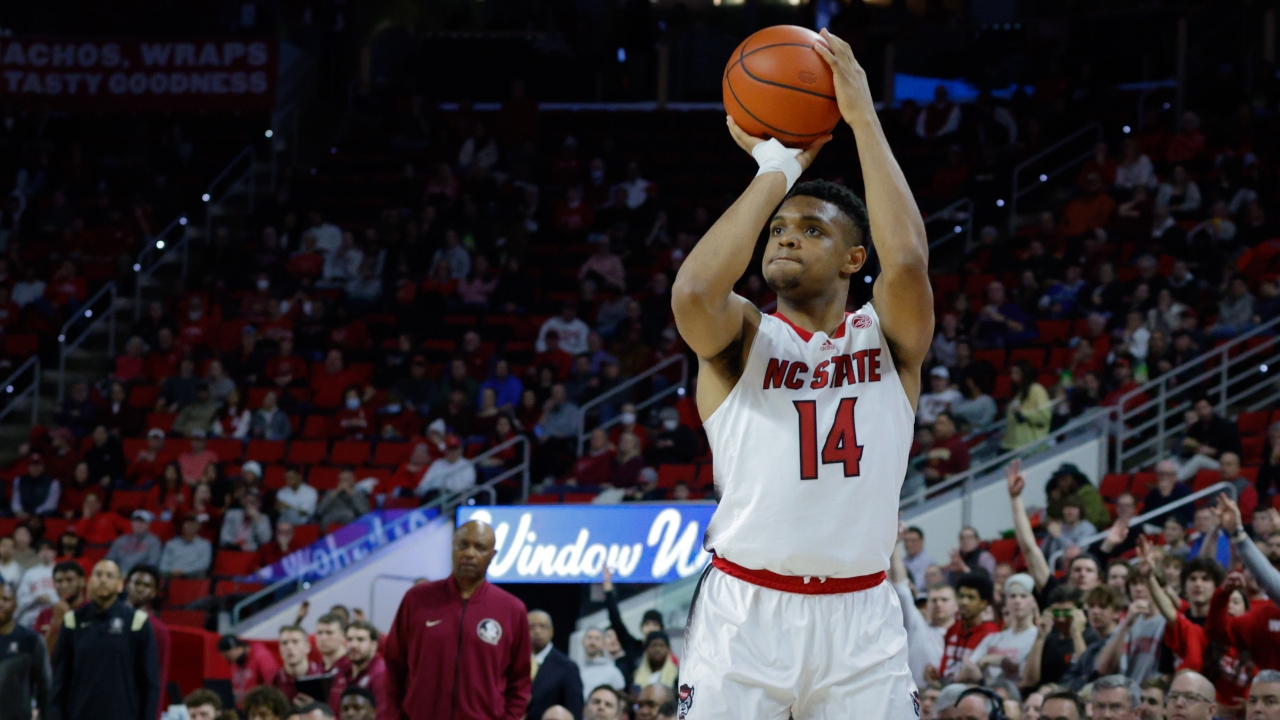 Photo by Steve Murphy/Inside Pack Sports
NC State Basketball
Casey Morsell: "It's A New Season"
---
NC State guard Casey Morsell met with the media to discuss the Wolfpack advancing into the NCAA Tournament, Creighton, and much more.
NOTE: Click on the video above to watch the interview.
---
Would you reach out to, say, Justin Moore, who's played Creighton a ton, to get inside info?
I haven't thought that far ahead yet. But honestly, yeah, I would. All of my relationships with the guys I played with, I value those. And like you said, he has a lot of experience playing Creighton, so I think that's something that I might do.
What was yesterday like, man? I'm sure there were a lot of emotions in the room.
Oh yeah. The room, like you said, it was full of emotion. I think especially for this team, the grind that we've been through starting with last year and then heading into this year.
It was just something that I'll value forever just because it took a lot of sacrifice and a lot of grind. And one of the things that we kind of did was just kind of figure out who we are as a team and we just haven't looked back.
And you're one of the guys that has played in the NCAA Tournament. There hadn't been a lot of guys on this team. What advice have you given those guys so far?
Yeah. I think my two lessons is just kind of make sure the chemistry is high, which it already is. But we just got to make sure that we're all on the same page. And then next thing is just to value the details, the little things that don't really require talent. And I think once we kind of master those two aspects of the game, I feel like we're very tough to beat.
Do you feel like an underdog?
We've always been the underdog in a lot of my matchups, so it's something that we value and I think it's something that we kind of use to our advantage.
Were you a little worried yesterday when the show started that you might not make it? Or did you feel pretty confident that you guys would?
Yeah. I was mixed emotions. I'm not going to lie. You just hear so many different things and it changes every day whether or not you getting in. So it was mixed emotions, but I think it was weird. As it got closer to it, I started feeling better about it and I'm just glad that they called us early.
Is it easy to just let go of the season now and start fresh? Do you feel like it's a new year?
Yeah, 100%. I think it's a new season in terms of who we're playing against. A lot of conference teams that we're ... it's something that, like I said, we're looking forward to and it's going to be different. But I think it's a challenge that we're ready to handle.
You ever play in altitude before?
I haven't, no. I haven't now that I think of it.
Between the ACC tournament and selection Sunday, were you checking brackets online?
No, I wasn't. That's the worst thing. Nothing against Leonardi, but I think it's just so much. It goes up and down, so many different opinions. It's tough to keep up with honestly. So no, I wasn't.
You've been with the ACC for a long time, four years now. Do you think the league is getting a bum wrap right now?
No. I think it's different. I think coaches are leaving and just bringing in a different feel, different style to the league. So I don't think it's going down. I just think it's just a different type of vibe that comes to the lead with that.
Did you look at the bracket, the south region bracket? Did you notice there's another ACC team in that bracket?
I didn't look at the ... No, I'm not going to lie to you. I didn't. I just kind of looked at us versus Creighton and that's just kind of where I'm focused.
Virginia is on there.
Oh, are they? Okay.
Have you been watching Creighton at all this year?
Yeah, a little bit. I think I saw one of their games.
They play fast.
Yeah. They move the ball and we're expecting them to kind of try to work us on the offensive end, but that's something that we've been spending this time doing is just kind of sharpening our knife on a defensive end and just being ready for wherever they throw at us.
What's that prep when you have a one and done type situation like this with a tournament?
You got to find a good balance. You got to make sure, you know, got to practice hard, but you got to practice to the point where guys aren't in a position that kind of get hurt or just anything that can go wrong. So watching film and just being ready for whatever a team could throw at you, that's really all you can do.
Jarkel Joiner, the last three weeks of this season, were you as amazed as everybody else, what he was doing? It seemed like he will be esteemed with a lot of winning.
No, I'm not surprised at all. That guy works man. And he's really ... One of the things he always does is just brings energy night in, night out no matter what day of the week it is, and it kind of spreads throughout the rest of the team.
Never miss the latest news from Inside Pack Sports!
Join our free email list