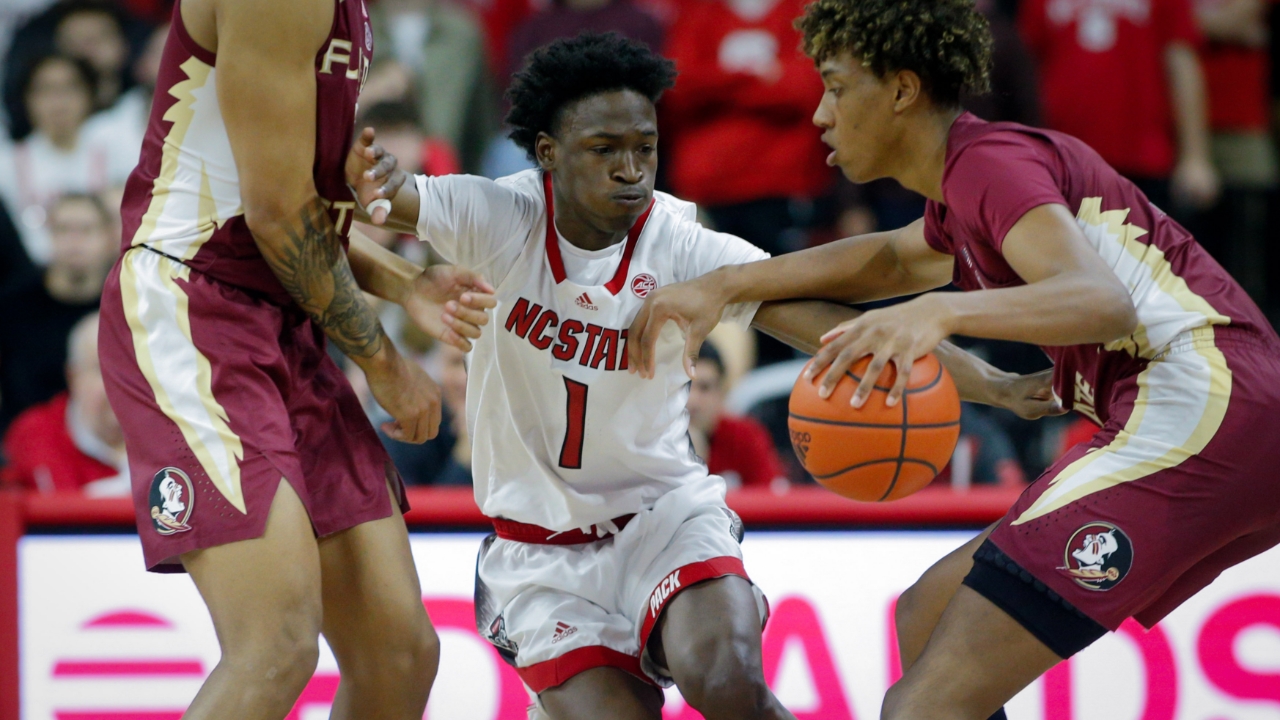 Photo by Steve Murphy/Inside Pack Sports
NC State Basketball
Jarkel Joiner: "I Wanted To Play In The NCAA Tournament"
---
NC State guard Jarkel Joiner met with the media to discuss the Wolfpack advancing into the NCAA Tournament, Creighton, and much more.
NOTE: Click on the video above to watch the interview.
---
Saw your reaction on the little video. What was going through your mind when you saw?
Just a lot of mixed emotions. Just happiness, joy, all the hard work we done put in really paid off, so, man, we just got to go win some games now.
Were you worried at all, that you might not get in?
Most definitely. Always, man. Coach telling us to stay off social media and stuff, but man I was looking at all these different brackets and stuff. Ah, man. But once our name got called it was nice.
This was one of the reasons you transferred to NC State, an opportunity to play in the NCAA Tournament. Does it almost validate that decision a little bit more?
Most definitely. A lot. A lot more. Coach told me on my recruiting visit, "We're going to get to the NCAA Tournament," and that's what we did.
You played at such a high level the last three weeks, month of the season. Was that something in the back of your mind, driving forward to the end, so you can make sure this team gets to this point?
Most definitely. I put a lot of work in. Before the last month, too. And I wanted to play. I wanted to play in the NCAA Tournament. I knew we had a chance, so like you said, I was in hyper drive.
How do you stay in hyper drive now that it's one and done?
Man, it's even more motivation. We put a lot of work in. And we're sure, we're ready. We're ready to play.
Jarkel, what was that like, man? You said you were looking at brackets, man.
Yeah.
I know that had to be pretty nerve wracking. Were you updating every minute? What was that like?
I had to stop looking at them, man. Because there was a couple of times when we was here, or we was there, or we wasn't on there. I was like, "Oh, man. I'm going to get off this." Because I couldn't take it. So, man, we got our name called Selection Sunday, it was nice.
Who had the best reaction out of the team?
Probably Chase, because you know Chase through the hardship last year, stuff like that. And Chase, he was so happy, man. He was happy and I was happy for him. I was glad we could do it for him.
Seems like a lot of guys were grabbing you, though.
Man, they know how much it mean to me. My last year, and I wanted to play in the tournament, so they was happy for me as well.
What are your early impressions of Creighton?
Man, they were a good team. Me and Jack, that's my roommate, we were watching them early on, and we was hearing stuff. They was saying they had the best starting five in college basketball at one point. And Creighton is a really good team.
Their big guy is excellent, too. Don't you think your big guy, DJ, has kind of proven he can play with anybody this year?
Most definitely. Our big is excellent, too. I'll ride with my big man over any big man in the country.
Before the season you told us you and T claimed that you guys were the best guards in the ACC. Do you guys feel like, where do you guys match up in the tournament?
We'll have to see. We're going to have to see. I feel like we've been proving it a lot this year, so we'll have to see in the tournament.
T mentioned that defense is going to be really important against Creighton. Do you view playing a team that can do so well offensively as a challenge? How do you step up to that challenge?
Most definitely. Just watch a lot of film. Just try to be physical, like we've always been, put our pressure on them and try to wear them down.
Thinking back to Selection Sunday was that a long day for you?
Oh yeah.
What did you do to keep busy, or was there anything?
Man, we had practice, we had weights, so that kept us busy. Try to keep our nerves down.
Can you put in perspective what this journey has been like for you, personally? Going through this season with this group of guys and how it came together. Explain how it came together the way it did.
Oh, man. Blessed. This team from the first day I came here to practice and stuff, this team just gelled together, and we really love each other. We play hard for each other. We listen to each other, we're coachable. We can get on each other about any mistakes, and listen.
Never miss the latest news from Inside Pack Sports!
Join our free email list