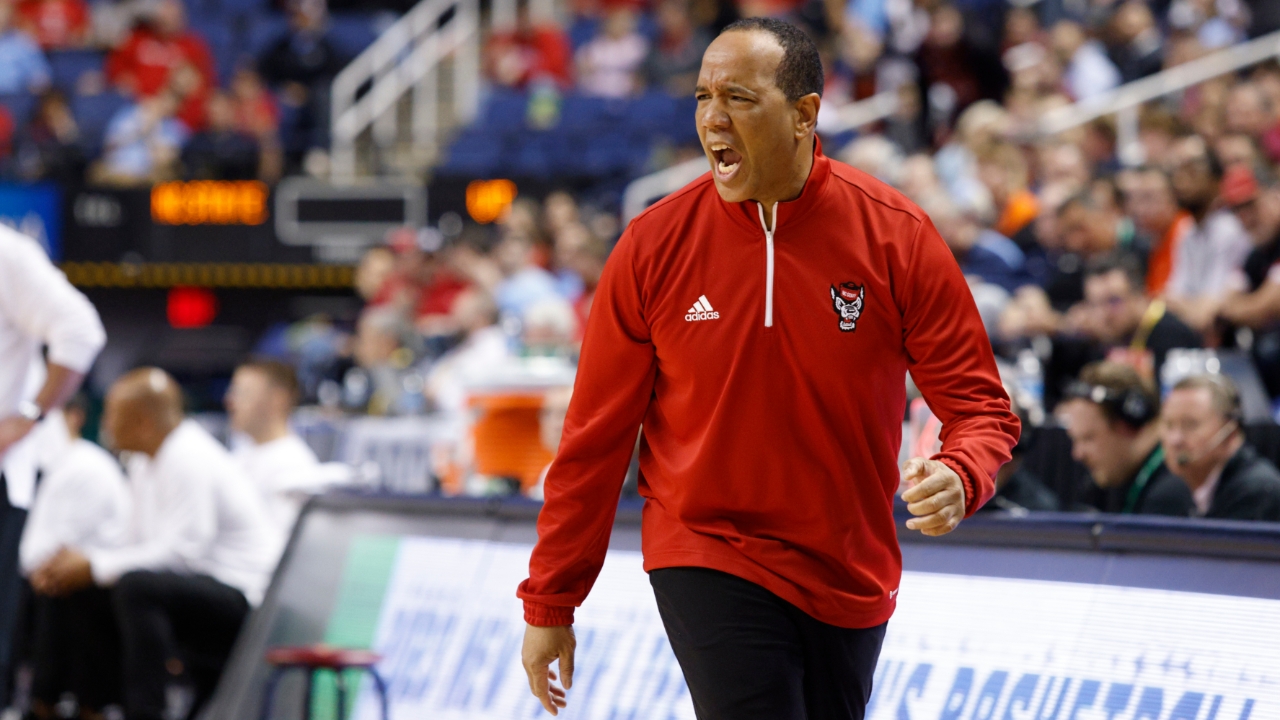 Photo by Steve Murphy/Inside Pack Sports
NC State Basketball
Kevin Keatts: "We Got Our Swag Back This Year"
---
NC State head coach Kevin Keatts met with the media via Zoom Monday morning ahead of the No. 11 seed Wolfpack's matchup versus sixth-seeded Creighton in the first round of the 2023 NCAA Tournament's South Regional.
Traveling to Denver's Ball Arena, the Pack will take on the Bluejays on Friday, March 17 at 4 p.m. EST with the winner facing either Baylor or UC Santa Barbara on Sunday, March 19. The game will be available to watch on TNT as well as online through the NCAA's March Madness Live.
NOTE: Click on the video in the player above to watch Keatts' press conference.
---
On playing Creighton and having NC State's name called early during the Selection Show…
I'll start with yesterday. It's always an exciting time when you get to Selection Sunday. Even the coaches that know that they're in the tournament, but as an at-large, there's still some anxiety to the whole deal. The only time I ever slept well was when I was at Wilmington and when we won the tournament. We knew we were in the tournament anyway. We just didn't know what seed we were going to be. Going back to my days at Louisville, you know you're in the field. You know you've done enough, and you're just kind of wondering, "Is my name going to get called?" Shoutout to the committee for not making us wait a long time. It's really good to see your name in the first bracket that came out. Our guys were excited. We'd just finished up practice, and we were hanging around the practice facility. You could just hear everybody start yelling. It's a very exciting time. As far as Creighton goes, I don't know how we match up yet. I'm starting to watch tape on them. I watched a little bit late last night and then some today. I know Greg [McDermott] has done a great job with his program over the years. They're really good, 21-12 and 14-6 in the Big East which is a very good conference. They're a good team. They're historically a really good team. Obviously, it'll be a tough matchup no matter how we match up. It'll be a tough game for us.
On Creighton's high pace of play…
The little bit that I have watched, they're really good. They're really, really good offensively. They get out in transition. They're special. They can shoot the basketball. Going into the game, you would say there are two teams that really like to play fast. It could really be a high-scoring game.
On the turnaround from last season…
We did a good job. Credit goes to the staff, the players we recruited, and the guys who were back in the program for absolutely flipping the program. We had a really tough year that you never want to go through with injuries and things not clicking the way we wanted to. We went out and addressed some of our issues. I had a bunch of new guys come in as far as staff who brought a lot of energy to the program. We kind of got our swag back this year. It was really good to see that. It's good to be on this side of it. I can tell you that.
On the immediate reactions from the team…
It was a great reaction. We talked about this at the beginning of our year. We talked about this during the recruiting process that we wanted to get back to winning 20-plus games as we'd done our first three years, and we wanted to get back to the NCAA [Tournament]. It was validation that all of our hard work had paid off. Guys who came in and contributed to the program and guys like Terquavion Smith who decided to come back were rewarded to get the opportunity to play in the biggest tournament in basketball. They were really excited about it. Our guys were pumped. D.J. Burns is happy. I was so happy for Jarkel Joiner who's been in college for a long time and gets the opportunity to play in the NCAA Tournament. I don't think we have but three guys on our current roster who have ever experienced that. That was a good thing to see everybody's excitement and to know they have that opportunity now.
On the ACC getting five teams into the tournament…
It's tough because I've been on the other side of that. We've got 15 really good teams in our league, and to get one-fourth of our teams in is really tough. I don't know if it's because we went to 20 games, if it's because of the NET, or if it's both happening at the same time, but as a league, we have to figure out how to get seven, eight, or nine teams into the tournament. The Clemson one is tough because, as you know, they're a really good basketball team. I think they should've been in the NCAA. I guess, if I had to go back to one common theme, we got left out [in 2019] at 32 or 33 in the NET, and I think one of the issues that we had, according to the committee, was our non-conference strength of schedule, and I would say that's probably the only thing, in my opinion, that brought Clemson down. I wasn't in the committee room. I don't know exactly what happened there, but some of that happened to us a few years ago where our non-conference schedule ended up being in the 300s. That's so tough because, when you set out to schedule, most of the time you think the teams that you schedule are going to do well, and scheduling is so hard now because there are so many transfers. When you schedule a team, they could be really good, or they could be really bad, and by the time they add transfers or lose some guys, it completely changes. In Clemson's situation, Illinois-Chicago was a good team, and you don't know what South Carolina's going to be, and then all of a sudden some of those teams you think that's going to be really good don't perform well, and it brings your non-conference schedule down. I wish, at some point, we could focus on December and January as opposed to November and December because, a lot of times, you get dinged for what happens early in your season.
On how the Wolfpack defends large post players and what to expect when facing Ryan Kalkbrenner…
Well, he's unique. We made a couple of calls when he was coming out of high school, but I don't think we were ever really involved with him. He's so talented. I think you have to be prepared for all different ways because of his ability. At one point, and he may still be there, he was shooting close to 70 percent from the field. He does a great job of posting up deep in the paint. He's really talented around the rim. If you want to talk defensively, they do a good job with drop coverage on him. They make you take pull-up jump shots, and he's really elite at blocking shots at the rim. He's a tough matchup. I think we have to do a great job of being prepared to guard him different ways and try to figure out how to score against him.
On how the team is playing heading into the tournament and what he'd like to see improved…
I think we're playing good basketball. You could point to the Clemson game and say, "How can he say that?" The night before, we played very well against Virginia Tech. When you get into a tournament situation, one of the biggest things is matchups and how you match up against a team. If we play certain teams three or four times, I think we could be successful with the way we play, and I think a lot of times it comes down to matchups. Clemson, for us, was just a tough matchup. They were physical. They did a good job of gap protection and everything else. If you allow me to throw away a couple of those games, I would say we're playing really good basketball.
On living in the moment with his first NCAA Tournament berth since 2018…
It's tough. We were in it the last two years at Wilmington, and then we got here and were in it, and we thought, because of the NET at that point, we should have been in for our fourth straight, two at NC State. Let's not forget the pandemic year in where there was no tournament; somehow, we've forgotten about that. I'm going to live right here in the present. I'm excited about it. These guys that are on my team have no idea about the history in whether we've been in or not. It's only fair that we give them everything we can, not live in the past, concentrate on a good Creighton team, and be ready to play on Friday against these guys. I'm so happy for our current roster and what they've been through this year. Try not to put last year on these guys because it wasn't on them, but it is great to see that they came in and went back to winning 20 games and be toward the top of the ACC.
On discussing expectations heading into the NCAA Tournament with the players...
I think it'll be something I'll sprinkle in throughout the week. Last night was just excitement. At that time, I don't even think they knew who we were playing because we were just so excited to hear our name called. Today, we'll talk about a good Creighton team and just start preparing mentally and physically for the game on Friday.
On Greg Gantt…
I don't have anything right now. He's still going to be a game-time decision as far as Friday goes. We're hopeful. I don't know where that will land at. We practiced yesterday, and he was not a part of practice, but that doesn't mean he couldn't be available on Friday.
On the team's plans to travel to Denver…
We're trying to figure that out now. If it were up to me, we would've left last night after the Selection Show, but obviously we would have to work with the NCAA to figure out how soon we can get out there because I think [the altitude] will be an issue.
On going from celebrating the tournament berth to preparing for Creighton…
Here's the good thing about it: we have time. Sometimes, you don't. We don't play until Friday. I think there's, for our guys, the excitement of being in — that's one thing — but we'll be ready to play once that opportunity is presented to us when we tip. I think that's part of the process. Part of the process is excited about it. Everybody that got in the tournament yesterday had a sense of excitement about them and were pumped up. Every coach's job now is to say, "All right, you're in. Now let's figure out how to win games, and you have to start with the first game."
Never miss the latest news from Inside Pack Sports!
Join our free email list