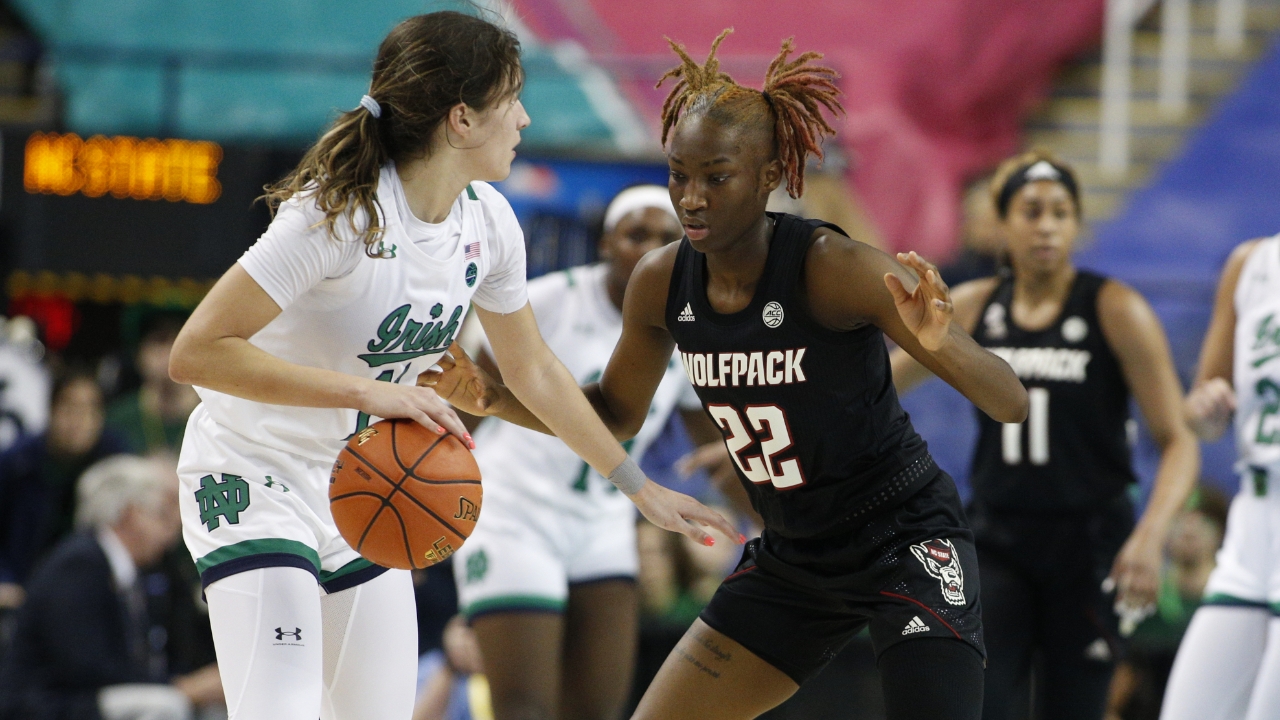 Photo by Steve Murphy/Inside Pack Sports
NC State Women's Basketball
WATCH: Moore, Rivers, Brown-Turner Discuss Loss Versus Notre Dame
---
Eight-seed NC State's Wes Moore, Saniya Rivers, and Jakia Brown-Turner met with the media following the Wolfpack's 66-60 loss to top-seeded Notre Dame in the 2023 Ally ACC Women's Basketball Tournament quarterfinals.
Rivers tied for the team lead in points with 14 versus the Fighting Irish while also tallying five assists, three steals, two rebounds, and one block. Brown-Turner added 12 points, one rebound, and one steal.
NOTE: Click on the video in the player above to watch the Wolfpack's press conference.
---
Opening Statement
WM: Just frustrating. Obviously a six-point game, and there's so many things you look back at. I don't know if we had quite the same energy we had yesterday, which is kind of disappointing. Yesterday we did such a great job on the boards and really were able to attack, get to the rim, score in the paint. And obviously give Notre Dame a lot of credit, they made it hard for us to do that. I guess that's the biggest thing is in a game like this, you've got to bring it for 40 minutes and compete on every possession. I felt like at times we didn't have quite the urgency. Again, it's been a while since we've stood up here or sat up here after a loss, so it's disappointing, and fortunately we get one more opportunity, and hopefully we can do something with it.
On the challenges Sonia Citron presented...
WM: Yeah, she's a great player, great scorer. We had a hard time trying to beat her to spots, and she was able to turn the corner. She got to the foul line quite a bit. Obviously 11 out of 15 at the foul line. I've got to do a better job of coaching. We've got to learn when you're guarding somebody like that, you have to really cheat to the ball and try to lead them instead of chase them. She's really good reading it coming off picks, and again, great shooter. She presents a lot of challenges. She's got the length to be able to get her shot off over people, as well. Yeah, very talented player, and again, she's done a great job of moving over to the point spot and taking over.
On picking apart Notre Dame's zone defense...
WM: I don't know if I'd say picking apart. We've seen a lot of zone lately. Last two games Pitt and Syracuse played predominantly zone, so we've had a lot of looks at that. I thought our players did a really nice job of seeing diagonal passes on the block and swinging the ball some against it. And you're right, that's when they finally got out of it, went man-to-man. And obviously we struggled big time in the second period against the man-to-man. I've got to try to do a better job in being able to help them a little bit more. I thought we settled for jump shots a whole lot against the man-to-man instead of getting downhill and getting to the rim, getting to the foul line, making people help and rotate. That will be something we definitely can look at and work on the next couple of weeks.
On wiping the slate clean for the NCAA Tournament...
WM: Again, I hope all of us, including myself, kind of look in the mirror, reflect a little bit, and figure out what can I do to get better. Obviously we'll try to watch the film and see. We're running out of time, but we're not out of time. Hopefully we can learn some things from this film and from this experience and go into the postseason with some confidence and some energy. Like I said, I can't explain it. I just thought yesterday we were the team that was excited and that we're really -- came out with some energy. It's a lot more fun when you have that, and I don't know why today we just seemed a little bit more subdued. Again, you're playing a team, top 10 in the country. You should be excited about the opportunity, and you should be energized by playing somebody like that and having a chance to beat somebody like that. I don't know. I can't put my finger on it.
On carrying over the emotions from the day before into the NCAA Tournament...
JBT: Yeah, definitely. I think we definitely didn't come out with the energy that we had yesterday, but we remember that energy that we had, and we're going to try to continue to play like that for 40 minutes, especially going into the NCAA Tournament.
SR: Yeah, so piggy-back, I think we have to keep it consistent. We brought the energy last night just like they both mentioned and that's what we need to bring because at that point, it's win or lose and you go home.
On the frustrations of getting out-rebounded...
JBT: It's just when teams are good at rebounding, it's hard getting offensive boards. But we've got to do better, we've got to try to go around our player and get those boards, and that's what were going to try to work on for the next upcoming weeks.
SR: Yeah, I agree, it's definitely hard because that's one thing we always emphasize coming into games. If we want to beat teams like that, we have to box out. If we want to beat teams like that, we have to defend and we didn't win that battle tonight, and you see the result.
On what was or wasn't present today during the previous years' reign in Greensboro...
WM: Yeah, you know, again, we've won three straight ACC titles over here, a great run. Like I said, I was excited after yesterday's game. I thought maybe we could build on that and carry that over. To be honest, that's kind of the way our season has been, unfortunately. It's a microcosm of our season. We've just been real inconsistent. We've had some great wins, and then we've had some real disappointing losses. Notre Dame is a great team, well-coached, a lot of talent, but I don't feel like we played anywhere near what we're capable of doing, and we lost by six points. Again, I look in the mirror, too. Tried to save a time-out there at the end and then we didn't really -- the ball was on the other side. We really didn't go out and execute. Should have went ahead and burned the time-out and made sure we were all on the same page. But things like that that I've got to look at and hopefully can do better. At the same time, at some point we've got to want to compete, and we've got to play with a lot of heart. That's what we're used to doing. That's what we had the last three years over here was we had a lot of heart. We competed. We weren't a roller coaster. We weren't up and down. You knew what you were going to get every time out, every game. I can't put my finger on it. I wish I could. I just know it's real frustrating, and as a coach, you feel like you've underachieved. Like I said, we've got one more chance.
Never miss the latest news from Inside Pack Sports!
Join our free email list