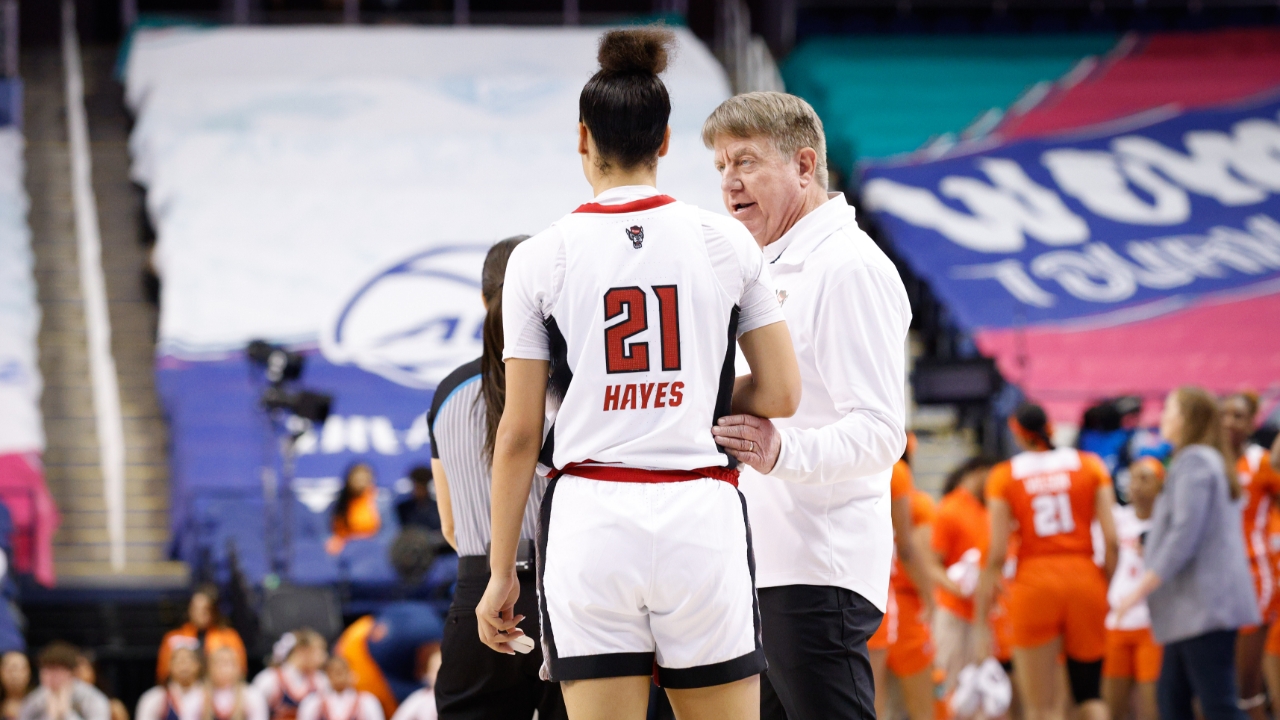 Photo by Steve Murphy/Inside Pack Sports
NC State Women's Basketball
WATCH: Moore, Brown-Turner, Hayes Discuss Wolfpack's ACC Tournament Win
---
NC State's Wes Moore, Jakia Brown-Turner, and Madison Hayes met with the media following the Wolfpack's 83-58 win over Syracuse in the second round of the 2023 Ally ACC Women's Basketball Tournament.
Brown-Turner led the team in assists with four and tied for the team lead in points and rebounds with 16 and seven, respectively, versus the Orange. Hayes scored 10 points off the bench with one rebound, one assist, and one steal.
NOTE: Click on the video in the player above to watch the Wolfpack's press conference.
---
Opening Statement
Okay. I'm just proud of the way our team came out. Syracuse has been really hot. They're playing well. I think they're a legitimate NCAA team, and I'm just proud of the way our kids — especially there were certain things we knew we had to do well against them. One of them was try to keep them off the boards and do a good job there, and I thought, for the most part, we got that done. We outscored them on second-chance points. We gave up some points in the first half on fast break, but we did a much better job in the second half of that. Then offensively, we played much better. We had too many turnovers. As one of the coaches said, if we'd take care of the ball a little bit better, we might score 100. Again, it was a good all-around team effort. I thought everyone — you know, [Dyaisha] Fair is such a great player. They've got so many players that can go off on you, and I thought these guards did a great job defending those players, and it's good to get that first win and move on.
On the performance of Camille Hobby and River Baldwin?
WM: Well, we feel like we need to [attack inside]. Those two are very efficient inside, and when we get them the ball, they score. Camille had a really good game against Pitt the other day, and we need to do that. That's what we've done in the past: work inside-out and get them some touches. Then, it's easier for our guards to get looks, too, when we get our post touch and are able to kick it out. Both of them, I thought, played really well, and like I said, I thought on the boards they did a nice job. Again, we had some balance today, and that's what you want to see.
On limiting Fair's production...
JBT: Well, I definitely have to say Madison locked her down. We know she's a great player and great scorer, but we just had to help on her. When she drove in the lane, we had to clog the lane up and make it hard for her. Madison was on her most of the game, and she locked her down.
MH: I think I would rate my defense a solid nine out of 10. I thought I could have done better on a couple of possessions, not just me but Saniya [Rivers] as well. She did a great job, as well. We have to be in the gaps and help each other out as a team, and that's what we did the whole game.
On Aziaha James' progression this season...
WM: Yeah, I'm proud of Aziaha today because she started out rough. In the first half, she had zero assists and three turnovers and was just struggling. I told her, "You can either get down and have a bad day or pick yourself back up and let's go out here and rewrite another chapter." I thought, in the second half, she did a great job, for the most part, making good decisions and distributing the ball. At the end of the day, she had five assists and four turnovers, and she hit some big shots for us. She's super talented and just has so much potential. Sometimes, she gets a little excited and needs to slow down a little bit on offense, but definitely she was a big difference for us in the second half. We had five people in double figures, had another one with eight, another one with seven. That's exciting to see. That's what we want.
On the team's confidence level, considering the success the Wolfpack's had with the teams on its side of the bracket...
JBT: I would say we're still just taking one game at a time, and that's all that matters during this time. We've beat them before, but we're taking one game at a time, and we're going to work on the next game, work on the next scout, and get it done.
MH: Next game, Notre Dame, like Kia said, we played them last time, and we beat them at home. It's hard to beat a team a second time, and they're a great team, so we have to come out ready to go. We can't come out slow this game. We've got to be ready to go the whole game and give it 110 percent. As long as we do that, I think we'll be fine.
WM: And they're regular-season champs, so it's a challenge. We've got a challenge.
On having a champion's mentality coming into Greensboro...
WM: Yeah, you know, no doubt. We should be confident coming in here. We have had a roller coaster of a season, okay. We've had some great wins. We played a really challenging non-conference schedule and did really well in that, but we've had some disappointing losses. Every year we come here, it's a new season. We wipe the board. We come here, and everybody is equal. Let's go get it. After this weekend, we'll wipe it clean again and we'll get ready for the NCAAs. But you're right; it was a really good win. We scored 54 points in the paint today which, again, a lot of that was off penetration, or just our post players did a good job of sharing the ball. You're right; we did a lot of things well, and hopefully we can build on that and keep the momentum. We've got some veteran players, and this is the time of year you live for. I call it, "March Gladness." This is the time of year you work for all year, so we're excited about it, and we're excited about being in Greensboro. We've had, like you mentioned, three years in a row winning this thing, so I know these players are used to winning, and they don't want to go home.
On ensuring Baldwin succeeded against the Orange...
WM: Yeah, I thought River played really well. She went 7-for-7 from the field, so she was very efficient there. What I really loved is I thought, in the second half when we're trying to hold on to a lead and maybe build on a lead, it seemed like she got about every defensive rebound there for a while. That was comforting to see, knowing that if they missed, River was going to come up with it or somebody else was going to come up with it. I thought she had an outstanding game. Again, we're hoping to be here for a while, so you've kind of got to rotate them in and out and keep them fresh, but she definitely played a great game.
Never miss the latest news from Inside Pack Sports!
Join our free email list