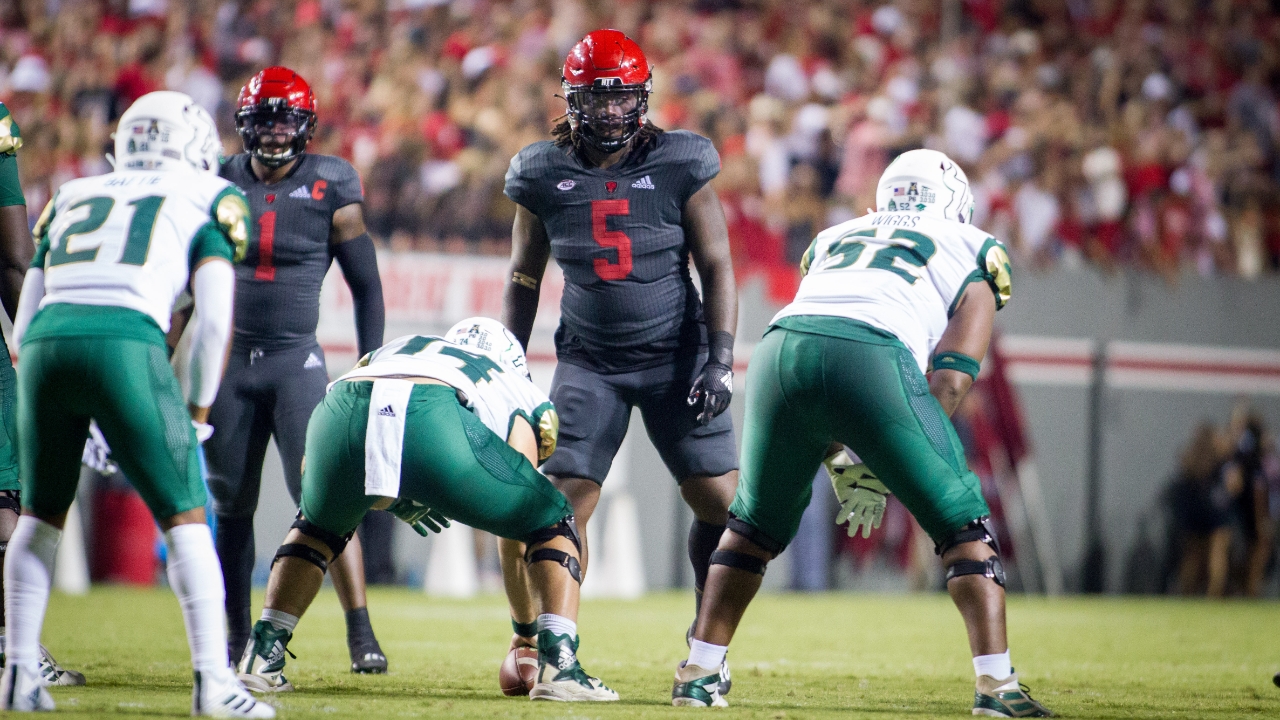 Photo by Steve Murphy/Inside Pack Sports
NC State Football
C.J. Clark: "We're Going To Be Better"
---
NC State defensive lineman C.J. Clark met with the media to discuss the start of spring practice.
NOTE: Click the video above to watch the interview.
---
How was the change back to being a nose tackle gone so far? Has there been anything that's had to change this off season after playing a little bit of a different role last year?
Oh yeah. I say a lot of just being more of a leader now, just being that guy that speaks up when need to be spoken and just helping out younger guys and stuff like that. And as far as playing nose guard again, I don't feel like there's really too much that change, because it's like still the same as D-Line. D-line is D-line, so it's not really too much that change, I don't believe.
You talked about taking on that leadership role. What have you learned from some of the guys in the past that you've had taking you under their wing?
Really just being able to communicate with the younger guys and let them know that it's okay to mess up. Everything's not going to be perfect, stuff like that. And then I really feel like that's what I've been doing is just helping them out. And that's pretty much it.
I know there's a lot of focus on what you guys do off-season to improve, but just curious, what have you been able to do to take a break, unwind, anything special that's redirected your purpose, or anything like that? And just giving you a moment to take a breath?
Really honestly, just grinding really. That's all I can think of. It's not really too much else I really like into, besides that, just working out, getting better at what I'm good at. So I believe that's really it.
You didn't get to no trips, or vacation, or time at home, or anything like that?
My last vacation was in Charlotte when went to the bowl game. That was about my last vacation.
Hey CJ, I was just wondering are there any things in particular you're working on in your game to take the next step? Just anything in particular on the field?
Honestly, I'll say my pass rush. I feel like I gained a lot of knowledge over the last year. Just different ways to win as far as pass rush and I feel like that that's going to help elevate my game even more. Being inside able to rush the pass with two guys on me, splitting double teams, stuff like that. I feel like that's something I've worked on a lot this off-season and I'm going to continue to work on, I feel like it's going to be a good help for me.
You lost some guys that have been around for a long time like Drake and Isaiah and players like that. Can this defense this year be better than last year and why so you think?
I definitely agree we could be better than last year. It's not too much of the older guys leaving, because we still have older guys here. It just may not seem that way because we had older guys that were here for a while. So it's still up-to-date, in a way. We don't have any guys that's not knowing what's going on, or we're still in that stage where we're all on point and know what to do in our jobs and positions. So I feel like there's no fall off and we're going to be better in my opinion.
Just now as Coach Thunder and around you guys all the time, just how valuable is he and how does he motivate you guys to be better?
Man, it's crazy how much value he does to just the team and all the guys. He just really motivates us in a lot of different ways and I feel like he really is helped me a lot over the off-season and just having those talks with him whenever you need him and when things get down, he can always be there for you and that's really what Coach Thunder does. He doesn't just work you out. He's a mentor. He helps us out a lot with just mentally anything off-field that you you're dealing with. He's a guy he can talk to and deal with those things. So he's done a lot of good things for us this off season so far.
CJ, now that Isaiah, and Drake, and Tanner, and some of the more dominant personalities have moved on, have you seen a new group of leaders starting to emerge, or is that something that happens on the field once you get going next week?
Nah, I'll say we got guys that are here. It's like Jakeen Harris, Devon Betty, Jaylon Scott. There's a lot of guys that have been here. So we all have had that talk with each other that there's no more of those guys that were here now. We have to be those guys and carry this team the way we need to carry it. So we all have an understanding of what needs to go on. So it's pretty much, like I said, that's really not a fallout right now. It may seem like it, because we had a couple great guys lead, but it's really not a fallout in my opinion.
I know these winter workouts can be pretty brutal, pretty grueling. What's been the favorite part of winter conditioning for you so far?
I'll say the team runs. Team runs are challenging even to this day. I've been here for a while and they're still challenging, but I'll say those are challenging, just because we don't just do team runs, just run through, we actually compete against each other, so that makes it even funner, which why you competing, you're getting good work. And then just having that motor going over and over. I always just keep in my mind this could be third, fourth quarter of any game and I just always had that in my mind and I feel like that's going to be the difference in my game this year, just having that motor like I usually have. So I feel like the team runs have been what's stood out to me the most this off-season.
We see those short videos from the workouts and it's always supporting each other, getting hype after the runs and everything like that. Do you feel like the team chemistry is just as good as it was last year, even though you guys lost a lot of experience guys?
Yeah. We got guys that come in. It's pretty much older guys, so even the younger guys, we all sit down and eat, break bread and just talk with each other and it goes from there. Once we get in here and we all working together and we pretty much, you can't get away from it. We got to hold people accountable for certain things. It's just the way football works. Once you get to know someone and you doing the same thing and you have to help each other, you got a bond, that's the way you got to bond. So we pretty much got a good bond going here.
Never miss the latest news from Inside Pack Sports!
Join our free email list