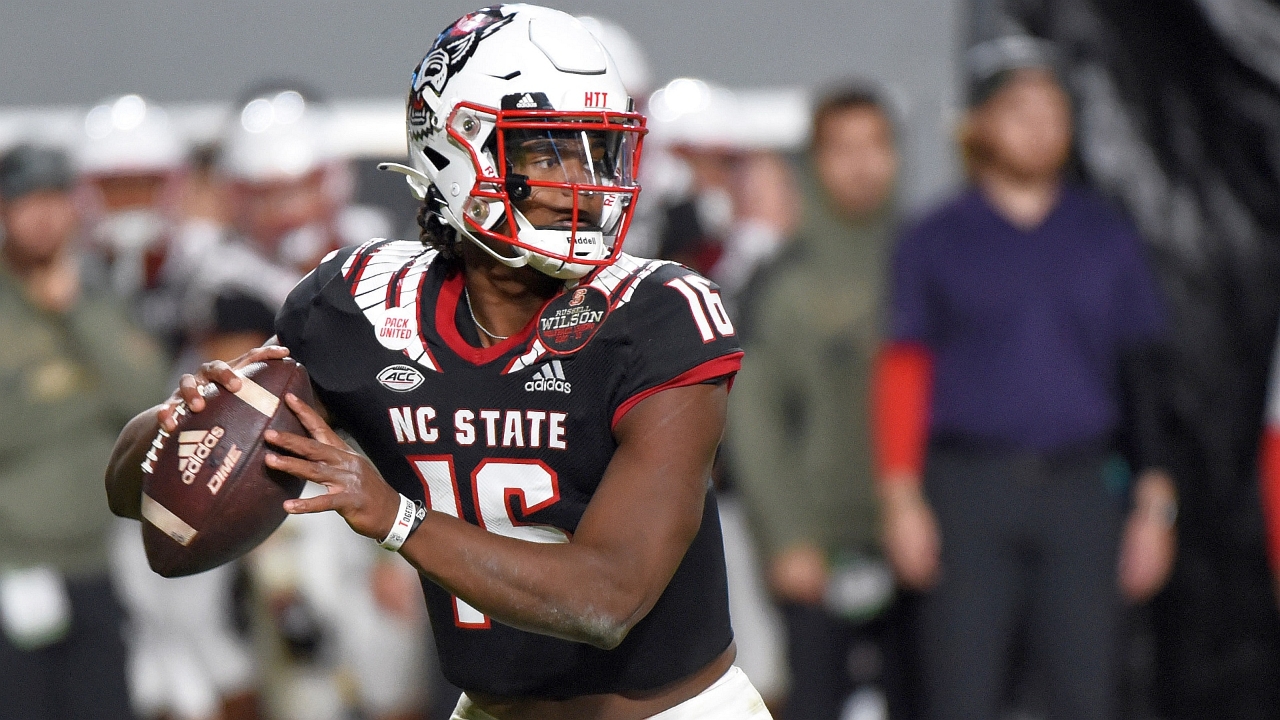 Photo by Rob Kinnan-USA TODAY Sports
NC State Football
NC State's MJ Morris: Goal Is To Win The Starting Job
---
NC State quarterback MJ Morris is healthy and ready to go for spring practice. He recently met with the media to discuss his health, the QB competition, and much more.
NOTE: Click the video above to watch the interview.
---
Do you mind giving us a little update on your lower body injury and then just kind of telling us what this offseason's been like for you, where you feel like you've been developing most?
So my knee has actually been doing great. After the bowl game, I got it drained and everything. So everything feels great now. Every day, just been working hard. Early in the morning, 6:30 AM in the weight room, training room, being there till 12:30 PM. Just doing rehab every day. Yeah, really just all season the most it's just been getting healthy and really just getting my body the best it can be.
I know that you were hoping to be able to play in the bowl game two months ago, but how prepared do you feel like you are for spring camp starting up next week?
I'm most definitely really prepared, especially with this new offense coming in. Me and this coach are open to other quarterbacks. We're in there every day at 7:00 AM going on the offense bit by bit and then just going home by myself, just really studying this offense. 'Cause I know it's totally new to me, so I'm trying to know it the best I can so I won't go out there in spring looking clueless. But I feel pretty comfortable about it. I'm definitely ready for spring 'cause this is my first spring practice since I came in May last year. So I really get to experience that and go out there and compete every day.
And obviously there's been some changes too to the quarterback room with Devin Leary gone and now Brennan Armstrong coming in. What has that connection been like so far and how much have you guys worked together to kind of grow as quarterbacks early on?
Yeah, we've been working together. Like in a meeting sometimes since he of course he knows the offense better than the rest of us he'll definitely help us out a lot. If we don't know something, he'll definitely give us tips and clues. But yeah, we're just ready to go out there and compete and help each other out.
What kind of discussions, if any, did you have with the coaching staff before they brought Brennan in? And what kind of things did they talk to you about, the situation moving forward?
We were already talking. We already knew that we were going to bring another quarterback in since, like we said, we played four quarterbacks last year. We had to bring somebody else in. So we'd already had those talks. I mean, of course I wasn't afraid of any competition of them bringing anybody in. That's kind of what they told me is that we're going to bring somebody in, the best man is going to get the job. So that's my mindset is I know my skillset. I'm confident in my skillset. So alls I got to do is just stay focused and go out there and win a starting job.
If it comes down to you being redshirted next year, would you be okay with that?
I'm not thinking about that right now. Really my goal is just go out there and compete and try to win a starting job. I mean, I know I didn't play that much last year, but I played enough to have some experience to go out there and do it again. So that's really not in my mind right now.
Just looking at the new offense that is going to be installed, how will that differ? Two things, how will that differ from what you guys ran this year, from what you know of it.
Definitely a lot more fast-paced offense. We get a little card on the wristband and we just go. We don't have to wait and stop for everybody to get a signal. It's a lot more fast paced, which is what I like a lot. It really takes a lot of the thinking part of the game out. You just go out there and kind of play. So I think it's going to be a great impact for this offense and really positive.
One other thing too, just in this crazy world of college athletics now, I know you weren't in the transfer portal, but did you hear from other people at other schools saying, "Hey man, maybe you ought to look somewhere else with the crowded quarterback room?" Or did you try to just tune out all that noise?
No, I really tried to tune out all that noise. I mean, of course I heard some rumors that people was saying, "Oh, come here. Do this and that." But end of the day, I mean, this is where I committed to. This is my spot. I'm going to go here and compete every day. I'm not looking to run from anything or anybody. I mean, this is, like I said, this is the spot I chose, so I'm going to do whatever I can every day to just stay here.
MJ, what types of things do you feel like you've worked on this offseason to prepare for your first spring camp, like you said, with NC State?
Definitely, of course, some of the biggest things, of course, like getting the mental part of the game down since I know that's really one of the biggest parts of the game as being a quarterback. You got to be fast up here, which can help you process a lot more on the field. So definitely a lot more film study, a lot more recognizing defenses. And then on top, of course, learning the offense, of course. That's the biggest thing I've really been working on. And I guess for the physical part of it was really just getting a lot more mobile, getting quicker releases, which is really something I've been trying to work on the best. But really those are the main things is really just the mental part of the game. Just being a smarter quarterback. Since I'm still 19 years old I definitely got to be a step ahead of everybody else.
I just wanted to get your thoughts on Ben Finley too. I mean, for most of the season he was your scout team quarterback, and then at the end of the season he had to step into a pretty big role. Just from what you saw of him, how do you feel like he handled that whole moment, that situation?
Ever since I came here, I always thought Ben was a good quarterback. I mean, he throws a pretty ball. He's really smart mentally too. Yeah, I mean, just watching him go out there and play, I mean, it's just natural to him just going out there and just beating UNC and then doing just great all around. I mean, it's definitely great to see.
II know it's in the past now, but it looked like you were probably going to play in the bowl game but something maybe happened the day of. Can you take us through what happened that day and why they decided not to play you or how close you were to playing?
Yeah, so pretty much that whole week, the plan was to play. The whole time my knee was feeling good. I was wearing the brace. I was definitely going to play. And then I think it was, we played on a Friday, I think it was probably that Wednesday we went on for practice and it just felt awful. It was really sore, really tight. And I have a really high pain tolerance. I've dealt with a lot of bigger injuries. So I know when pain is and when soreness is. And it was just a pain that I didn't like feeling and I didn't want to go out there and not do my best for the team and be thinking about my knee instead of going to win a ball game. And me and Coach Doeren talked and he just said, he was just like, "We don't want to risk anything or do any of that." So I mean, of course I wanted to play. Like I said, I like to compete. I feel like I'm a really tough kid, but it was just a pain that I just couldn't really stand.
Never miss the latest news from Inside Pack Sports!
Join our free email list