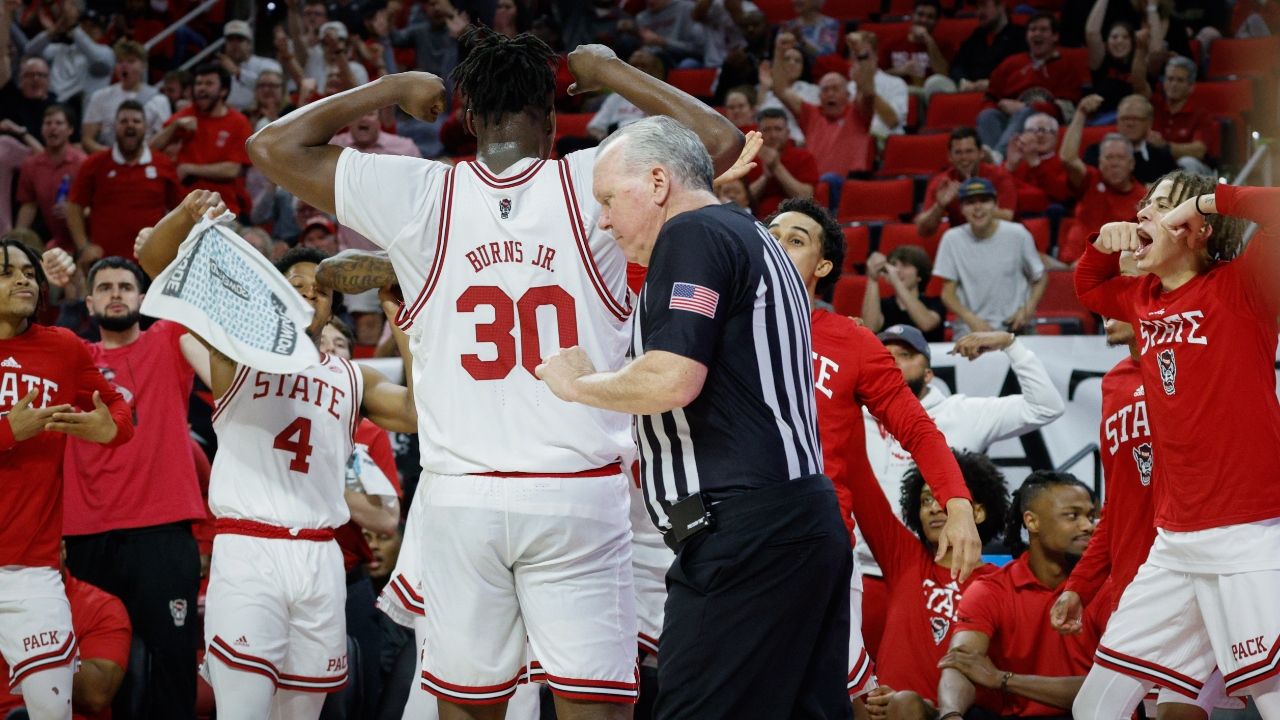 Jarkel Joiner
D.J. Burns
Terquavion Smith
NC State Basketball
LOCKER ROOM REPORT: Wolfpack Players
---
NC State's Jarkel Joiner, D.J. Burns, and Terquavion Smith met with the media following the Wolfpack's 90-74 win over Wake Forest Wednesday evening.
Joiner led the way with 29 points on 12-for-20 shooting from the field, 3-for-7 from three-point range, while also tacking on four rebounds, two assists, and two steals. Burns added 21 points against the Demon Deacons with five boards, two steals, and one assist. Smith tallied 13 points, five rebounds, three assists, and one steal on the night.
NOTE: Click on each player's respective thumbnail to watch each interview in the player above.
---
Jarkel Joiner
"We just wanted to take care of home court, take care of PNC. We know the type of team Wake Forest is. They score in bunches. We had to get stops."
"At one timeout, they were shooting at 90 percent. I was like, 'Oh my God!' They just weren't missing. Like I said, we know what type of team Wake Forest is. We managed to get some stops at the end, and we got the win."
"We love each other. We really love each other. We spend time off the court with each other, playing video games and stuff like that. We love to see the success of others. We really love each other."
"It's great energy. In every timeout, we talk and communicate. We try not to get too hyped and try to stay in the moment, and we try to keep rolling."
"We know what type of team we are. We weren't expecting to do this. We came from behind, and we're going to keep playing with the chip on our shoulder."
D.J. Burns
"We got to spend some time with [the 1983 team], and we wanted to get this win for them. I think they came last year, and we didn't get the job done. They were telling us about beforehand, so we wanted to make sure that we got that done for them."
"Wake Forest is a great team. They've got a lot of good players, and they came out with every intention on getting this win. We had the grit to stop them, and we went at them."
"If I'm going to war in a foxhole, I want [Joiner] right beside me. That man brings his effort everyday. He sets the example not only with words but with his actions everyday. That's somebody that we can look to and depend on, and he gets the job done."
"It might be too much fun. This is what we love to do, and this is what we prepare for every single day. When we come out and perform the way we did tonight, it's always a good feeling."
"It's amazing. Six or seven of the guys will be in my room after, and the rest will be in another room just because we don't have enough chairs to be in the same room. That's just the love we have for each other. It's like that every single day. I know I'm going to see at least six of my teammates when I leave this building, and everybody's going to be here when we are."
Terquavion Smith
"It does. I feel like that regardless of the history just because I always go off of leaving my own legacy. When you come to school, you're not worried about the history. History doesn't win you games. You have to step onto the floor and perform. As far as that, though, I respect the '83 team. I love them so much for coming to support, bringing back that history and that energy. I feel like they helped us and prepared us for what's coming."
"It means a lot to me just to show that we're a good school in North Carolina. We're one of the top schools in North Carolina. We're just that North Carolina team this year, and this is how it's going."
"I haven't been a part of a game at that pace, but I know [Kevin Keatts] is going to be on our tails about letting them shoot 60 percent."
Never miss the latest news from Inside Pack Sports!
Join our free email list