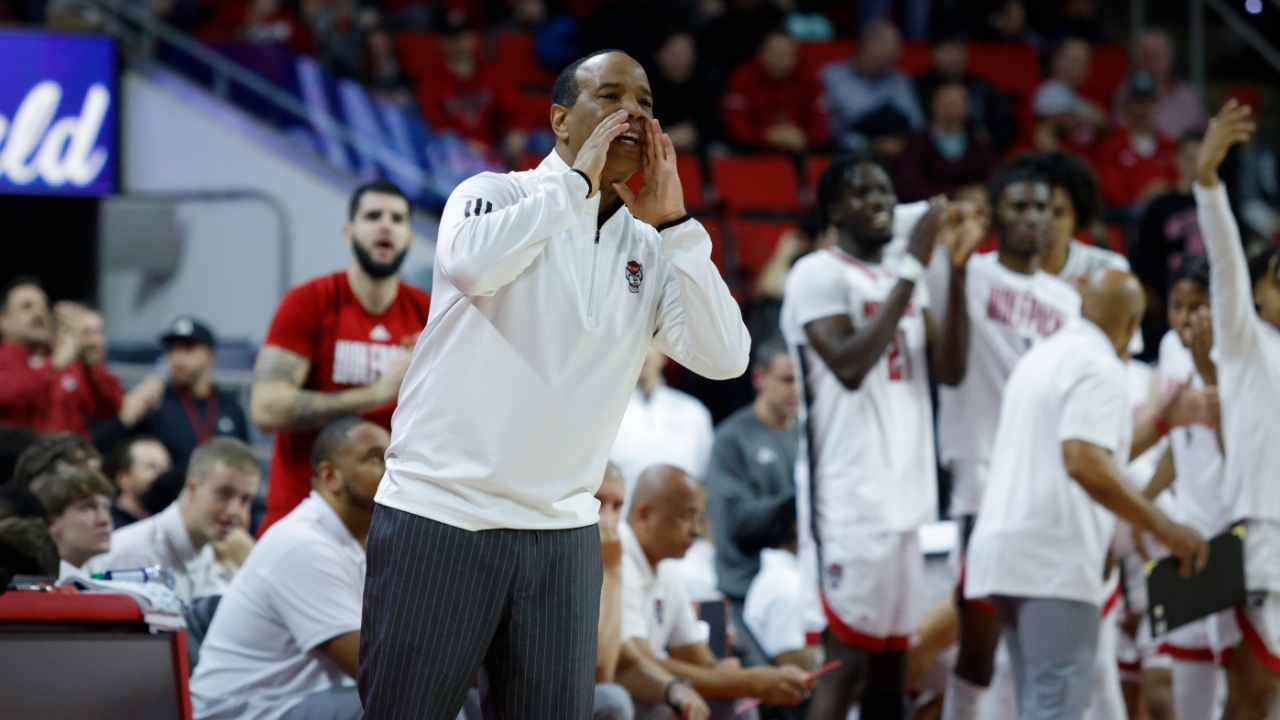 Photo by Steve Murphy/Inside Pack Sports
NC State Basketball
KEATTS: "It's not a rivalry, right? So why would I care?"
---
NC State head coach Kevin Keatts met with the media following the Wolfpack's 77-69 win over North Carolina on Sunday.
Note: Click the video in the player above to watch the press conference.
---
Opening statement…
Man, I'm proud of my team. This has been a really good year for us because I have 100% buy-in. When you look at our group, I wanted to go out and find some older guys to be able to put around Terquavion Smith with the vision of this possibly happening. These guys have really grown a lot and it means a lot to what we've done. If you look at them after the game, they're just so excited for one another. I thought Jarkel Joiner was great, I thought he made every big shot we needed to have. He did a good job getting us in to what we needed to do. We defended, we defended the last eight minutes of the game. That was a big reason we got away with a great win.
On Joiner…
That kid is unbelievable. I don't know if you guys have had time to meet him off the court but he's a tremendous young man. We're in the age now where if you're not young, you don't get drafted. But he's a kid that, because he's played so much basketball and is such a good basketball player, I could see him ending up on somebody's roster in the NBA. He's a better person than basketball player, and that's scary. I don't know that I could have gotten a better person and player out of the portal. This young man has grown up; earlier this year, his girlfriend has had a baby, and that helped him mature.
On the Armando Bacot vs DJ Burns battle in the post…
I thought it was great. Both of those guys are good. If you look at the numbers, [Bacot] didn't have video game numbers. I think we can manage if he gets 16 points on 14 shots. But he's so good and he's so talented that it's hard to guard him on the other end. But man I love my guy [Burns]. He's an untraditional Kevin Keatts player as most would say, but I've turned into one of the best post coaches in the country because of DJ Burns.
On how much he calls plays for Joiner versus just trusting Joiner to do his thing…
It's a mixed bag. We called some things for him but very seldom does that kid call his own number. I let him play during this part of it and he called his own number. It was one of those things where when he pulled up for that 3 by our bench, I was like "No no no!" and then when it went in, I was like "Great shot!" He's good, he's really good. He's bought in. It's tough in this league when you don't have a quarterback, when you don't have a point guard. He makes us better.
On how much it means to have Jack Clark back…
It gives us another dimension. You have to respect his ability to pick and pop. When Jack is on the floor, it makes things a little bit easier for DJ because now you have four shooters around him when we throw the ball inside. He's still not in great shape. I wanted to go with Ernest [Ross] down the stretch because I wanted Ernest to be able to defend and rebound a little more. But Jack is gonna help us down the stretch.
On the postgame celebration with the team…
It's great. We celebrate every win. And I know that's silly, but in our 21 wins, I usually leave the locker room wet. Winning is so tough, it means a lot. Our guys were pumped up; when I walked in, they all had water bottles. It was like 15 guys against one. We're so happy, man. I love this bunch. I've loved all my teams, but there's something about this group that makes it something special.
On reaching 21 wins after having 21 losses last year…
I don't take anything for granted. We've had a great turnaround and I'm proud of our guys. I wanted to make last year a one-off. But I am happy the way we played.
On his pregame message to the team being about how fans are starting to show up…
I don't blame folks for kind of waiting to see, I don't. Some coaches would be pissed off, but you've never seen me say one thing about our attendance this year. I did know if we won, they would come to games. Our fans were tremendous, the atmosphere was great. That was the first time that this current group of guys got to see what Wolfpack Nation is like. And as we continue to win, they'll continue to come. We had to earn that and I'm completely OK with that.
On if today was the loudest PNC Arena has been during his time at NC State…
Either my players were ignoring me or it was really loud in there. It was a great atmosphere, and it was probably the loudest I've heard it since I've been here.
On what it means to beat North Carolina…
Let's just concentrate on wins over everybody in the ACC. I don't stack them specifically. We did our job, the other guys did their job, we're happy with it. I don't put one win over the other. It was a win we needed to have and I'm happy to have it. It's not a rivalry, right? So why would I care?
On holding North Carolina to a low shooting percentage…
I think we were just locked in defensively. We did a tremendous job down the stretch and we wanted to make everything tough. I knew the stat coming into the game where if they shoot the ball well, they typically don't lose. So we wanted to make everything tough. I thought our guys did a great job in that area today.
On Terquavion Smith's season…
Levi [Watkins] told him if he didn't beat Carolina, he wasn't allowed to come back to Raleigh. So I think that was his motivation [to return]. Nah but he's been great. I'm so proud of him for coming back and playing the way he's played for us this year. When you look overall at what he's done, he leads the league in scoring, he's increases his assist to turnover ratio. We're just lucky to have him.
Never miss the latest news from Inside Pack Sports!
Join our free email list