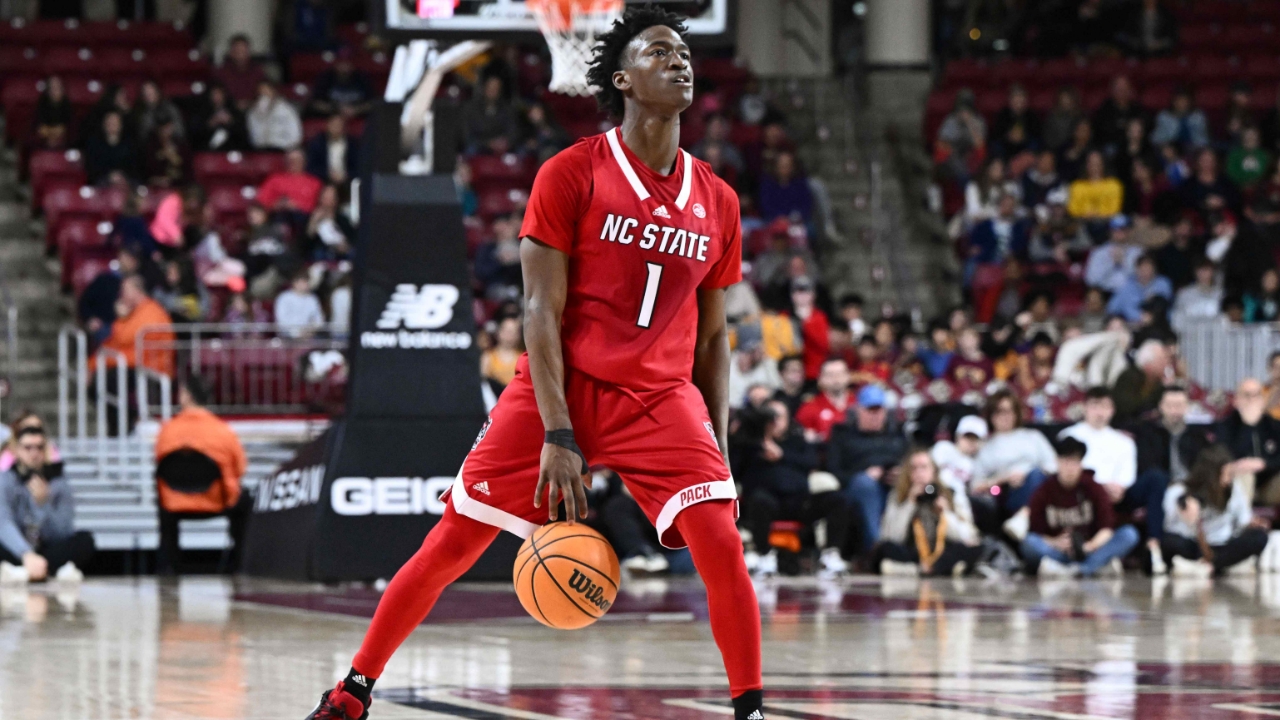 NC State Basketball
LOCKER ROOM REPORT: Wolfpack Players
---
NC State's Terquavion Smith, Jarkel Joiner, and D.J. Burns met with the media following the Wolfpack's 92-62 road win at Boston College.
NOTE: Click the video above to watch each interview.
---
Guard Terquavion Smith
"We had good preparation coming into today."
"I feel like we grew more after that game at Virginia... we all stayed together. We brought good energy into Boston."
"I didn't even know I was that close to it. Coach told me after the game."
"This means everything to me. To have a group of guys come back and support NC State how I do and play for NC State as hard as I do. It means everything to come back, win games, and be successful."
"I feel like I can do it at every level."
"So much easier. Shout out to him for bouncing back after two rough games he had. I respect him for that and love him for that. It says a lot about his character and how he loves NC State as well."
Guard Jarkel Joiner
"Nothing was different for me. I'm always confident. Shout out to God for leading my life."
"I put so much work in, I'm not going to tell you I don't care about missing shots, I do care, but I wasn't worried. I put too much work in. If I put a lot of work in I can live with the results."
"It's an everyday thing. I'm in love with the process."
"I had great results tonight, and I'm proud of that."
"We got back to defending."
"We came out with a defensive mindset."
"When you make shots... that's a lot of work we put in as well."
"Terquavion is an amazing talent."
"Jack, that's my roommate, that's my guy. We talked about it all the time. He was ready to come back."
"Being a scorer all my life, when the ball goes in it feels good."
"It's huge, we're still fighting... the first time in my career I've had 20 wins on a college team... God has blessed me and this team for my last year. It's amazing."
"It shows you what kind of coach, coach Keatts is as well. He's been a winner all his life. It was a bad year for him too. He's not used to losing like that. He brought in an experienced team and we're getting the job done right now. We have to keep winning."
Forward D.J. Burns
"It was pretty important to us... he said we lost the game and had to get well and we did."
"Just trying to stay consistent... clean it up. I just tried to be better about it."
"I wanted to pass out of it early, that's something I wanted to work on from the last game... I watched a lot of film."
"It's well-deserved for him to come in and put up those buckets today."
"It's picking up. There are still some people who doubt us, but that's what we're used to... what the outsider's say really doesn't matter to be honest. We do appreciate the support."
"I'm about to go to the hotel and figure that out right now as we speak."
"That's my boy, that's my roomie. He's been going through some adversity recently, but he hit those big shots and grabbed those four boards, we're glad to have him back."
Never miss the latest news from Inside Pack Sports!
Join our free email list