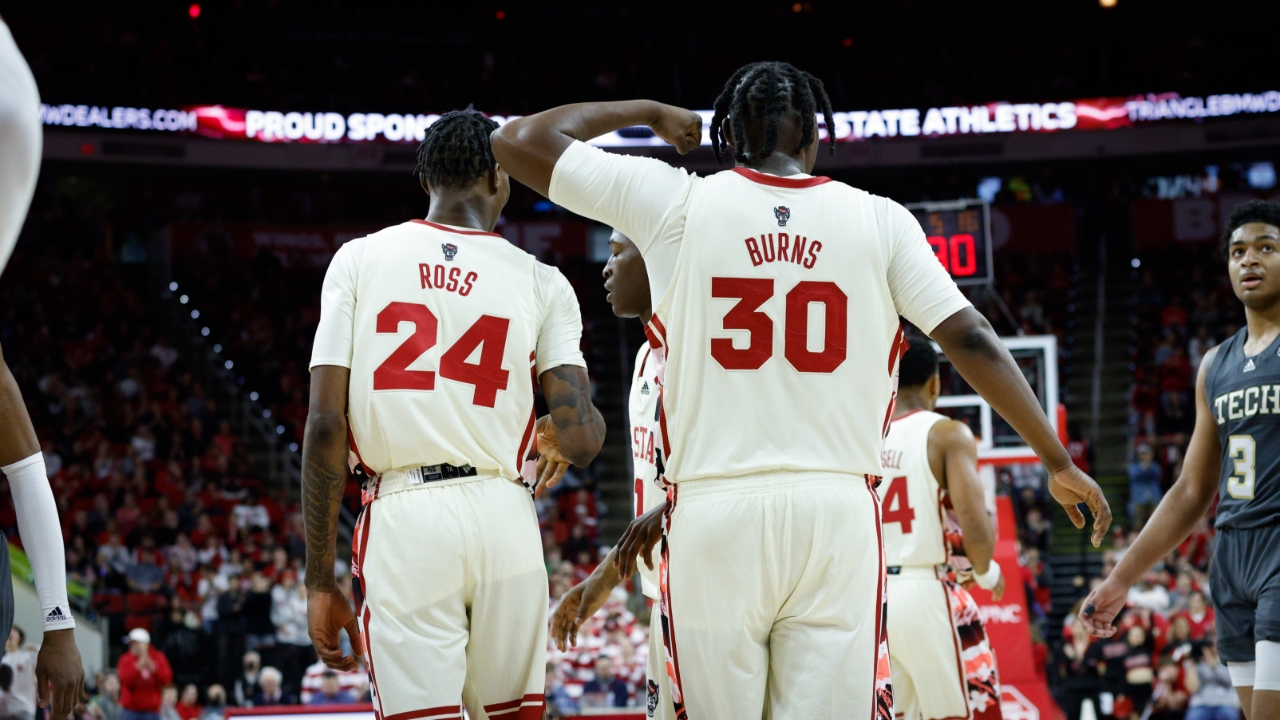 NC State Basketball
LOCKER ROOM REPORT: Wolfpack Players
---
NC State's D.J. Burns Jr., Casey Morsell, and Ernest Ross met with the media following the Wolfpack's 72-64 win over Georgia Tech Saturday afternoon.
Morsell scored 17 points against the Yellow Jackets to go along with five rebounds, three steals, one assist, and one block. Burns led the way with 24 points on 11-for-21 shooting while also tallying eight boards and two assists. Ross tacked on 16 points off the bench with seven rebounds and two blocks.
NOTE: Click on each player's respective thumbnail to watch each interview in the player above.
---
D.J. BURNS
It feels good. We got off to a slow start but we picked it up and I am glad we got the win.
It is way better to learn from a win than a loss.
That has been what it has been about this whole year. When things get rough for us, we don't bat an eye. We are learning to come closer together and that's what we did.
I like to interact with the fans a little bit walking off the court but it is definitely business, all business. Until the game is over, we are serious.
We knew that they were going to give us their best shot, and that is exactly what they did but we didn't bat an eye.
CASEY MORSELL
Honestly, locking up on the defensive end. Whenever you can stop people from scoring, it makes it that much easier.
Everyone stays ready for the moment. Every game presents different challenges. This game we were hitting them from the inside and I just tried to stay outside and make my shots.
It is a great feeling, especially going down on the defensive end. It makes you want to get a stop that much more.
It is a great Quad-1 opportunity for this team. We need a major resume builder, and what better chance is there than to go to Charlottesville and pull it out.
ERNEST ROSS
It feels great, because this is my role. I come in, I get the dirty work. I am always out there running around making sure I am doing things to help the team win.
The last four minutes, we just had to make sure we stopped them from executing their plays. We were just locking in. We were making sure we got rebounds, boxed out, defended the three-point line, and then we just won.
It is a great feeling. Last year, we didn't have this much talent so it is a very fun experience for all of us to be able to play with each other.
It is a bug game because it (potentially) is a road win. It is going to be hard to go in there and play in that environment and to try to get a win.
Never miss the latest news from Inside Pack Sports!
Join our free email list