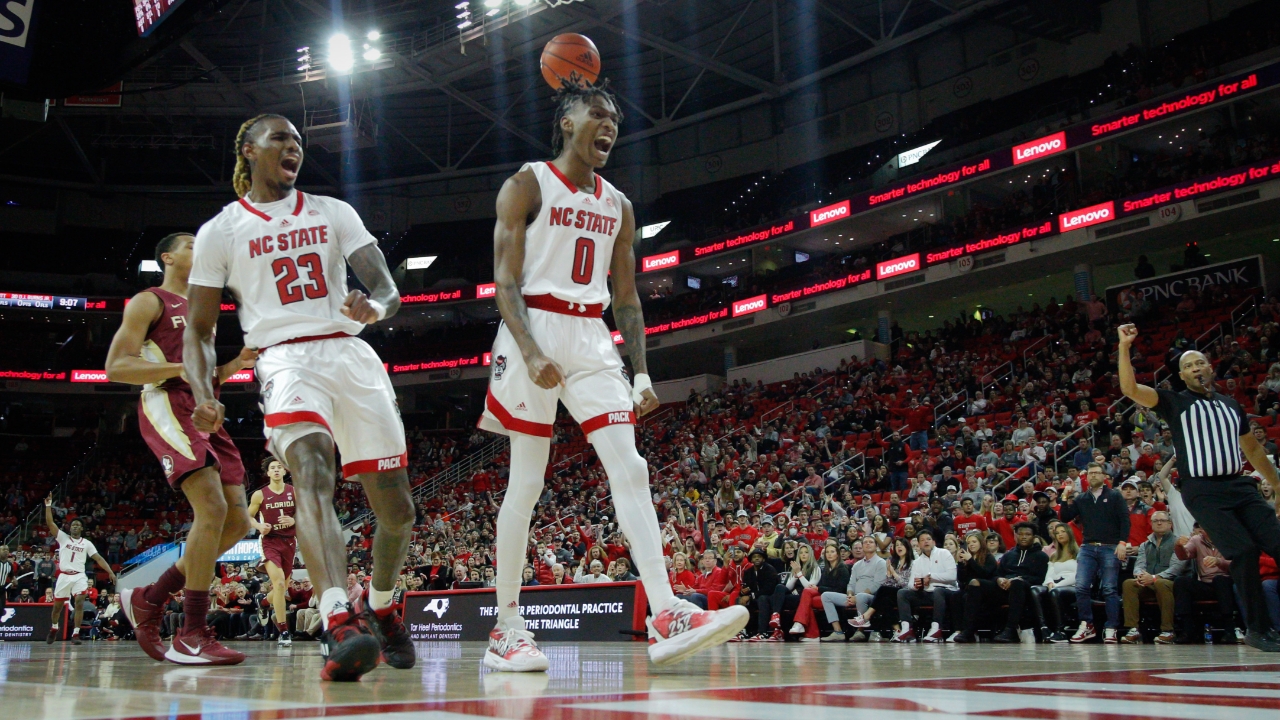 Terquavion Smith
Jarkel Joiner
Greg Gantt
NC State Basketball
LOCKER ROOM REPORT: Wolfpack Players
---
NC State's Terquavion Smith, Jarkel Joiner, and Greg Gantt met with the media following the Wolfpack's 94-66 win over Florida State Wednesday evening.
Smith led the way with 32 points on 10-for-24 shooting from the floor, 6-for-10 from three, to go along with five rebounds and three assists. Joiner tacked on 14 points against the Seminoles with five rebounds, two assists, and two steals. Gantt added six rebounds, five points, and three steals.
NOTE: Click on each player's respective thumbnail to watch each interview in the player above.
---
Terquavion Smith
"As a team, we were just so locked in. It was another opportunity for us. Coach always says to take advantage of opportunities, regardless of who we play. We were just locked in from the beginning. Our preparation was great this week. We just played hard, and we did everything the coaches wanted us to do."
"We're always going to have fun. We've got good chemistry. We all love each other. We've grown a lot. We can talk to each other now without people getting mad. We can take encouragement and judgment from each other. It's just all clicking."
"It means a lot because we always need a brother. We're not going to have these moments in our lives forever. We don't want to leave anything up in the air and wish we'd done something differently. We're going to go hard and stay together."
"Yeah, kind of. I won't lie. You kind of get laid back and play on your heels. Coach told us to stay downhill, stay aggressive, and finish the game."
"Yeah, yeah, yeah. I can say that was one of our best outside of Duke and Virginia Tech; they both had 22 at halftime. That kind of defensive intensity is what we want to play with every night."
"Coach just told us, 'Don't do uncharacteristic things.' That's what happened. We were getting a little uncharacteristic just because we were up a lot. We started going one-on-one and not running plays. Coach had to take his role and yell at us a little bit to get us right."
Jarkel Joiner
"We were just denying them, picking them up full court, taking them out of their stuff, and making them play one-on-one basketball. They did some uncharacteristic things tonight, and it worked in our favor."
"It's really fun. It's fun defending and getting buckets in transition. Stops leads to buckets in transition, and that's why we like to play fast. That's why it's so fun for us."
"It's part of being a mature team. We've got to stay locked in. We're playing meaningful games in February. A lot of teams aren't doing that. We've got to stay locked in through the entire game."
"With teams coming in with records like that, we don't play the record; we play the team. We know what type of players they are. They're ACC; they're really good players. We know they had some injuries early, and they're a great team despite their record. We got stops early and got the lead."
"It's the same thing: not playing the record and just playing the team. It was a hard-fought one in Atlanta when we first played. We're going to watch film, prepare like we did, rest a couple of days after Florida State, and come out to do the same thing."
"It's big time, man. This was unexpected, I think so, with us coming in. We're new, and people were wondering how we were going to gel. We don't pay attention to that stuff. We just lock in everyday, prepare everyday, and practice. We go about everything the right way."
"For us, it's expected. We know what type of team we are in this locker room. We stay together. We gel together. We know what we can do each and every night. That's what we're prepared to do."
Greg Gantt
"The guys and I love PNC. We feed off the energy and feed off the crowd. Personally, I didn't did have as many classes today. I didn't have study hall. I had to sustain some of that energy. It's part of being a student-athlete. My Tuesdays and Thursdays are longer than my Wednesdays. It just fell on a good day. Guys were just ready to play."
"Definitely. We've got a more mature group. We know how to dial into details. We understand that we can't drop games like this, and we've got to protect home court. That was exactly what our plan was, and we went out there and did that."
"It's hard. Every team's not going to be Florida State. We've got to learn how to sustain our pressure. Later down the line, we're going to need to be able to dial it up."
"Definitely. That is our mindset every day. We feel like we should be able to compete in every game. We have the players. We have the coaches. We've got the platform. All we want to do is go out, compete, and perform."
"Same approach. We can't drop games at home. We have to protect home court. We've got to jump out on teams early. They've got to feel our pressure. They have to feel that energy. It has to be 40 minutes next game. If we keep building on that, we'll be on our way."
Never miss the latest news from Inside Pack Sports!
Join our free email list