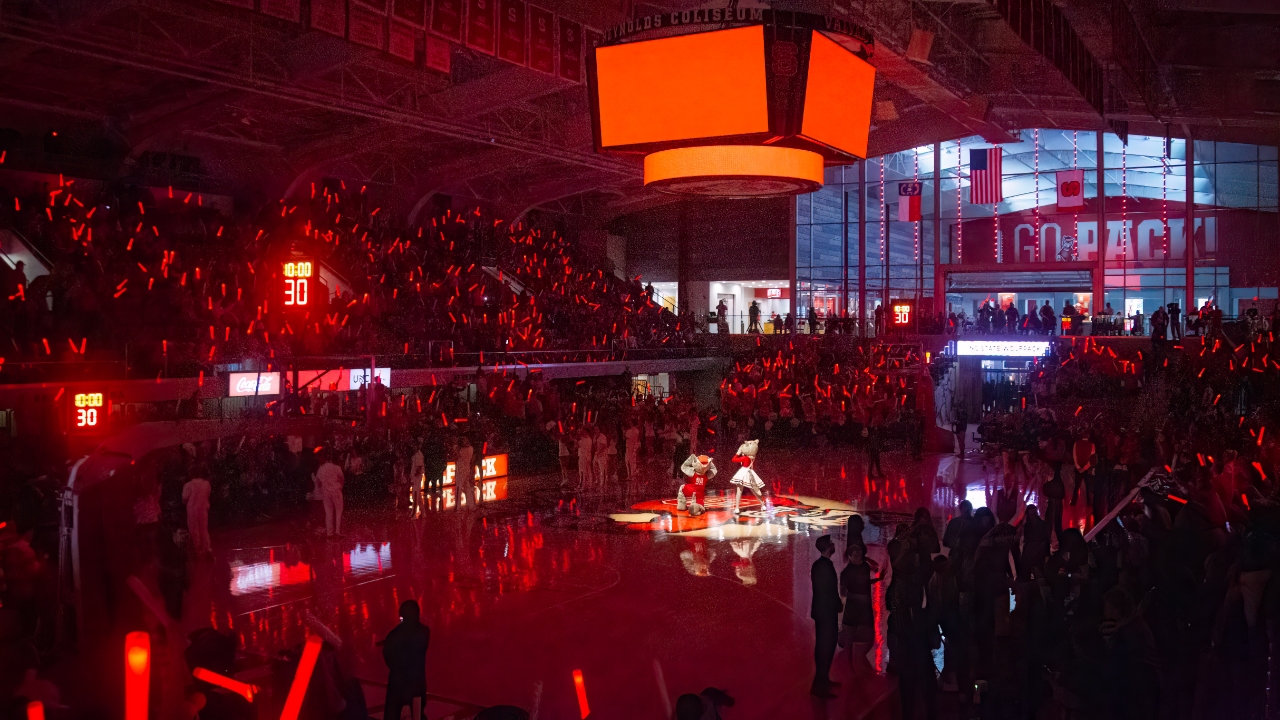 Wes Moore
Diamond Johnson & Mimi Collins
NC State Women's Basketball
LOCKER ROOM REPORT: No. 20 NC State Upsets Seventh-Ranked Irish
---
No. 20 NC State's Wes Moore, Diamond Johnson, and Mimi Collins met with the media following the Wolfpack's 69-65 win over No. 7 Notre Dame Sunday afternoon.
Johnson led the way with 20 points on 7-for-15 shooting from the field, 4-for-9 from three-point range, to go along with a team-high eight rebounds, five assists, and one steal. Collins scored 13 points on 6-for-8 shooting versus the Fighting Irish with three rebounds, one block, and one steal.
NOTE: Click on each respective thumbnail to watch each press conference in the player above. A transcript of Moore's comments is posted below.
---
Opening Statement
It was a great team win. Right off the top, I thought Madison Hayes did a great job on [Sonia] Citron. She's such a talented player, and we were really concerned about her coming into the game. I thought [Hayes] did a nice job. We were struggling in the fourth quarter. It's always tough when they press and you have a lead. I'm someone who likes to believe you want to make them pay for pressing, but then when you do that, it also speeds you up and gives them more opportunities to make a run and get back in the game. It's always a tough balance there. We'll look at the film and see how we can do a better job in that situation. I thought Diamond hit some big shots. It was a lot of people who contributed and made big plays. Mimi Collins hit some big shots. I thought, late in the game there, they ran a back-pick play, and I thought Jakia Brown-Turner came over from the weak side and did a great job of taking that away. I felt like Jada Boyd did well on the boards. Diamond got eight rebounds. That was a big plus. A lot of people contributed, and it was a great team win.
On the attention to detail in the second and third quarters…
I felt like, in the last couple or three games, we've done a much better job with the scout, trying to take things away, making people take shots that they're not comfortable taking, and making a person who's not normally the one to take a shot take them. We did a better job in those situations. We still have some breakdowns and things we gave up. I thought [Olivia] Miles, off the pick-on-the-ball, we let her get going there in the fourth quarter. We need to look at that and see how we can do a better job helping in that situation. For the most part, I think we've had a little bit more urgency on defense, and we've bought into trying to take away other teams' strengths. Hopefully, we can continue to grow in that area and get better at it.
On Collins starting the past few games…
Yeah, we feel like Jada Boyd's still not 100 percent, so we're trying to ease her back into it. Today, they had one of their centers out, [Lauren] Ebo, and that kind of altered things. Otherwise, I'm sure River Baldwin would've probably played a lot more minutes. They went with a smaller lineup, and with River coming off the injury, we ended up just going smaller. It's all about matchups and what we can take advantage of. I felt like they got on a roll there, and they got out in transition, so I felt like we needed a faster lineup, so to speak, out there as well. It depends on matchups.
On how he assessed the small-ball lineup…
It depends, again, on the matchups. With Ebo out today, we felt like we'd have to go that direction some. The next game, we may flip it the other way. We'll play it by ear. We're just trying to win games however we can.
On the team's response to Notre Dame cutting the lead to a one-possession game…
Obviously, I'm disappointed we let them make that run. They got hot, and they got happy, and we gave up some easy buckets. We also put them on the foul line. They shot 11 free throws. Well, for the game, that's not that bad really. They got out and ran in transition in the fourth quarter. They got a couple of open threes in transition where we didn't get matched up. That's why I put Madison Hayes back in the game. I thought she was doing a great job on Citron. I tried to get her back out there and match up with her. Diamond hit a big shot or two. That gave us a little bit of a chance to hold them off. Again, we'll look at the film and see, but that is concerning that we let them make that run.
On the value of today's win…
I looked at our schedule, and we were .500 [in conference play], and we were going to Louisville and had Notre Dame coming here. It was kind of scary-looking as far as what could happen. These were two really big wins, and I count Miami as a big win also; they've got a really dangerous team. To go to Louisville and come home and beat Notre Dame, that's a big week. We're fighting and clawing, trying to make our way back up the standings. We dug ourselves a little bit of a hole, and we're looking at getting back into the top four for a double-bye and being in consideration for hosting during the NCAA Tournament. Every game's really critical, and that's what's scary about this next stretch. Three out of the next four games are on the road, and road games are tough in this league. We're going to have to really keep our focus and keep our urgency going to be able to hold on on the road.
On the team's performance in the second and third quarters…
Well, the second quarter was great defensively. That's what I like to see. The offense is going to come and go, and we saw that. We scored 24 points in the third quarter, and we scored 11 in the fourth. That's why defending and rebounding are so critical because, when you have stretches like that, you can still find a way to win. I'm looking forward to seeing the film and seeing what happened and what we have to do to avoid giving up 20 in the first and 19 in the fourth and why we only scored 11 in the fourth ourselves. We've got to take a look at those possessions and see where we let that kind of take a dip.
On what he told the team during the timeout in the fourth quarter…
"Let's bow for a prayer." No, I felt like we were settling for jump shots some, and they're great when they're going in. The threes are great when they're going in, but we rushed a couple of shots. Instead of swinging the ball and testing the D a little bit, we just settled for jump shots, and it hurt us. Diamond was able to get in there and get those little 15-foot jumpers, and she's pretty good at that. She hit that, and we hit a few free throws, too. We've got to stay aggressive and try to get to the foul line and the rim instead of settling for jumpers all day.
On the advantage the home crowd provides…
There's no doubt. They made that big run, and it'd have been easy for us to hang our heads and say, "Oh, wow, here we go." The crowd keeps you in it and keeps you focused, and it probably has a bit of an effect on your opponents, too, when they do have a possession that goes empty and things like that. They probably feel it a little bit more. Our fans are an unbelievable advantage for us. With this arena, when you're jammed in there, I think it's a big plus for us.
On the shrinking gap between the top teams and the rest of the pack…
There's more parity than ever, and I think the transfer portal may have something to do with that. You may have someone who, in their first year or two years, may not play a lot, and you're hoping you can develop them, and then you'll get two or three years out of them where they really help you. Kids nowadays, after you've worked with them for a year or two, will say, "I'll go somewhere else." That makes that team better, and they're ready to play because they've paid their dues, so to speak. There's no doubt. It's tough right now. I didn't really recruit junior college a lot because I like bringing in kids and having them for four years, watching them develop and watching them grow. It's hard nowadays. They get impatient, and they go somewhere else. That's the tough part: they're probably ready to play for you now, but they don't see the light at the end of the tunnel, so they move on and help somebody else.
Never miss the latest news from Inside Pack Sports!
Join our free email list