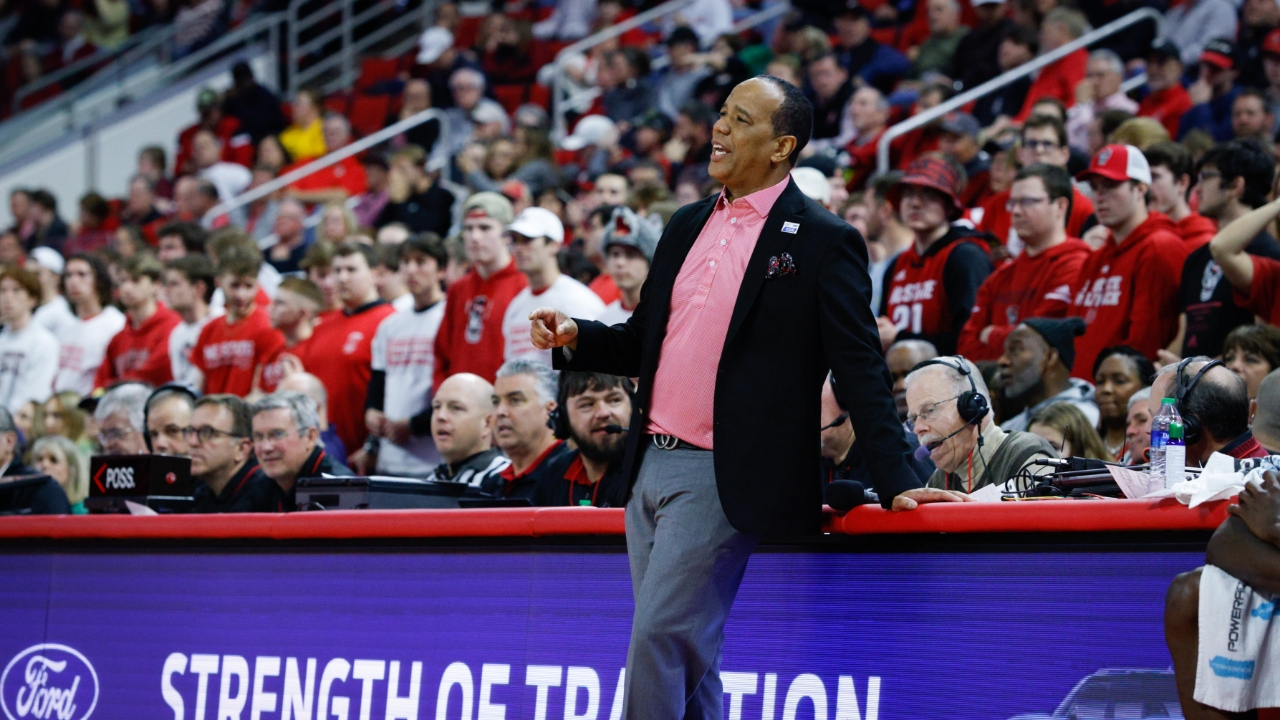 Photo by Steve Murphy/Inside Pack Sports
NC State Basketball
Kevin Keatts: "I Told Our Guys to Play the Team, Not the Record"
---
NC State head coach Kevin Keatts met with the media following the Wolfpack's 85-82 win over Notre Dame Tuesday evening.
NOTE: Click on the video in the player above to watch Keatts' press conference.
---
Opening Statement
First of all, what a class act Mike Brey is. We, as in the ACC coaches, are going to miss him in a big way. I got to know Mike when I was at Louisville. We played in the Big East where they never called any fouls. I don't know if it was our championship year or our Final Four year, but we played them to four or five overtimes. We were over there going crazy, pissed off that it was going to overtime, and Mike Brey's just looking over at us, laughing his ass off. He's happy. "Come on, guys!" That's when I knew, "That's my kind of guy." He's been great in the meetings. He's done a lot for college basketball. He's done a lot for Notre Dame. He's done a lot for the ACC, and hopefully he has the chance to go out on his own. I'm just proud of him. As far as the game goes, I've been worried about this game for two games since we played Carolina. The reason being is that they're really good. They can shoot the basketball. I tried to get our guys not to play the record but to play the team. When you look at them, they have veteran guys, and they can make shots. Unfortunately for them, it just hasn't worked out for them as far as wins and losses. They're capable of beating anybody on any given night, especially if they get hot. I thought we did a good job in the second half of extending our defense and getting after them. I thought Jarkel Joiner was really good down the stretch. When you look at Terquavion Smith, he wasn't Terquavion Smith tonight, but I thought he did some good stuff and made some free throws. I was glad that he made the decision to play because there was a moment where, if he didn't tell me he wanted to play, I wasn't going to play him. He fought through some soreness. He had the chance to practice yesterday, and he came out and competed. I'm proud of our guys. I didn't know this until Craig [Hammel] told me: Two turnovers today, that tied a school record. That's pretty good for us.
On when he knew Smith would be available…
Probably about 4 o'clock at practice when he knocked down two threes. I was like, "Yeah, he's ready. He's going to be fine."
On if he was concerned when Smith went down early in the game…
No. He only knows one speed. He's going to play hard. I never worried about him going to the hole again. I knew he'd play the way he played. I did think he settled a little bit too much for threes, but if I got popped like he did, I'd probably take more threes, too.
On when he figured out the lineup he wanted to utilize…
I didn't think our forwards played well today. I thought Ernest [Ross] had moments. I didn't think Greg [Gantt] had a great game. We decided to go small. When you're playing against a zone, you need a guy like Jericole Hellems, who can pick and pop, or Jack Clark, and so it kind of changes us a little bit. We wanted to get D.J. [Burns] in the middle of the zone, and he's a great passer, but somehow he fell in love with the jump shot, so we kind of had to go small just to get him to the baseline where he could work a little bit.
On the confidence Joiner gives him…
I thought he was really, really good as a leader and a player. I thought he made one dumb play. Anybody know what that was? Just lay the ball up. I just wanted the basket. He's been great. He typically hasn't received my stare down until tonight because he'd been so good, but I was really mad at him at that point. As a veteran guy, that basket's got to go. If you're going to dunk it, dunk it. If you're going to lay it up, we just want the two points. That being said, he's been so important to our program, our quarterback of sorts that can command respect on and off the court. I've said this all along: he's been really good for T.
On if Joiner had gone for the layup and missed…
He could have, but I would've liked to see him try.
On what he said to Brey in the handshake line after the game…
First of all, I texted him when I heard that he was going to retire. He doesn't mind if I share this — I don't usually share texts. He's so cool. He said, "Thank you, K. I love your team. See you Tuesday. I might be drunk at the game though." He wasn't drunk at the game, just so everybody knows that. The first thing is that I looked at him and was like, "Are you drunk?" No, I just told him, "Congratulations. Enjoy your time." Sometimes, when people go into retirement as a coach, people always think there's something else behind it. The guy's done a great job. He's coached for a long time. Now, he can enjoy life.
On the variance of the biggest contributor off the bench…
I'm so proud of Breon [Pass]. What we've talked about is that, when your opportunity comes, take advantage of it. It won't show up on the stat sheet, but I thought he played really good defense. I thought he made two really big free throws down the stretch. He's been the most positive kid in our program. He stayed ready. He's started to come along. He had a day of really good practice, and he played well in the game. Hopefully, we'll continue to develop those guys so we can have a lot more scoring coming off the bench.
On Casey Morsell's improvement…
The ACC Network guys asked me today [about him], and you wouldn't think his numbers last year were career numbers, but they were because of the way he played at Virginia. He's doubled his average, he's doubled his rebounding, and he's starting to play well. I'm proud of him. It took a little longer to adjust to our system, but he's starting to play really good basketball, and he's been good all year long.
On his conversation with Morsell at halftime…
I yelled at him. I did. I yelled at him. I thought his defense was lacking because he wasn't scoring the ball. He wasn't the only one I yelled at, but I did yell at him.
Never miss the latest news from Inside Pack Sports!
Join our free email list