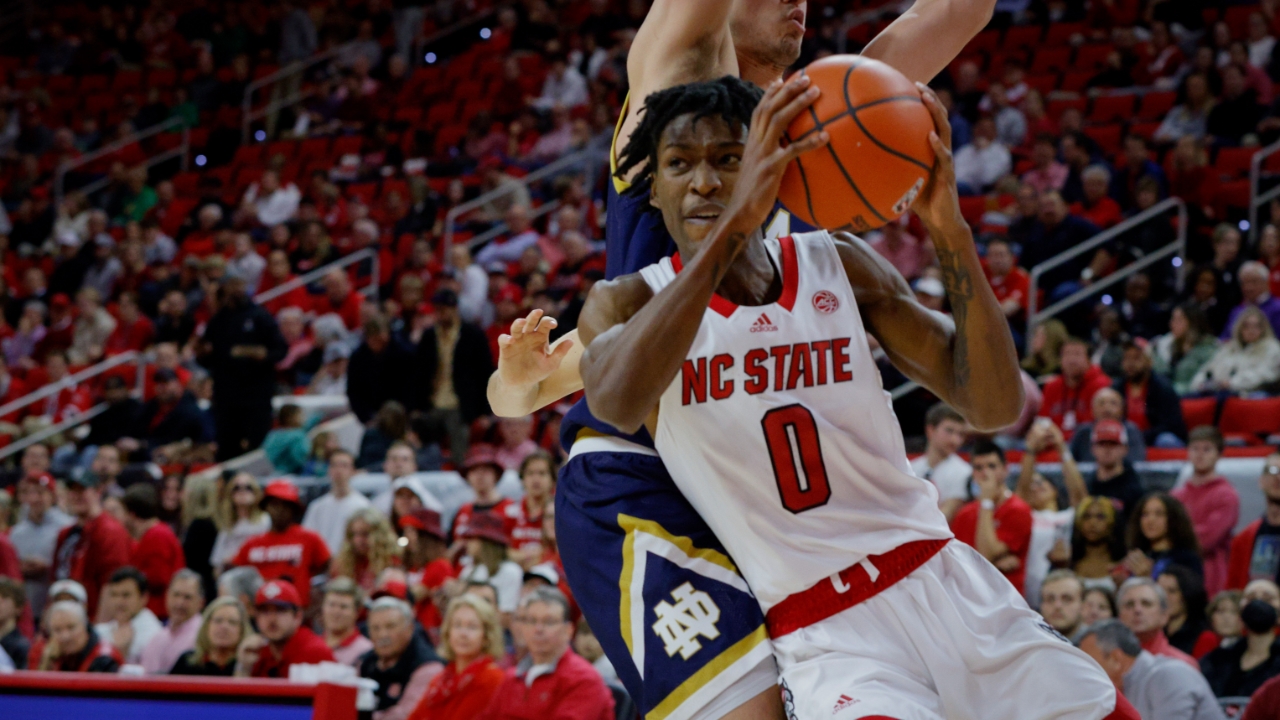 Terquavion Smith
D.J. Burns
Jarkel Joiner
NC State Basketball
LOCKER ROOM REPORT: Wolfpack Players
---
NC State's Terquavion Smith, D.J. Burns, and Jarkel Joiner met with the media following the Wolfpack's 85-82 win over Notre Dame Tuesday evening.
After sustaining an injury in the previous game versus North Carolina, Smith scored 17 points against the Fighting Irish to go along with six assists, three rebounds, three steals, and one block. Burns tacked on 14 points on 7-for-15 shooting from the field while grabbing four boards and dishing out three assists. Joiner led the Pack's offense with 28 points on 9-for-18 shooting from the field, 2-for-5 from three, and 8-for-8 from the free throw line while also tallying six rebounds, one assist, and one steal.
NOTE: Click on each player's respective thumbnail to watch each interview in the player above.
---
Terquavion Smith
"No, not really. I had to go through the stuff for my injury, but I didn't know until today."
"It felt good to have my team with me, to fight through that game with my team. I kind of struggled personally, but my team picked me up, and we pushed through together."
"I feel good right now. I get treatment tomorrow, and I just have to get in there and stay healthy."
"I just had to stay the course and let the game come to me. Today, I felt like I did a better job of making the right plays, staying with my team, and not forcing a lot. Letting that come to me and feeding off my teammates helped me."
"I just had numbness in both of my arms and my neck. Just to get healthy, I rested a couple of days. There was nerve action in my arms, so that's what that was."
"I don't know. It kind of was blank. I'd never been injured before, so that was my first time ever being in that situation. Not being able to feel my upper body was kind of scary to me, but I knew my guys had me. I knew my coaches and trainers would take care of me, so I just believed in that and kept God first."
"Probably after I got to the hospital. I got fluid in my arm, and that's probably when I got the feeling back."
"I don't know. I don't think it did affect it. I think it was just from being off those couple of days resting. I tried to get in the gym when I got where I needed to be. It didn't affect me; I just struggled a bit."
D.J. Burns
"Once we made sure our brother was straight, we got right back to it. We dropped one, so we really made it an emphasis to come in and win this game. Although it didn't necessarily how we wanted, we got it done."
"I just tried to get us going. I tried to be the energy. Sometimes, we start out a little bit flat, so when we make plays, I just try to bring all the energy I can to this team."
"I feel like we got off to a slow start, but once we got going, we handled business. We've got to get it going in the beginning."
"I couldn't really tell you. We've just got to keep our heads down and try not to worry about the score. If you're doing everything you're supposed to, the outcome is usually in your favor."
"I just kept talking to him and talked him up. Anybody that's going through it, we're going to be there for him as teammates and keep him going until he finds what he needs. He found it tonight toward the end for sure."
Jarkel Joiner
"[…] T's a fighter."
"The craziest thing is T fights like that in practice. I thought he was okay at North Carolina, but then he didn't get up. It was a little scary, but like I said, T's a dude."
"Like I said, we took what the defense gave us. They put me in the middle, and we tried to space the zone out a little bit. We tried to go smaller. Coach made great adjustments."
"It was big time. […] It's hard to stop them."
Never miss the latest news from Inside Pack Sports!
Join our free email list