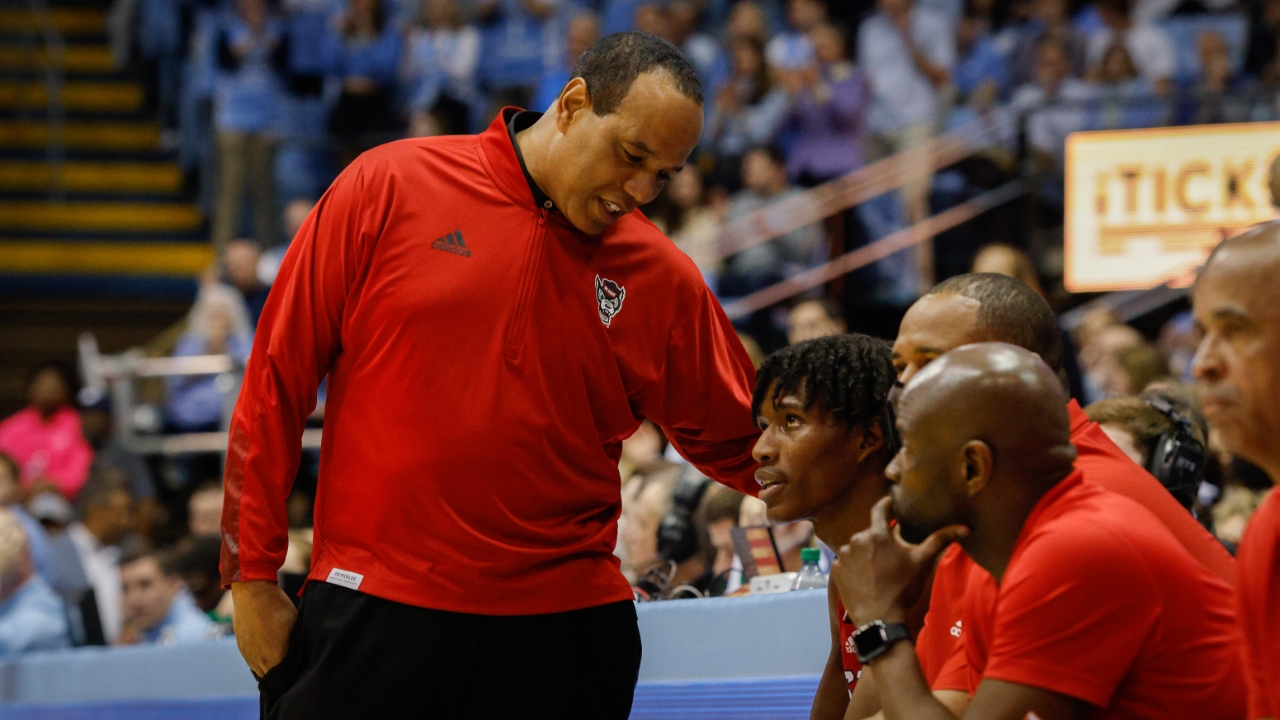 Photo by Steve Murphy/Inside Pack Sports
NC State Basketball
Kevin Keatts: "We Handled It As Best As We Could"
---
NC State head coach Kevin Keatts met with the media following the Wolfpack's 80-69 loss to North Carolina Saturday evening.
NOTE: Click on the video in the player above to watch Keatts' press conference.
---
Opening Statement
It was a very physical game. When you look at the stat sheet, I thought we did some good things. We shot 41 percent from the field. We actually made six more field goals than UNC. I've just never been involved in a game where a team's taken 39 free throws. That means we have to be a little bit more aggressive. We took 12. We were 12-for-12, so if we get a little bit more aggressive, then maybe, in a different game, we get there 20 times, and we'll be 20-for-20. It's a tough one. It's a physical game. My prayers and thoughts right now are with Terquavion [Smith]. I don't have an update for you. I know he did go to the hospital. We're waiting to hear back. It's a very emotional situation for me right now. Obviously, the game is very important. I thought our guys fought, but my thoughts always go to my players in these types of games.
On regrouping after Smith's injury…
It's hard. Our guys are close. It's a close-knit bunch. I thought we handled it as best as we could. I thought our guys did a great job of coming together. I even think we may had even cut the lead to six at that point.
On if he thought Leaky Black's foul was a dirty play…
I haven't seen it. When [Smith] fell, I went directly to him. I've known Leaky Black. I don't think he would make a dirty play, but I haven't seen it.
On if Smith's devotion to the program makes this injury as emotional as it is to him…
It has nothing to do with that. It could be anybody. When I sit in a kid's house, and their family turns him over to me to be his coach and dad while he's here, I don't care who it is. I don't care what his draft status is. I don't care if he plays three minutes a game. My son is on the team. He's a walk-on. It doesn't matter. All of these kids are my kids. It has nothing to do with what type of player he is.
On if he said anything to Smith while he was down…
Just that I was there to support. I'm not a medic. I'm not a doctor. I don't know what it is. My job is to be there and let him know that, as a coach, I'm standing right there with him, as I will do and always will do.
On if the game felt within grasp at the half…
I thought it was a really good, physical game. It was a great environment on the road in the ACC. I thought we had a really good first half. I thought we had our moments in the second half. I'm proud of our guys through all of the adversity that we had in the second half. It could have easily been a situation where it was really lopsided. Up until the last four minutes of the game, I thought it was a winnable game at that point.
On when he knew Smith's injury wasn't a typical situation where a player briefly goes down…
When he didn't get up. When I saw them waiting for the trainer, typically when they wait for the trainer, that's time for me to come out also.
On if the team was prepared for the physicality of tonight's game…
Every game that we've been in on the road has been physical. When you play us, it'll be physical also. I expected some of that. It was no surprise that it was that way.
On the plan to defend Armando Bacot…
I got the same plan that everybody else has in the conference. It's hard to stop him. He's had 20 [points] and 16 [rebounds] in the last game. He had 23 and 18 this game. You can double him or pick your poison. What he's become really good at is, when you double him, the other guards tend to get off. We picked our poison and stayed with him, and I think that's why the game was in range because we didn't have to double him where he could throw the ball out to the other guys to make shots.
On D.J. Burns' offensive success versus Bacot…
I thought it was a great battle between them. One guy ends up with 23, one guy ends up with 18. One guy's an elite rebounder, and he did what he does. He rebounds the basketball, and I thought that was a great matchup. It was a great battle between those two guys.
Never miss the latest news from Inside Pack Sports!
Join our free email list