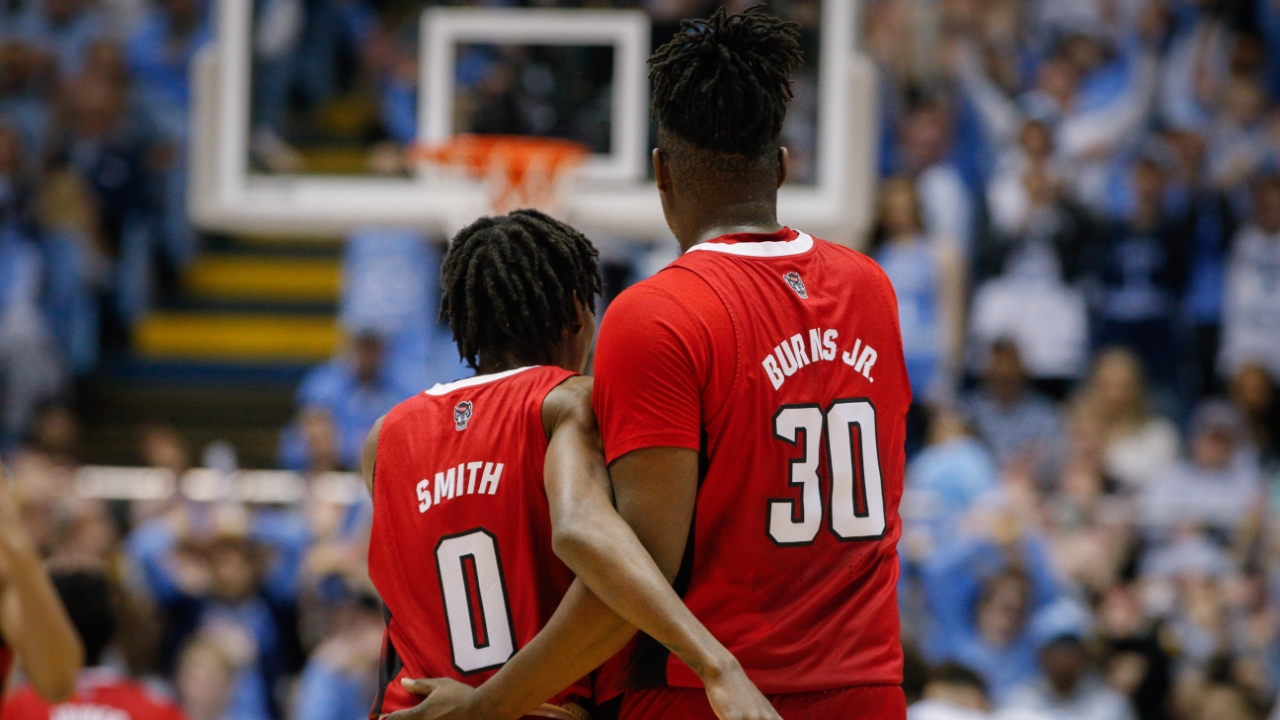 D.J. Burns
Jarkel Joiner
Casey Morsell
NC State Basketball
LOCKER ROOM REPORT: Wolfpack Players
---
NC State's D.J. Burns, Jarkel Joiner, and Casey Morsell met with the media following the Wolfpack's 80-69 loss to North Carolina Saturday evening.
Burns and Joiner led the way with 18 points each versus the Tar Heels. Burns added three rebounds, one block, and one steal while Joiner tallied four rebounds, three assists, and one steal. Morsell scored 12 points and grabbed three boards.
NOTE: Click on each player's respective thumbnail to watch each interview in the player above.
---
D.J. Burns
"We're definitely going to take everything we can so we can learn from it."
"I kept [Armando Bacot] off the block. I had to keep him off the block, make him catch it out deep, and make him take tough shots."
"It's the same as every game: go at him, take every opportunity, and make it count."
"I don't know. It's not for me to decide."
"[Terquavion Smith] just got hit, and he fell down. I don't really know what happened. It's not my place to speak on it."
"It's a rivalry game. We expected it to be physical, and they out-toughed us."
Jarkel Joiner
"We were right there. It was 34-33 at halftime. We didn't do everything right. We know that, so we're going to watch film and get right back to it."
"We don't have an update on [Smith], but we're praying for him. He's our brother, and he's in our prayers."
"You know what T brings to the table each and every night. He's a bucket-getter. He's one of our leaders. It definitely hurt us mentally, but we've got people to step up. Like I said, he's in our prayers."
"Next man up. It's just like Greg [Gantt] and Ernest [Ross] did. We've got other guards that can step up as well. Like I said, we're going to go back, watch film, and get ready for practice."
"Absolutely. They're a really good team, and we're a really good team. They did what they did tonight."
"We know we're not going to lay down. We fight too much in practice. We're a physical team as well. That's a good sign that we're not going to lay down for anybody."
Casey Morsell
"The details and completing possessions [were the difference]. I think Armando and all of those guys had a lot of second-chance baskets and a lot of opportunities to score the ball. We've got to increase our intensity and pressure on the defensive end, and I think we'll be able to get it done."
"It motivated us to go out and try to get out more. We knew it was going to be tough because he's so good at getting in the paint on the offensive end. It was tough, and it was the toughest thing to regroup and finish the game. We did what we could, and we've just got to move onto the next one."
"No clue. I have no idea. I remember that I was near him when it happened. There were a lot of different parts and aspects affected."
Never miss the latest news from Inside Pack Sports!
Join our free email list