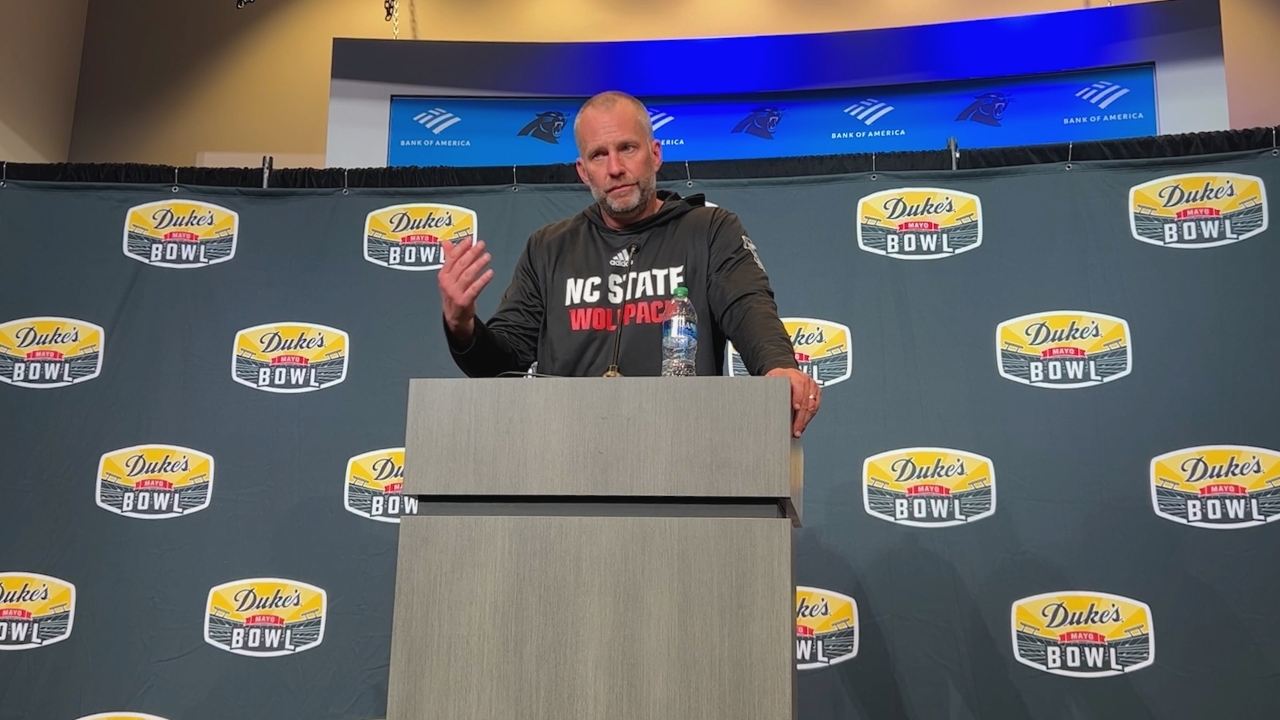 Photo by Daniel Wilson
NC State Football
Dave Doeren: "It's Time for Us to Change and Evolve"
---
No. 23 NC State head coach Dave Doeren met with the media following the Wolfpack's 16-12 loss to Maryland in the 2022 Duke's Mayo Bowl Friday afternoon.
NOTE: Click on the video in the player above to watch Doeren's press conference.
---
Opening Statement
Obviously, I'm disappointed with the outcome. You've got to give Maryland credit. Defensively, they did a nice job, and offensively we weren't able to generate enough points for a variety of reasons and different people at different times. It's tough when we're missing as many parts as we were, but a lot of people were. It comes down to executing better, catching the football, and finishing blocks. We weren't able to get the run game going. It's just kind of a myriad of things, I think, on that side of the ball. That being said, we had a chance to win. We got into the fourth quarter, had the football, and just didn't get it done. Chris Dunn had an excellent day for us. I was hoping to be able to get him the game winner there at the end. Kicking the ball back to them, stopping them, getting it back, and having the chance to go down and kick the game-winning field goal would have been a great way for him to finish his career. We just didn't get there. It's a great group of young men that I've gotten to coach. I'm going to miss them. You got to see Tanner Ingle probably at his best contact speed today, and I'm going to miss seeing him hit like that. I'm going to miss Drake Thomas, Isaiah Moore, and so many of these guys. It's a great group of young men to coach. I'm disappointed in the results but not disappointed in the opportunities this team has created over and over. They just kept fighting to the end of the game. They didn't make the plays at the end of the game to get the W.
On the utilization of Darryl Jones…
There's no doubt that this was a meaningful game for Darryl, and so we wanted him to have a good day. The plays weren't called to throw it to him every time. Sometimes, we called double fades on a play but didn't like that matchup, so he took it. There were some other plays were he was in the progression, and that's just how it worked out. Darryl's a guy that transferred in from the opponent. He's a kid that's worked hard on our football team. He's made some good plays for us. We were hoping he could be a part of our win that way.
On Dunn's reliability over the course of his career…
Chris Dunn's been everything. You guys know what I went through that year. That was painful, losing a game like we did that season on a missed field goal that probably changes the trajectory of our program a little faster. Having a guy like him that's done so many things and the things you guys don't know about — how he's overcome last year when he missed those kicks against Clemson — the way he battled back, came back for another year, and won the [Lou] Groza Award, I think he's just a great example of persistence. He's a very talented, clutch, and consistent performer and a guy who's hard on himself but in a good way. He's set a great example for our specialists and set a great example for our players on how to bounce back and how to respond when things don't go your way.
On M.J. Morris' status and how the offense's performance impacting the team's fourth-down play calling…
M.J. practiced throughout the bowl [practices], and as we got closer and closer to the game, he got sore and just didn't feel it was the right move for him. We would have loved to have played him, but we weren't going to put him out there when he wasn't completely confident. He was frustrated. We were frustrated. We just felt like it was the best thing for his future not to put him out there in that situation. And absolutely, at midfield on fourth-and-nine, if we're ripping the ball and catching it, we would have gone for it, but with three timeouts and the way our defense played, I thought we'd get it back, which we did, and have a chance to go score.
On if he planned on playing both Morris and Ben Finley before Morris got sore…
They were both going to play for sure. That was the plan
On how he assessed Finley's performance…
Good and bad. He rushed some things at times. There were some drops that hurt his numbers. He made some good throws. There were some protection things. He's a second-time starter. It's just little things like that, but he battled. He made some plays for us. If you talked to him, he'd tell you he's really disappointed. Ben really did practice well going into this game. I think he had high expectations for how he'd play, and he'd tell you he didn't meet those. He did some good things and did some bad things.
On what Maryland's defense did to limit the Wolfpack offense, especially on third down…
They were playing a lot of man, two man, man free… They blitzed some, and occasionally they played some Cover 2. They did a good job mixing it up. They've got good man-to-man corners and man-to-man nickels, and they've had good man coverage for most of the season.
On the difficulties of the month of December…
They've been through a lot. The coaches have been through a lot, too. There's a lot of transition that happens on football teams this time of year. The outflow of people leaving your program has increased with the portal, and you have coaching changes. For us, Coach [Tim] Beck is a head coach now, and that's a great move for him. Most of those things happen while you're trying to get ready to win a bowl game. It's not always easy. You have the injuries, and you have players deciding if they want to go pro, opt-outs, and everything else. This team came to play. We only had one opt-out the entire deal, and we had some players that couldn't play because of health, but they wanted to win this game in battle. They hung in there. I thought our preparation was good. We tried to get our guys as healthy as we could for it. The month of December has become as challenging as you could imagine as a coach with all of the things you're dealing with. We'll see where that goes. December used to be a lot of fun.
On Maryland's choice to start Billy Edwards, Jr. at quarterback…
I assumed maybe somebody was late to a meeting because [Taulia Tagovailoa] came in the rest of the game. I'm guessing that's what happened. We didn't expect that. Once [Tagovailoa] was back in the game, it's what we expected. The kid's a great player. He hurt us with his legs and on drop back passes throughout the game.
On how he'd assess the season…
After a loss, it's hard to say all these things. I probably need some times. I said a lot during the bowl about how proud I am of this football team winning eight games with four quarterbacks, overcoming two massive comeback victories versus Florida State and Virginia Tech, beating our rival on the road, and winning four Top 25 games. There's a lot of positives. We had to overcome everybody's, including our own, expectations when the injuries hit. I'm proud of a lot of things. At the same time, I'd like to win more than eight games. There are things we've got to get better at, but I've said it multiple times: if you told me when the season started that I was going to have all these quarterbacks play and we'd win eight games, I'd call you a liar. It's hard to do. It'd never happened in Power Five football. I think that says a lot of the fortitude of this group. Defensively, it's the best football team I've coached. I'll have great memories of that. It's the first Lou Groza Award I've had the privilege of being on a football team with, so that was awesome to be a part of that with Chris, and it's probably one of the best linebacking corps I've ever been around. There's tons of positives to think about. We had a bunch of sellouts at home. The facilities keep getting better. There's a lot of positives. I'm excited about the future. I'm excited about Coach [Robert] Anae and Coach [Garett] Tujague joining our staff on offense. I think it's time for us to change and evolve, and it couldn't have come at a better time, so I look forward to that.
Never miss the latest news from Inside Pack Sports!
Join our free email list