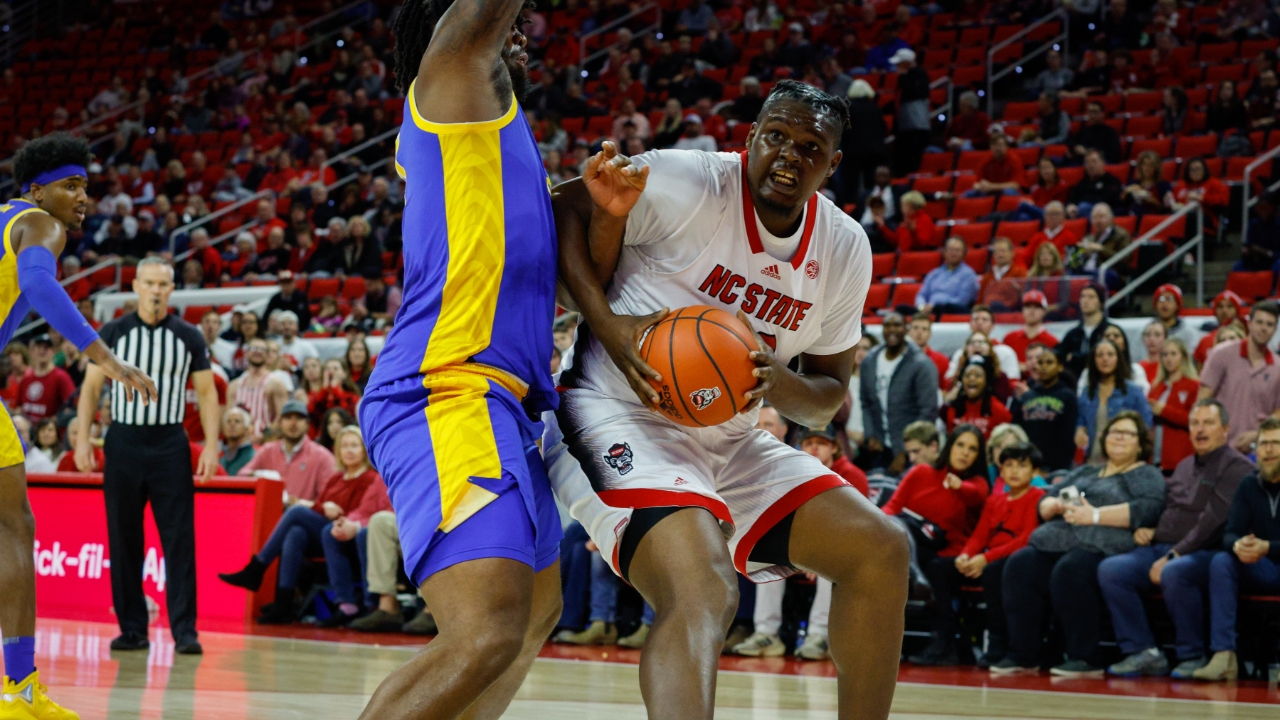 D.J. Burns
Jarkel Joiner
Terquavion Smith
NC State Basketball
LOCKER ROOM REPORT: Wolfpack Players
---
NC State's Terquavion Smith, D.J. Burns, and Jarkel Joiner met with the media following the Wolfpack's 68-60 loss to Pittsburgh Friday evening.
Smith led the Wolfpack in scoring with 15 points on 5-for-13 shooting from the field, 3-for-8 from three-point range, to go along with six rebounds, four assists, and two steals. Burns tacked on 13 points against the Panthers with six boards. Joiner, meanwhile, hauled in six rebounds, two assists, and one steal while missing all 12 shot attempts from the floor.
NOTE: Click on each player's respective thumbnail to watch each interview.
---
D.J. Burns
"It's just the little things, you know? We've just got to do a better job defending. It comes down to that, honestly."
"Honestly not. There were some opportunities. We tried to take advantage of them, and we just fell short tonight."
"I'd say it was more so us. We've got some things we need to clean up. We'll be back at it, and we'll fix it."
"[The message in the locker room] was just that. It was a rough shooting night. We had bad defense. We've got to fix it. That was pretty much the message."
"Oh yeah. This isn't a team full of quitters. We're going to bounce back. We're not too worried about a bad loss early, but we can fix it. We've got a lot of time and a lot of games left to go."
Jarkel Joiner
"I almost did, but they came here with a plan executed it well. Terquavion and D.J. honed in them, but we can't let our shots affect us on the defensive end. We were in the game the whole time. We can't let our shots affect us, or there will be more nights like that where our shots don't fall."
"Most definitely. We've got to understand the situation at times, and that's on me sometimes as the point guard."
"I feel like we got our shots. We got to our shots. They just didn't fall."
"It's early. Like I said, we got to the spots. Coach called great plays. We read them and executed. We got to our spots. They just didn't fall. It was just one of those nights."
Terquavion Smith
"I think we didn't play good enough defense. We didn't go hard enough on the defensive end, and we let missing shots affect us on the other end."
"Yeah, that's true. I feel like we didn't play like the team we are. I didn't feel like we played like ourselves. I feel like we let a lot of things affect us, and we weren't together on a lot of things."
"I just feel like the shots weren't falling. We got good looks. They just didn't fall for us tonight, and we let it affect us on the other end. That's it."
"Yeah, if the shots fell, the game would've been totally different. Who's not happy when their shots are falling? There'd be a lot more energy if the shots are falling on the other end."
"I'm excited. Miami's a big game, another conference game. That's the start of conference play [on the road]. We're about to bounce back and set the tone there."
Never miss the latest news from Inside Pack Sports!
Join our free email list