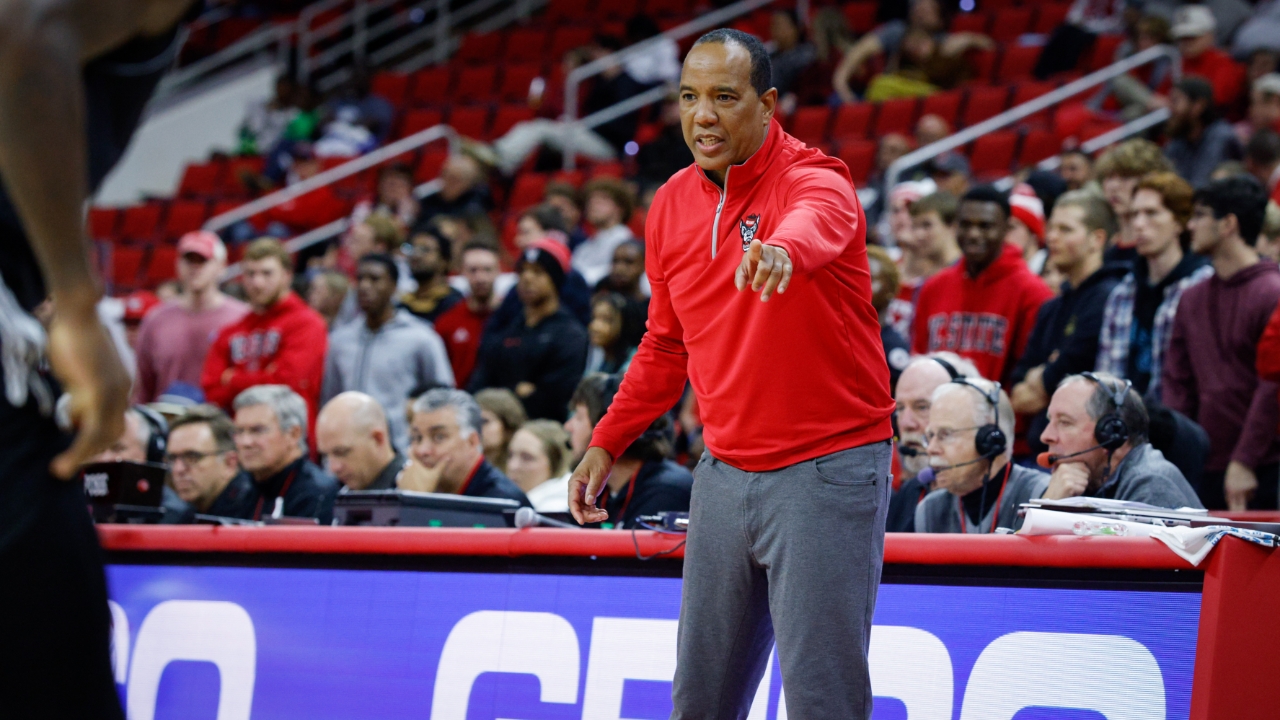 Photo by Steve Murphy/Inside Pack Sports
NC State Basketball
Kevin Keatts: "Our Energy Was Good Once We Got Going"
---
NC State head coach Kevin Keatts met with the media following the Wolfpack's 85-64 win over William & Mary Tuesday evening.
NOTE: Click on the video in the player above to watch Keatts' press conference.
---
Opening Statement
I thought we did some really good things. What I'm really proud of is 18 assists on 31 made field goals. Terquavion [Smith] and Jarkel Joiner are really playing unselfish basketball. When you look at the two of those guys, they had 13 assists, and I think this was a career high for Terquavion. He sacrificed a little bit in scoring, but what I think what's happening in front of us is that we're starting to see a little bit more of a complete player. I thought our energy was good once we got going. I thought our bench was incredible. Some guys came in and did a really good job. It was a good win, and we move on.
On changing the starting lineup…
The way I look at it right now, I've got six starters. For this game, I wanted to go with D.J. [Burns] over Dusan [Mahorcic], and both of those guys are going to end up playing half the game anyway. It's just a matter of who starts and who I sub first. I'm getting away from all the superstitious stuff.
On not being in the ACC/Big Ten Challenge…
It's the reality of it. Someone's not going to be in it. We're just not in it, and it didn't bother me at all. I'm rooting for our conference to do well, and I can't wait to get out of here and check the scores. I know we started off 2-0. I don't know who won today, but I will watch some of the games. It's not about that. When you're playing against another conference, all your excitement is just for our other teams to do well.
On how the Wolfpack would do in the Challenge…
Well, I will say this: since I've been here, we've been fortunate enough to be 3-1 in the tournament, but we won't know. We're not in it. I'm rooting for every ACC team in the next two or three days.
On how the team looks coming out of the Bahamas trip and heading into ACC play…
We're doing some good things. Do I think we still have a long way to go in certain areas? Absolutely. It's early. It's a little bit earlier for a conference game, but the reality of it is that we have to play on Friday. I do think we've grown in the last two or three weeks. We've gotten better. I think the Bahamas helped us, playing three really good teams back-to-back. I like some of the things we're doing. We're going to take the next couple of days to try to get better and get ready for Pitt.
On Casey Morsell's performance…
He's been working. I think it's the second time this year that he's made six three-pointers, and you love to see a kid who puts in the work and works on those shots every day for it to go in. That's added a really big dimension to our offense.
On Morsell being pigeonholed as a defensive player…
I don't think he ever thought he was a defensive guy. That's probably why he's here. He's a great kid who works hard. He's turning into a great two-way player.
On the energy Mahorcic provides…
I knew I was getting an energy guy. He's all about what NC State's about. He's a hard-head guy. He brings it every day. He's the type of guy you cheer for. He's going to get on the floor, he's going to block a shot, and he's going to jump up and down. He's tailor-made for what our program's about.
On Mahorcic describing his play as tough…
If I were you, I wouldn't challenge him on that. I don't know if you're ready for that.
Never miss the latest news from Inside Pack Sports!
Join our free email list