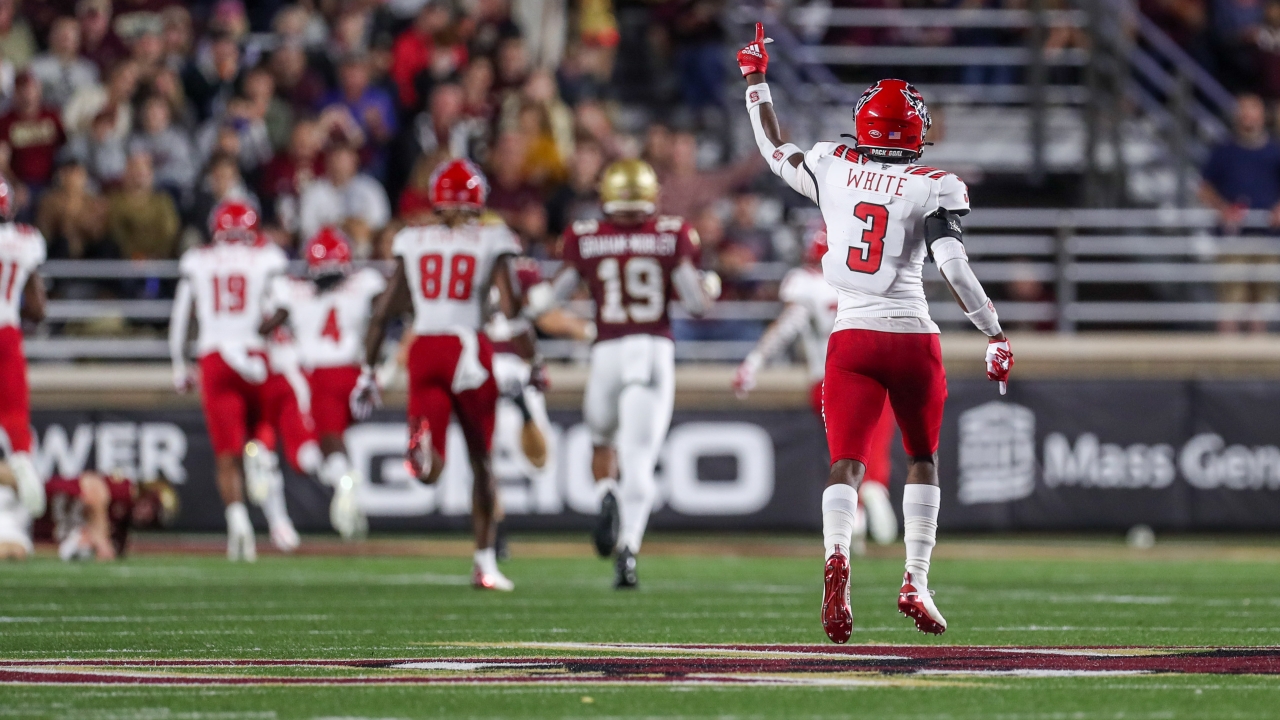 Photo by Paul Rutherford-USA TODAY Sports
NC State Football
RELEASE: Seven Earn All-ACC Honors, Four Named First-Team
---
Seven members of the NC State football team have earned All-ACC accolades for the 2022 season, highlighted by four student-athletes earning first-team honors.
The Pack had first-team honorees on offense, defense and special teams. NC State's four total defensive players among the first, second or third teams is its most since the Pack had five defensive players earn All-ACC honors in 1993.
Placekicker Christopher Dunn, who earlier Tuesday was named a finalist for the Lou Groza Award, led the Pack with 177 total votes. Dunn capped a record-setting career with his finest single season, going 24-for-25 on field goals – the best accuracy rate by an FBS kicker with at least 20 attempts. Dunn also set new ACC career records for most made field goals and points scored during the 2022 season.
Offensive linemen Chandler Zavala and Grant Gibson represented Wolfpack offense on the first team.
Gibson, who led Pack offensive players with 132 total votes, recorded 38 pancake blocks in 10 games this season. Gibson allowed just two sacks in 643 total snaps while anchoring the Pack offensive line. Zavala, a graduate student from Boynton Beach, Florida, registered 31 pancake blocks and allowed just 0.5 sacks in 747 snaps this season. Zavala was named a Midseason All-American according to The Athletic and has started all 12 games this year at left guard.
Four members of a dominant NC State defense that ranked first in the ACC in scoring defense (19.42) were selected to All-ACC teams. Cornerback Aydan White was the Pack's sole defensive player named first-team All-ACC after ranking second in the ACC with four interceptions and tied for sixth in the league with 12 passes defended. White picked off a pair of passes, including an 84-yard pick-six, in NC State's win over Texas Tech en route to being named the Walter Camp national defensive player of the week. He is also the first Wolfpack cornerback to earn All-ACC honors since David Amerson earned Second-Team All-ACC accolades in 2012.
Linebacker Drake Thomas and safety Tanner Ingle represented the Pack on the All-ACC second team. Thomas leads the Wolfpack with 90 tackles and ranks first among all ACC defensive players with 13 tackles for loss in conference games. Thomas also ranks second in the ACC with 6.5 sacks in ACC contests.
Ingle, who made a momentum-changing interception in the Pack's 30-27 win at UNC on Friday, ranks second on the roster and 24th in the ACC with 73 total tackles. Ingle finished the 2022 regular season with 6.5 tackles for loss, 0.5 sacks, two interceptions and eight quarterback hurries.
Defensive tackle Cory Durden rounds out the list of seven Pack players earning All-ACC accolades. Durden, who was named to the midseason list for the Lombardi Award, started all 12 games at nose tackle. He finished the year with 2.5 tackles for loss, 23 total tackles and seven quarterback hurries while helping the NC State defense rank third in the ACC in rushing defense.
Five Wolfpack student-athletes also earned Honorable-Mention accolades – wide receiver Thayer Thomas, offensive tackle Timothy McKay, linebacker Isaiah Moore, linebacker Payton Wilson and defensive back Tyler Baker-Williams.
First-Team All-ACC
Chandler Zavala, OG
Grant Gibson, C
Aydan White, CB
Christopher Dunn, PK
Second-Team All-ACC
Drake Thomas, LB
Tanner Ingle, S
Third-Team All-ACC
Cory Durden, DT
Honorable-Mention All-ACC
Thayer Thomas, WR
Timothy McKay, OT
Isaiah Moore, LB
Payton Wilson, LB
Tyler Baker-Williams, CB

Never miss the latest news from Inside Pack Sports!
Join our free email list