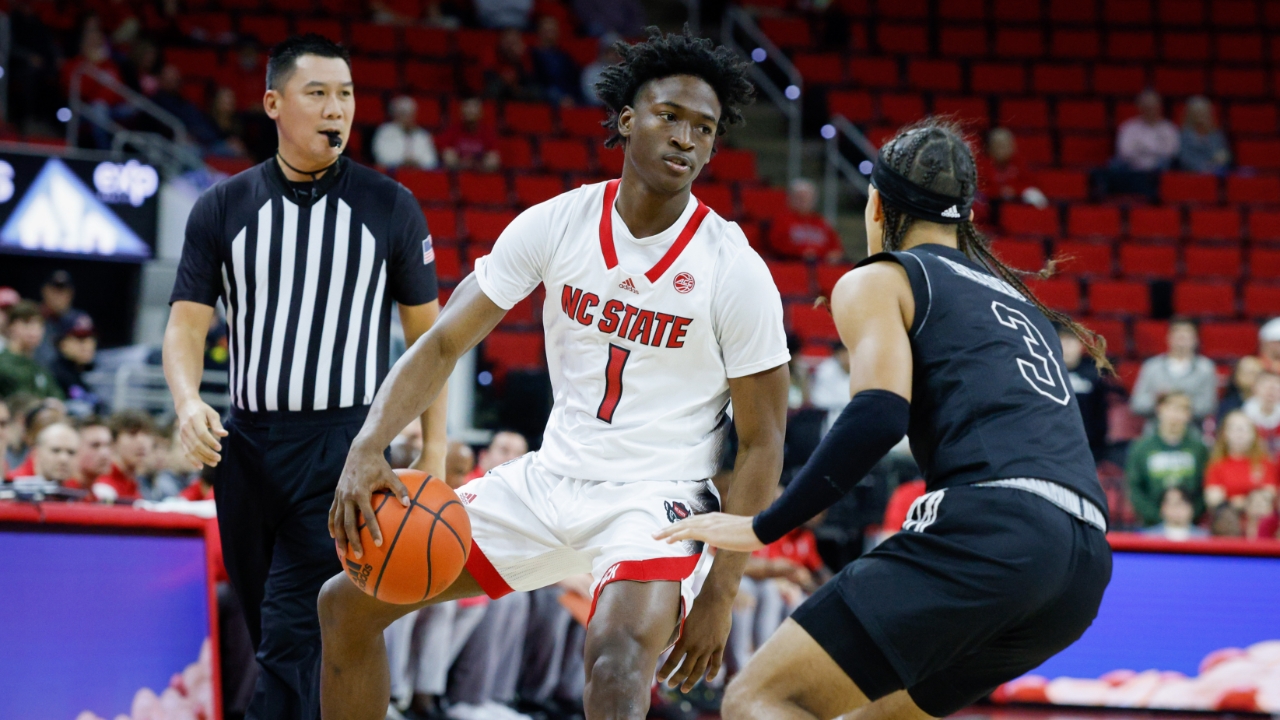 Photo by Steve Murphy/Inside Pack Sports
NC State Basketball
Jarkel Joiner Named ACC Player of the Week
---
NC State graduate guard Jarkel Joiner was named ACC Men's Basketball Player of the Week, while Duke center Kyle Filipowski was selected ACC Rookie of the Week for the third straight week.
ACC men's basketball weekly honors are determined by a vote of a 15-member media panel and announced on Mondays throughout the regular season.
A native of Oxford, Mississippi, Joiner averaged 19.7 points, 3.0 rebounds and 1.7 steals in three games at the Battle 4 Atlantis. He hit on 45% of his field-goal attempts and 85.1% of his free throws. He led NC State in scoring in both of their wins. He tallied a season-best 27 points against Dayton, including 20 points in the second half as he led a 17-0 run in final 20 minutes to turn a one-point deficit into a 16-point lead. He also scored 15 against Butler and recorded 17 points and seven rebounds in an 80-74 loss to No. 3 Kansas. He continuously broke down the defense in all three games and frequently got to the foul line, attempting 27 free throws in three games, making 23.
Filipowski averaged 15.8 points, 7.8 rebounds and 1.5 steals in four Duke games last week. The native of Westtown, New York, scored 18 points and grabbed eight rebounds in a home win over Bellarmine on Monday. He scored a season-high 19 points with 14 boards in the Thursday victory over Oregon State, marking his fourth double-double of the season. He added a career-high four steals to go along with 12 points in the Friday triumph over Xavier. In a Sunday loss to No. 24 Purdue, he scored 14 points and pulled down five rebounds. His 9.4 rebounds per game are second nationally among freshmen.
2022-23 ACC Men's Basketball Player of the Week Honors
Nov. 14 – Nate Laszewski, Gr., F, Notre Dame
Nov. 21 – Reece Beekman, Jr., G, Virginia
Nov. 28 – Jarkel Joiner, Gr., G, NC State
2022-23 ACC Men's Basketball Rookie of the Week Honors
Nov. 14 – Kyle Filipowski, C, Duke
Nov. 21 – Kyle Filipowski, C, Duke
Nov. 28 – Kyle Filipowski, C, Duke
Never miss the latest news from Inside Pack Sports!
Join our free email list