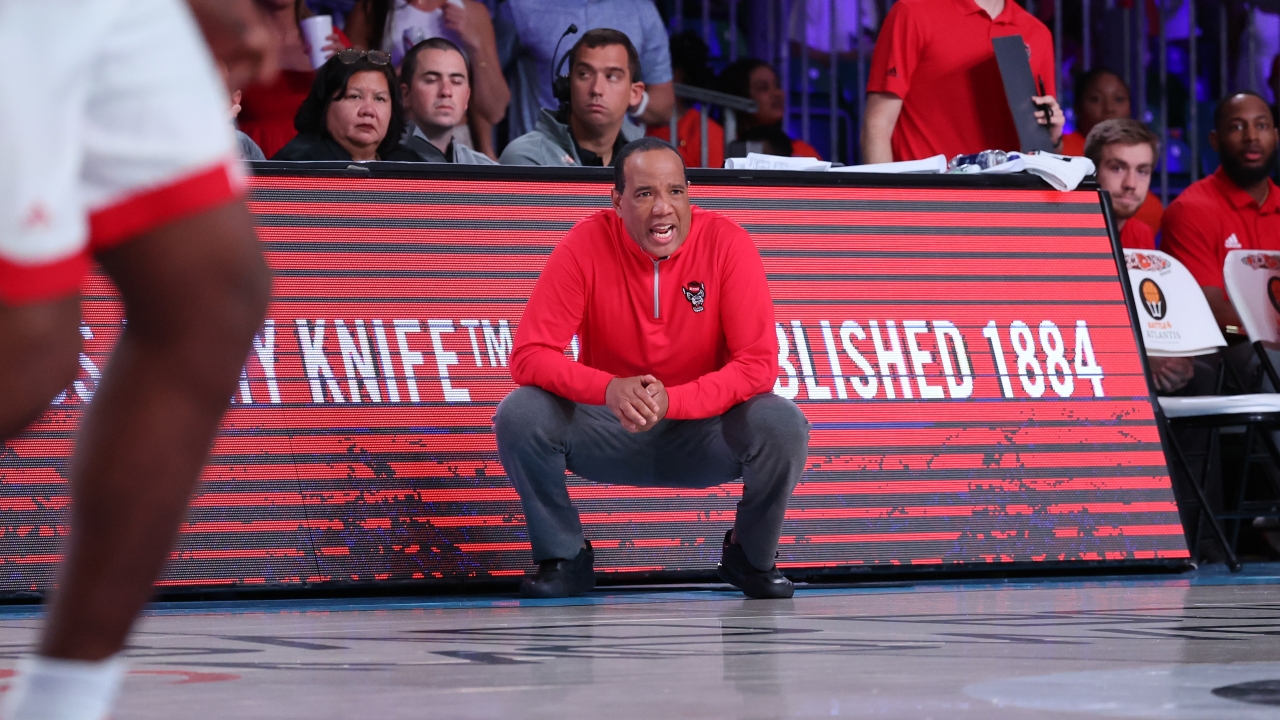 Photo by Bahama Visual Services
NC State Basketball
Kevin Keatts: "I'm Excited About Our Team As We Continue To Grow"
---
NC State head coach Kevin Keatts, guard Jack Clark, and forward Dusan Mahorcic met with the media following the Wolfpack's 76-61 win over Butler in the Bad Boy Mowers Battle 4 Atlantis Tournament.
NOTE: Click on the video in the player above to watch the Wolfpack's press conference.
---
Opening Statement
KK: First of all, let's talk about Butler a little bit. Thad [Matta] has done a really good job everywhere he's been. We beat a good Butler team. They're going to continue to grow. They're going to continue to get better. I thought we played extremely hard, and I only say that because that's part of our culture, but we were able to do that on day three, and that says a lot about this team. A few nuggets: I thought our young guys came in, played well, and gave us great minutes in Breon Pass, L.J. [Thomas], and Ernest Ross, and then I thought our veterans put us over the hump. [Mahorcic and Clark] were really, really good. We've been led all weekend, really all year, by Terquavion [Smith] and Jarkel [Joiner], and when they didn't have a huge scoring night, I thought they found other ways to affect the game. When you look at Terquavion, he had five assists and one turnover, and they all played on the defensive end. I'm proud of my team. It's a great tournament. It always has been. You're fortunate if you can get out of here with one win. Two is great, and then three is over the top. I'm excited about our team as we continue to grow, and we'll continue to get better.
On Bill Self's comments about NC State being a tournament team…
KK: I love our team. I try not to look too far head. I appreciate Bill saying that, and I hope it comes true for us. We're just going to continue to work. My job with these guys is to get them locked into the next game. I do think Kansas is a tournament team. I do think Kansas is a national contender. They've got a little bit of everything. Obviously, they've got the coach, and they've got good players, but I do appreciate Bill saying that, and I do think our team works hard, and we're going to continue to get better. I've learned just to lock in, be positive, and take it one game at a time, and that's what we'll do."
On playing Butler in the Pack's third game in three days and the Bulldogs' shorthandedness…
KK: Well, everybody's dangerous. What sparked me was that I watched Dayton and BYU, and it was a 23-point lead, and the lead was erased. We're all playing on tired legs, and if you can find a way to get through this, one of the blessings, even though we didn't want to lose to Kansas, one of the good things about it was that we were able to play a 10 o'clock game tonight. We got a little rest. It's a great tournament because it prepares you for ACC, and it prepares you for the conference tournament, but it's tough because you've got to play three great teams back-to-back-to-back.
On playing against Manny Bates…
KK: I'm proud of Manny. Manny's a tremendous kid. Obviously at NC State, he had some unfortunate injuries that slowed him down a little bit, but he's a great kid and a really good basketball player.
On finishing the tournament 2-1 with the loss against the reigning national champion…
DM: I would say we had a really good tournament. Like Coach said, we played Kansas really close. Obviously, the whole team was really hyped to play Kansas, and we played well despite coming up short. Personally, I'm really happy with how we played in this tournament. Coming out at 2-1 and coming back home, it's a success. I have a feeling this team will grow through this tournament, and we know how to play with each other better.
JC: We're connected on and off the court at a really high level, so us being connected together like that really helps us play on the court together. These three days playing Kansas close and getting wins over Dayton and now today Butler, it's really good for us and a great test for us later on when we get into ACC play."
On how prepared the Wolfpack is for what comes next…
JC: Playing down here for three straight days really prepared us well for ACC play. Of course we definitely have some work to do still to tighten things up, but this definitely helped us, and it's definitely going to prepare us for ACC play coming up.
On the foundational success with the new pieces on the roster...
KK: I love the team that we put together. We hit it really good with the transfer portal, and we got good people that have connected off the court. One of the things that helped us was taking a trip to the Bahamas in August. We were able to grow as a team. Every coach's challenge when you have so many transfers is trying to figure out how to develop chemistry early. I think we're a little ahead of the curve. We still have a long way to go in a lot of areas, but we've grown over the last two weeks.
On regrouping after the loss to Kansas…
KK: Yeah, I think the biggest focus is you see the defending national champion in Kansas, you play them tough enough to win, and you don't win the game, will there be a letdown over the next couple of days? I don't think we did. I thought we bounced back and beat two good teams, two good programs, by double digits. I learned a lot about my guys in how we respond. Sometimes, it's better to learn a lesson through a win. We learned a couple of lessons through the loss to Kansas, and we built on it.
On the offensive efficiency despite not shooting well from three-point range…
KK: Some of that has to do with playing guys a lot of minutes and playing three days in a row, but we also have two very efficient post guys. When you look up their stats, they can score the ball. D.J. Burns has had a good two days where he was unstoppable in the post. I thought he did some really good things. Late in games, I wanted to play through our post guys. We talked about getting more paint touches instead of settling for threes. When you look at tonight, we typically take anywhere from 25 to 35 three-pointers, and we only took 15, and a lot of that was because we wanted to establish our post guys. Our post guys tonight took 21 shots.
On Clark hitting a three after a scoring drought to provide some breathing room…
KK: I'm grateful he made the shot. I thought the willingness to make the pass is the biggest one because the tendency during scoring droughts is to step up and make the big shot. The pass was just as good as the shot, but it was very important at the time. I wouldn't say we got tight, but we relied on our defense a little bit. We got a little reckless with the basketball, but once we got our composure, we were able to make some plays.
On how the team handled itself on and off the court in the tournament…
KK: I love it. We conducted ourselves as professionals. We can make the argument that we played hard for three straight nights, and that's hard to do. I love what our guys are building. They're starting to coach each other. They're starting to reward each other. I think that's big. It's going to help because you know you're capable of doing it. We used our bench a little bit more tonight than we did in the first couple of games, and I thought those guys really came in and made a positive impact for us.
On the scoring efficiency…
KK: We can have balanced scoring. I think everyone knows that we've got a really good set of guards, and I include Casey [Morsell] in that, that have led us in scoring all year long, but we've got some bigs that can really score the ball. Our guys are really starting to understand that and get them in positions. It took a while for us to realize that, even though we love to run a lot of ball screens, we've got to roll this guys into the post and make sure we play off of them. Also, the bigs are willing passers. You look at D.J. He made a couple of backdoor passes. Dusan was very effective. It's really, really balanced when you have guard scoring and your post guys can score also.
Never miss the latest news from Inside Pack Sports!
Join our free email list