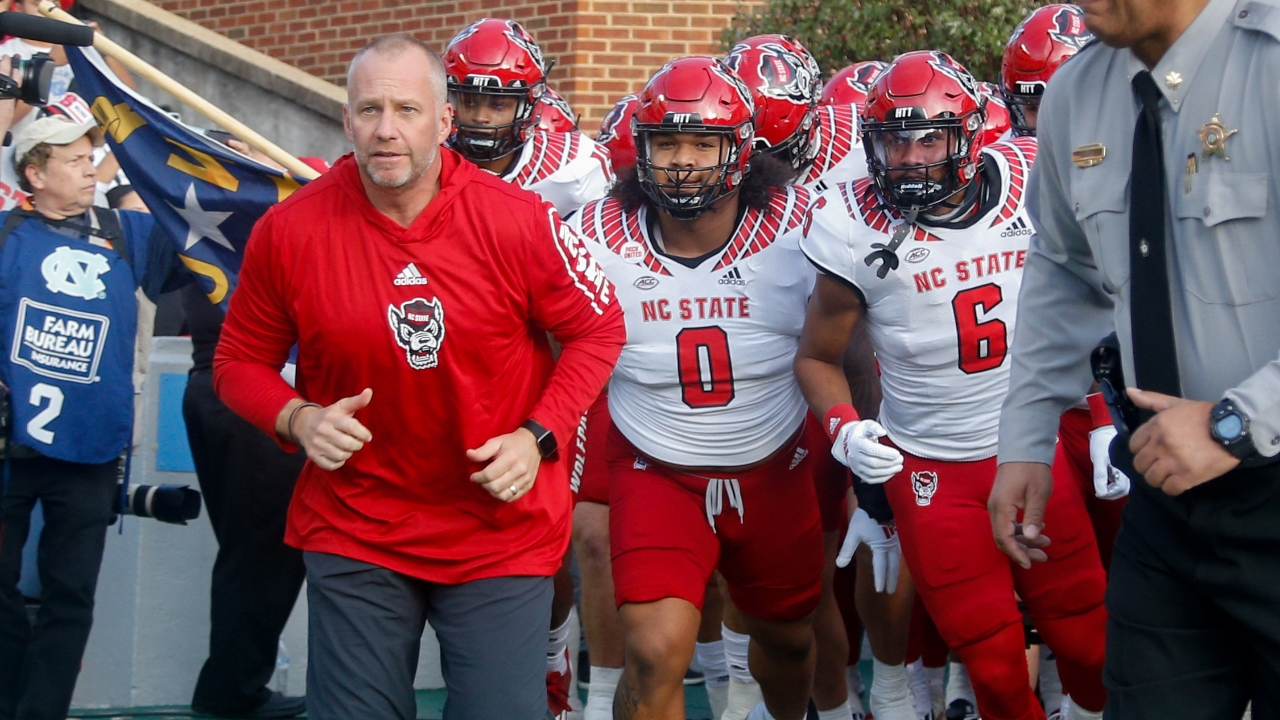 Photo by Steve Murphy/Inside Pack Sports
NC State Football
Dave Doeren: "Our Guys Are Just Resilient"
---
NC State head coach Dave Doeren met with the media following the Wolfpack's 30-27 win in double overtime versus No. 17 North Carolina Friday evening.
NOTE: Click on the video in the player above to watch Doeren's press conference.
---
Opening Statement
What a game. I'm sorry; I'm not going to have much of a voice in here. It's a heck of a win. I'm super proud of our players and staff. It was an awesome football game. Coach [Mack] Brown and his team battled back, and [Drake Maye] is a really good football player. Our guys are just resilient. They've got a lot of grit and heart to just find a way to win, and that's what we did. I'm thankful to be with these guys. It's been a hard month. I can't even put that in words, how hard this month's been for me. It's a great way to finish the season. I'm thankful. I give God the glory, and I can't wait to enjoy Saturday college football with no stress, just relaxing with my family. It's a hell of a win.
On refocusing the team after the penultimate play of regulation…
The guys on the far side were celebrating. We knew they were going to put time back on the clock, so I was trying to get everybody back together. That was a crazy sequence right there for sure.
On playing his fourth-string quarterback and his fifth-string nickel…
I don't think people understand what Derrek Pitts had to do today. We casted him up — he's got a bad wrist sprain — so he could play. Jalen Frazier had been a third-string or fourth-string guy all year, and he comes in and gives us valuable minutes. Derrek Pitts did a great job on [Josh] Downs. We know how good of a player he is. To keep him from scoring, [Pitts] did a really good job at the nickel position. We missed Tyler Baker-Williams. We missed Jakeen Harris and Devan Boykin. All three nickels were out, so it was pretty impressive that Derrek could go in there and have the recall he did. He was the nickel for Tony [Gibson] at West Virginia back in the day a long time ago. I gave everybody a game ball, but if we hadn't, he'd be one of the guys we'd single out for today.
On Devin Carter's performance…
We needed Devin. He's a guy that can make contact catches, and they've got big corners. He came up with a big play for us there to get the lead. There were a lot of contact catches that we needed to make. Obviously, there were some we could've there at the end and didn't. It's good to have Devin back, and we were hoping we'll have Trent Pennix, too. He just didn't last.
On Ben Finley…
I think it's a great lesson for people out there that you don't give up. You keep working. Ben could've easily been one of those quarterbacks who jumped in the portal when he didn't get what he thought he was going to get. Instead, he was a great teammate. He went down and serviced the defense, and I bet those 10 weeks down there made him the player you're looking at right now. Going against that defense day in and day out has helped him see the game a little bit better. You know our defense does a lot and presents a lot of things, and he has to see that everyday as the scout team quarterback. I'm super proud of him. I can't say enough about him stepping in, taking care of the football, and doing a lot of good things for us.
On this win reshaping the story of this season…
We had eight starters out at one point last week, and the week before, I thought like the game was taken from us more than we lost it. I don't think it reshapes anything. I think it just proves the staying power that our guys have and the resiliency, the toughness, the grit, and the love. I told them all week: "Nobody's going to care about anything other than this win when we win this game." This will make a lot of things feel better. It's a 365-day you-know-what sandwich that the other school gets to eat, and we didn't want to eat it. We wanted to have that, and we wanted to finish with that pride. That's what happens during rivalry week. One team gets to feel good for a year, and the other one doesn't. It's a great job by our guys finishing it.
On him showing off his "Light It Red" shirt to the NC State fans after the win…
That's what we do when there's a celebration. I actually wear this quite a bit underneath my top. I don't know. I just got excited. I heard our fans cheering which is awesome. Our parent section is great. I just wanted to go over there, thank them, and get excited with them celebrating.
On this being one of his biggest regular season wins at NC State…
I don't know. The Clemson win last year was pretty damn good. This year, we've had some big wins. We still have the biggest comeback win in FBS this year against Virginia Tech. Anytime you beat your rival is huge, and they're a top-20 team that's going to the championship, so that was a hell of a win.
On going 3-0 against in-state teams…
I did talk about it. It's not really a state championship. We didn't play Duke, but we did beat all three teams in the state [we had on schedule]: ECU, Wake, and UNC. It's awesome to have that as part of the year, and obviously it helps with recruiting.
On Finley winning at Kenan Stadium after Ryan Finley won twice in Chapel Hill…
His brother's undefeated here. It's cool to keep the tradition going for the Finleys. I can't say enough about Ben and his performance today.
Never miss the latest news from Inside Pack Sports!
Join our free email list