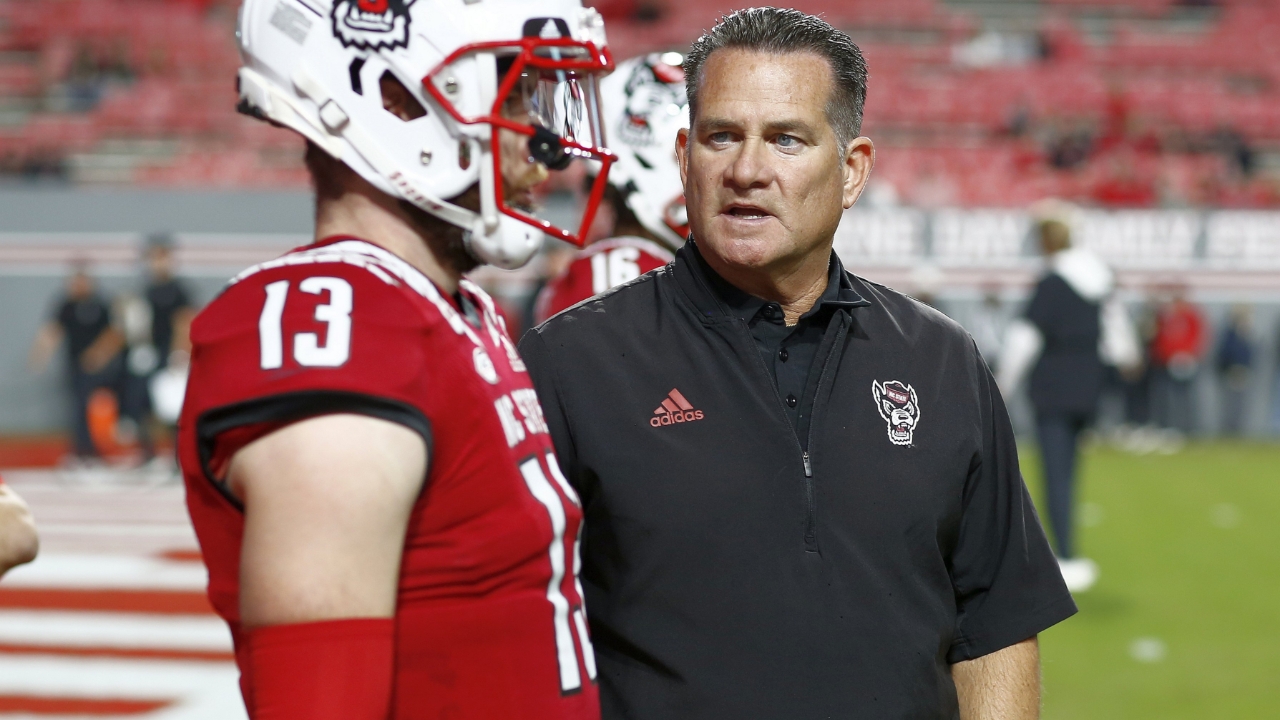 Photo by Jeff Reeves/Inside Pack Sports
NC State Football
NC State OC Tim Beck: "I Hope It Never Happens Again"
---
NC State offensive coordinator Tim Beck met with the media to discuss the upcoming matchup against North Carolina.
NOTE: Click the video above to watch the interview.
---
How'd you feel like Ben Finley graded out in the game? You know, for a kid just thrown into it like that?
Yeah, I was really pleased with Ben and the way he played, considering he'd been running scout team since August. I thought he did a really nice job in there and kind of provided a little spark for us.
How many reps compared to last week? I guess he's getting a lot more reps this week.
Yes.
Do think his comfort level will be a little bit better this week with that kind of preparation?
Yeah. I mean, yeah. I do believe he'll be more comfortable playing. I thought it was great experience for him to get out there in a meaningful, challenging game against a good defensive football team. So I think he'll be better. But at the end of the day, there's still a lot to learn for Ben. He just hasn't been out there a lot. But I love the way he is working, I love his practice, I love his demeanor. And I'm really pleased with where he is at right now.
You ever had a situation where you've had to use four different quarterbacks?
No, I have not, and I hope it never happens again.
Is that like a challenge for the rest of the offense? That whole getting used to new guys?
Yeah, it is. I think there's a variety of things, right? We're missing a lot of leadership.
Lost Grant Gibson, who's a three-year captain. He's been playing football here since Moses played here, that's how long he's been here. You lost Devin Leary, a captain, right? Devin Carter's been hurt, senior leader at wide receiver. Trent Pennix, a leader at tight end.
So you look for guys to provide, "Hey, here we go, follow me," and sometimes we don't have that. We don't have that guy to provide a spark sometimes. Or if things aren't going well, that, "Hey boys, let's tighten the screws and let's get going." So that becomes, that's hard. That's part of the growing pains when you are in this situation, but everybody's working hard and playing hard, we just don't always execute well or make the best decisions at times and things.
So it hurts us, and right now, when we get into a bad situation, a negative play, we're struggling to overcome that.
Your quarterbacks are kind of diverse, where some are dropped back and some like to run. But in the perfect world, what are some of the traits that you look for when you recruit a quarterback?
Toughness, number one. Intelligence, number two. I think arm talent and his ability to make plays, and that's just having good feet. He's got to have good feet to be able to make plays. I think those are some characteristics and attributes we got to have.
Never miss the latest news from Inside Pack Sports!
Join our free email list