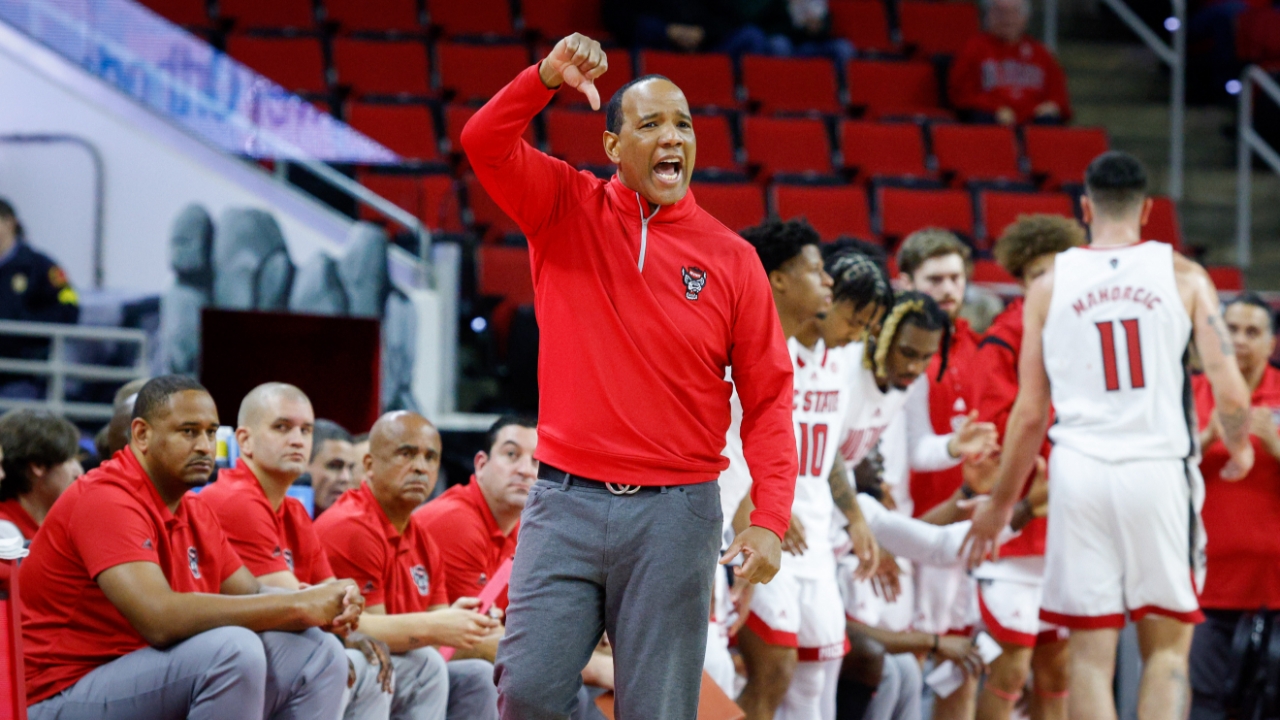 Photo by Steve Murphy/Inside Pack Sports
NC State Basketball
KEATTS: "Before I get on them, they coach each other"
---
NC State men's basketball head coach Kevin Keatts met with the media following the Wolfpack's 74-63 win over Elon on Saturday.
Note: Click the video in the player above to watch the press conference.
---
Opening statement…
I thought our guys found a way, especially our bench, it was good today to be able to utilize our bench, especially in the first half when we had both Jarkel [Joiner] and Terquavion [Smith] with two fouls. I thought both Breon [Pass] and LJ [Thomas] came in and did a good job. I thought we found a way to win when we didn't play our best basketball. I thought at times guys didn't score the ball the way we thought we should. I thought our defense suffered a little bit. When you look around college basketball, there are so many upsets right now. I told our guys, 'You've got to lock in, you've got to focus.' We did some good stuff, we had some good individual performances. Dusan [Mahorcic] had nine points and 14 rebounds, and it was good for Jack [Clark] to play well [with] 21 [points] and nine [rebounds]. I'm excited for it and we'll move on to the next game.
On if a game like this is one they might have lost last year…
I'm not sure, possibly. We talked about this in our huddle because we've got older guys. They were talking to each other, they were getting on each other, they were praising each other. Possibly because of the youth of our team last year, this team understood when we needed a stop or a basket. When it got to five [minutes remaining], they looked up and were like, 'Oh my goodness we need to play now.' I don't know that we would have had that last year.
On working against the zone…
We hadn't seen zone all year long. I told them they're gonna play a 2-3 zone. When they went zone, everybody's eyes went big thinking we were gonna shoot them out of it. We made a couple, but after that we missed some and when we got in the timeout, we talked about getting the ball to the middle of the zone and flattening out a little bit. That's when we made some plays.
On the veteran leadership this year…
The great thing about this group is before I get on them, they coach each other. And I think that's what's gonna help us down the stretch because they're able to talk their way through things. That's a big positive, and that comes with having some veteran guys that have played college basketball who have seen those types of plays before.
On how prepared this team is going into the Bahamas…
I think we're as prepared as any other team that's going to the Bahamas. It's a young season, everybody that's gonna be there has probably played four or five games. Everybody that's going to the Bahamas has probably had some highs and lows in those games. I think we're as prepared as anyone else.
On addressing the team after the win…
We talked about hey man, be happy, it's a win. There's no disappointment in our locker room. The other team has scholarship players and I thought Elon came in and did a good job running their offense, taking last-second shots. I thought they were solid defensively. We didn't have the explosion offensively that we had against FIU and I think that affected our guys.
On if they're aiming for a certain amount of 3s per game…
I'm disappointed, I'd love to take 50 of them. I'm serious, if we can make 25 we'd be happy, right? There's no number, though. This is a 3-point shooting team. We're probably gonna average around 30 of them a game. We typically get 70-75 shots per game because we force tempo and steals and everything else. Last game was 76, this game was 69. So probably 30 of them are gonna come from behind the 3-point line.
On how pleased he is with the defensive effort…
I'm very happy with it once we got locked in. I thought in the first half we had too many breakdowns. They ran a simple pin-and-screen from the 5 and I have no idea what we did with it. We ran through it, we shot the gap. We talked about it at halftime and then they came out in the second half and ran the same thing. It's the greatest play in the world, just a 5 setting the screen and then they come out and shoot it. But when we needed to, our guys settled in and guarded it. We've got to clean up a couple of things. Out of all the games, I didn't think we were as sharp defensively as we'd been the first three.
On Terquavion Smith's defensive improvement…
You know what he's doing? He's listening. It started in the summer through what he learned from the NBA teams through the NBA Combine. He's become a much better listener than he was as a freshman. A lot of that goes to Jarkel Joiner. I think [Smith] was 19 years old in one play on the court and I heard Jarkel say, 'Relax, T.' Last year he wasn't the oldest guy but he was the most explosive guy, but no one would coach him on the floor because no one was old enough and there was no respect factor. Now I think he has that.
Never miss the latest news from Inside Pack Sports!
Join our free email list