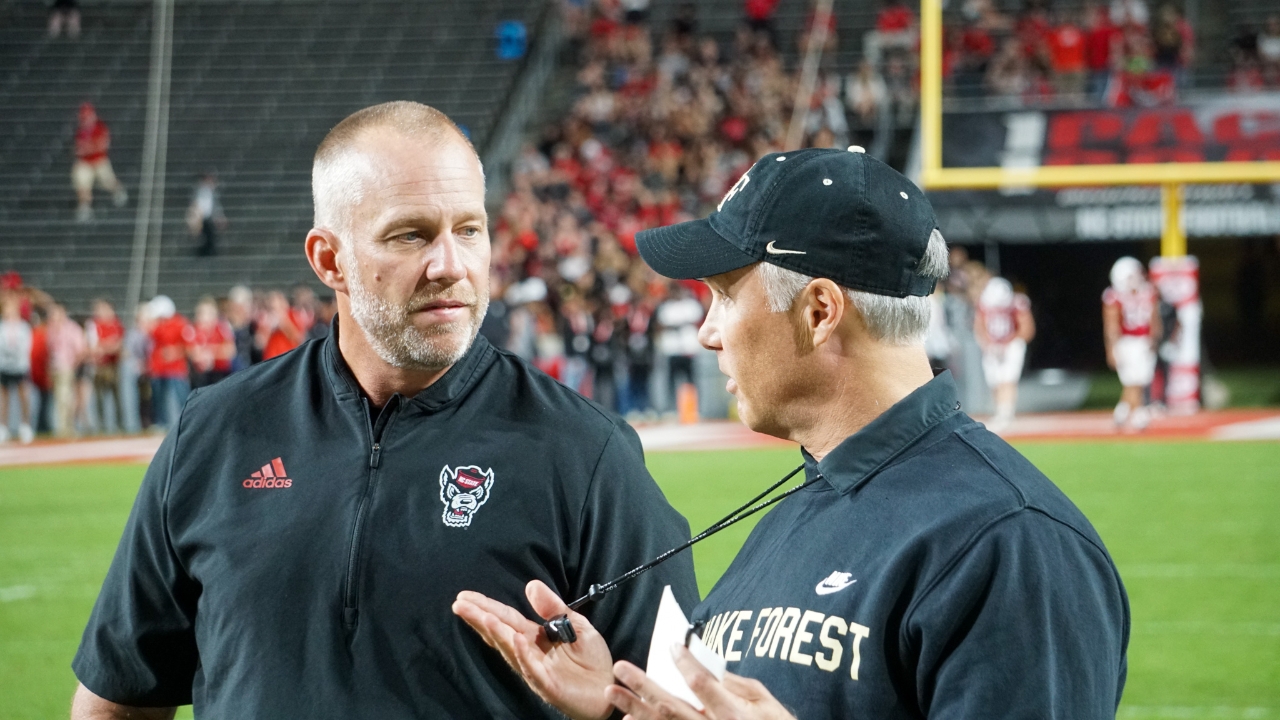 Photo by B.P. Cox/Inside Pack Sports
NC State Football
Dave Doeren: "When We've Had a Setback, They've Responded Really Well"
---
No. 24 NC State head coach Dave Doeren met with the media ahead of the Wolfpack's upcoming road game versus Louisville.
NOTE: Click on the video in the player above to watch Doeren's interview.
---
On if there's any update on injured personnel…
I'm not going to talk about injuries. Is there anything about the game you want to talk about?
On the atmosphere at Louisville…
I haven't played there in a while. Last time we were down there, it was in between staffs, and it wasn't really a game. Other times we were down there, it was when they were playing pretty well under [Bobby] Petrino, and they had a great fan base there that day. It was loud. It's like any road game. If their fans show up and give them the support, it makes it a harder place to win.
On M.J. Morris improving from last week's loss…
Like I said earlier in the week, because he played so well in the other six quarters, we maybe had unrealistic expectations that he'd never make a mistake. He made a few. He's going to learn from them. He's going to be better for them. That's all you can ask. All of these guys are 18- or 19-year-old guys when they're in their first year playing. If they make mistakes, process why they happened, and try to make it where they won't happen again.
On if the other players have rallied around him…
Yeah. We were hurting after that game. We felt like we got robbed. That's a tough feeling when you get beaten. It's another thing when you make a play to win the game, and you don't get to celebrate making it. It was a tough feeling in the locker room and the next day, and then we flushed it. They came out with great enthusiasm and practiced well all week. I'm proud of them for that. It shows maturity on their part. It's not an easy thing to do. There's a lot lost in that from a legacy standpoint. Our seniors wanted to win on Senior Day and accomplish breaking Coach [Lou] Holtz's record. I do think when they realized, 'Hey, last year at this time, we were 7-3, and we beat Syracuse and UNC with a chance to win 10. Let's not go down letting one game get into the next.' That's one thing this team's done a great job of. When we've had a setback, they've responded really well.
On players cross-training at different positions…
Our staff deserves a lot of credit for cross-training guys, and the players ultimately want to play. If you're an offensive lineman, I tell them, "Wouldn't you rather have five lottery tickets than one? If you can play all five spots, you have a chance to play more." The same thing goes in the back end and linebacker. If you can learn Mike, Sam, and Will, it's better than just knowing Mike. It gives you a better opportunity to get on the field if you're the next best player. We try to cross-train the guys who have the ability to do that. Sometimes, it's asking too much early in their career. You've got to have really them get through a couple of seasons before you can do that, but it's a value to your depth chart because you're deeper than the depth chart looks when you can move a guy over to play a spot.
On how much time is spent on roster management with the transfer portal and early signing day…
I wouldn't say it's every day, but it's close to every day, and if I'm not, somebody is. Our recruiting office is doing that non-stop. You're constantly evaluating your competition. You're evaluating guys that might go into the portal. Obviously, you're evaluating your roster. "How are we performing at this spot? Where do we need to get better?" That's an ongoing thing. From a head coach's standpoint, it's different from the recruiting office because I'm looking at the 85 scholarships, who's leaving, and who might declare for the NFL Draft early. "How does that change what we thought was going to be?" There's a lot of moving parts right now.
On if he ever has to re-recruit his own players…
That can happen. I haven't had to do a ton of that here. It's been more of the process of, "Do you want to go pro or not?" Sometimes, I think there's a misconception when a kid goes in the portal it's bad. Sometimes, he just wants to play more, and he's buried in the depth chart. I want him to play, too, have a good career, and be happy. If I tell him you're going to be third, and he can go be first for someone else, I'm going to help him. It's not always bad. Sometimes, it's just managing why someone is thinking that way. Sometimes, you are getting bad advice, and you have to look at what's going on here. Sometimes, someone's giving you bad advice and doesn't understand what's going on here.
On if December has become hectic…
Yeah. It used to be a really fun month. You would finish your season and if you were bowl-eligible, you'd give the guys a little rest to get ready for finals. As coaches, you'd change tour routine and go to high schools to recruit, go do home visits, get some good meals, and then you'd come back, and you'd start bowl prep. It was a celebration almost that you were going to a bowl. Now, it's so much more than that with the early signing day and the portal. If you lose a coach, you're replacing coaches. It's a lot and NIL has added more to that. So. I wouldn't say it's a month you don't like because there's good things about it, but it's very, very hectic. No breaks. For me, it's the busiest month of the year.
On if there have been any discussions on alleviating the busyness of December...
I think the committee is looking at the calendar and trying to figure out what's the best steps now that we have all these new pieces. It has a lot of decisions to make, and coaches have weighed in and given different things for them to consider. I guess we will get feedback when we get another meeting, but I haven't heard back from them.
On NIL's impact on retaining recruits and bringing in players from the transfer portal…
Yeah, I think so. I think it's pretty unregulated and that it has a lot of rules that don't get enforced. If you're at a school like ours where we're going to do things the right way, and you're competing against teams that may not, it's going to be difficult when there's no enforcement out there. It's a major concern [but] not because we're not going to be in the NIL space. Our boosters are actively trying to help us. The collectives are doing what they're able to do and helping our players. So that part of it's good at NC State. As you know, there are other conferences where there's a lot more money involved. Is it always being done the right way? I'd probably say no.
Never miss the latest news from Inside Pack Sports!
Join our free email list