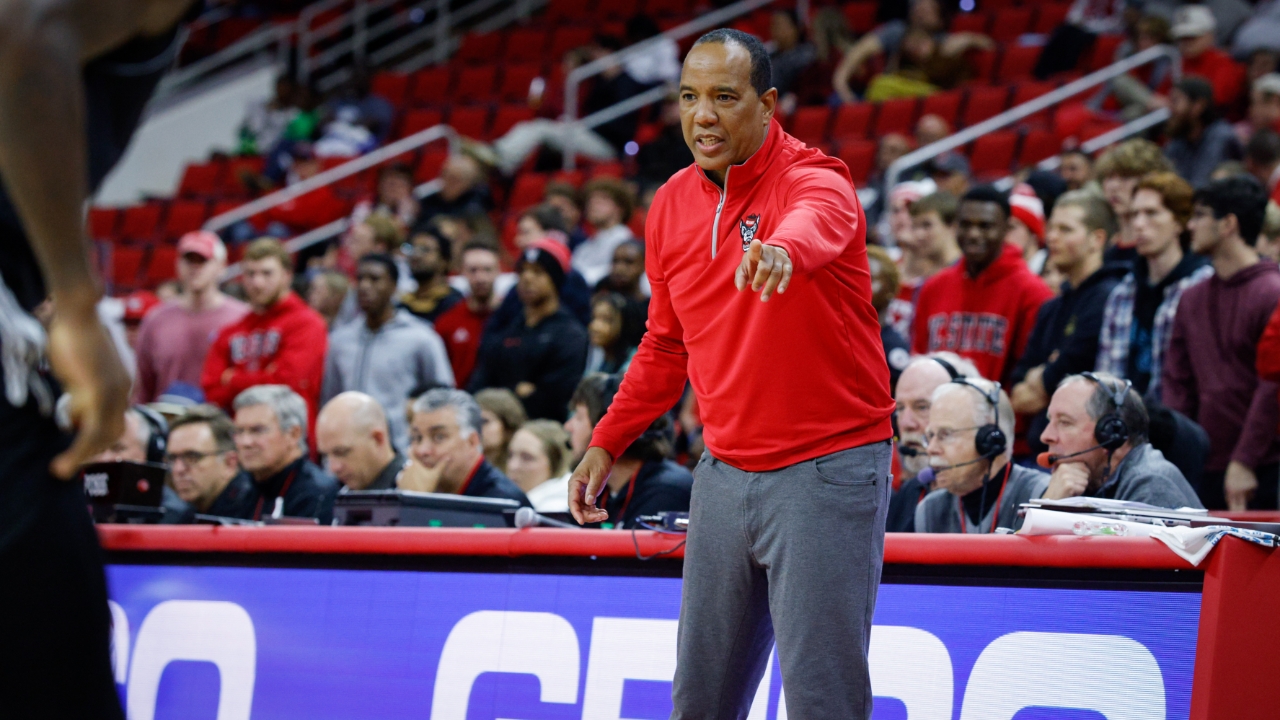 Photo by Steve Murphy/Inside Pack Sports
NC State Basketball
Kevin Keatts: "We Found a Way to Win on Both Ends of the Floor"
---
NC State head coach Kevin Keatts met with the media following the Wolfpack's 107-74 win over Florida International Tuesday evening.
NOTE: Click on the video in the player above to watch Keatts' press conference.
---
Opening Statement
First of all, my thoughts and prayers go out to the UVa family and their community. It's tough. As far as the game goes, I thought we did a tremendous job and played hard. Everything didn't go well. We didn't make every shot even though, sometimes, it felt like we had stretches where we didn't miss, but I think everybody's effort went so hard, and we talk about sometimes the hardest playing team positions themselves to win. I thought we had some guys that did a great job. I thought Jarkel Joiner was fabulous. He did a great job of scoring the ball, and when we needed him, he got really hot. I was so proud of Casey Morsell. You know, he really shot the ball, he ran the floor, he did some good stuff, and he drove the ball. He had a mixed bag in this game. I thought he did well. Ernest Ross played well. L.J. Thomas did a great job. Breon [Pass] came on and played well. It was a good team win. We found a way to win on both ends of the floor tonight. This was very similar, in my opinion, to the way we played the Austin Peay game.
On Terquavion Smith not having the best game...
When you're a good player, and you don't have a good shooting night, you somehow have to figure out how to affect the game. You know, he still had six assists and six steals, but it was good just to see some other guys step up when he didn't have to go for 25 to 30 points a game. I thought that everybody chipped in. I don't worry about him. He's going to be fine, but he still did a great job in affecting the game. I didn't know he had six steals which may be the most steals that any player has had since I've been here for me. You know you're good when you don't have a big night, and people ask if you're ok. He's fine. He just didn't shoot well. I wish he could have 30 every game, but he just didn't tonight. He had 15 though.
On Morsell and the potential of the offense...
He didn't settle. I thought this game was effective because earlier in the game he drove the ball. When you look back at his first couple of games, they were all three pointers he never really drove the ball. He had a couple backdoor cuts and we get enough shots. I think tonight we got 79 shots or 76 shots up. You know, when you mix your game up and you can put the ball on the deck a little bit more, it helps you.
On how big of a difference maker Joiner is...
He's huge. It's great to have a veteran point guard, and you know he's a tremendous personality. He's great in the locker room. He's a good basketball player, and he's good for our team because you know he's a team first guy, and he's kinda trying to figure out, "Alright, do I get everybody involved, or when is it time to score?" I think he's doing a good job with it.
On Thomas' performance...
He's getting better. You know, he's going to be in the mix of coming in and being able to play. I like him and Breon both coming in as guards off the bench and both giving us a lift on both ends of the floor. I'm proud of L.J. He didn't play last game, but you wouldn't have known that. He didn't hang his head. He went back to work the last couple days. He earned the minutes he played, great in practice and I was going to play him tonight and he did a great job with it."
On Greg Gantt getting in and how he did...
I thought he was fine. He's rusty, but he's playing. He's a tremendous kid, and I think sometimes he gets blamed, or it's a lot of jokes about Greg Gantt. If Greg Gantt could be out there every game, he would be. He's been beat up, so it hasn't been fair with some of the things said about him. That being said, I'm excited he came in and did what he did, and he'll get better. He'll get more healthy. He's still not 100 percent, but he's gonna give you what he's got.
On playing at a fast pace...
It was good. I told our radio guys I thought the score was going to be 120-110, and the way it started off, it was really slow. It was a lot of fouls, and I was like, "Man, I lied to everybody." Then, we got going. We started making threes and kind of blew things open. We like to play things fast, and I thought we did a good job getting out in transition. We forced a lot of turnovers, we got a lot of steals, and that's the way we want play.
Never miss the latest news from Inside Pack Sports!
Join our free email list