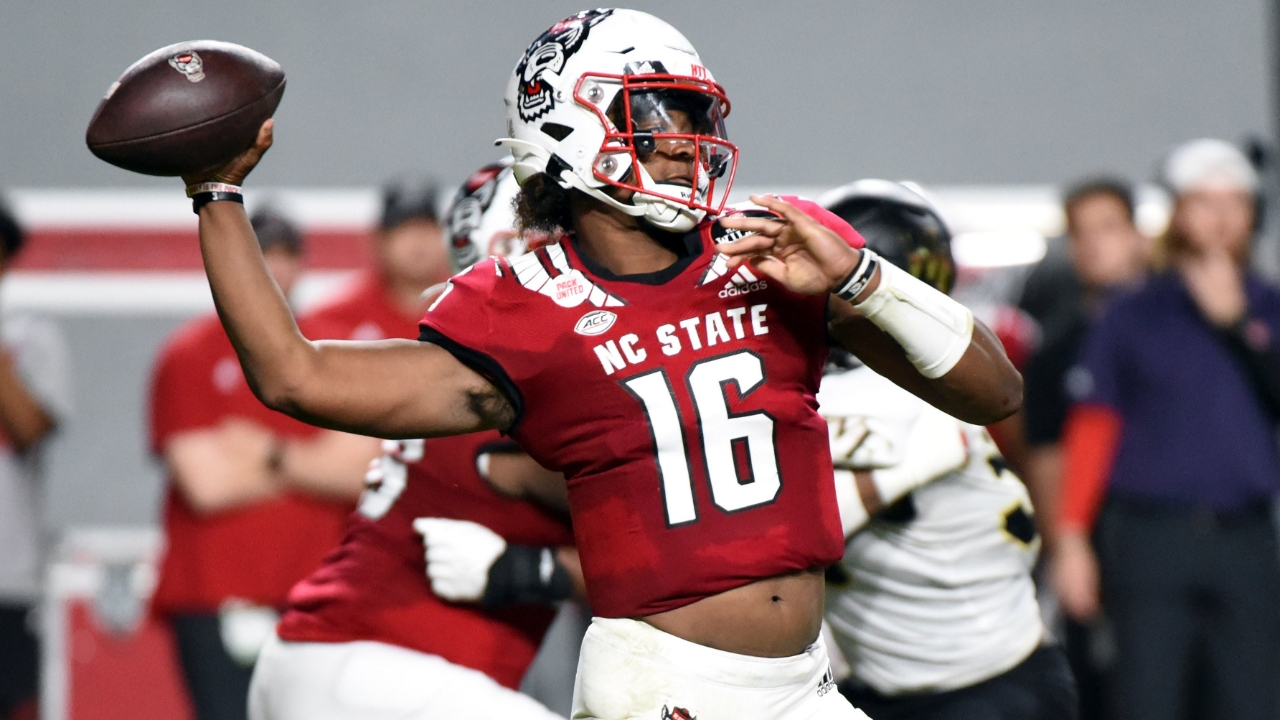 Payton Wilson
M.J. Morris
NC State Football
LOCKER ROOM REPORT: Wolfpack Players
---
No. 16 NC State linebacker Payton Wilson and quarterback M.J. Morris met with the media following the Wolfpack's 21-20 loss to Boston College Saturday evening.
Wilson recorded six tackles, including three tackles for a loss and half a sack, and hauled in one interception against the Eagles. Morris completed 12 of his 24 passes for 135 yards, one touchdown, and one interception while also rushing for 22 yards and another touchdown on 13 carries.
NOTE: Click on each player's respective thumbnail to watch each interview.
---
Payton Wilson

On the disappointment of losing on Senior Night...
It's pretty disappointing. It's pretty tough. I think that a lot of us were really excited to leave Carter-Finley with a win, you know? It's just tough that we couldn't get it done. I hurt for everyone, but at the end of the day, we've still got two more games to go out and give it our all in.
On what kind of things he can say to the younger players after this loss...
I think it's just a big deal for the young guys to understand that college football is hard. It's hard to win whether you're playing the best team in the nation or a team that's not supposed to be one of the best. Everyone has talent. Everyone makes plays, and if you don't show up, you'll go out there and get your tail whooped like we just did.
On Drake Thomas' last-minute play and the pass interference penalty...
Personally, it's a bad call. It's a tight game. Drake is just going for the ball, and they end up hitting. I told Drake in the locker room, "Don't think twice about it. It's a bad call, and you made a hell of a play. The ref just decided to do what he did." That next play where they scored, it's tough. We all worked really hard to get to where we're at, and to not be able to walk out of Carter-Finley with a win is disheartening.
M.J. Morris

On what Boston College's defense did in the second half to disrupt the Wolfpack offense...
They were just disciplined. They were just playing hard. We didn't play to our full ability. We slowed down a lot. In the first half, we were playing really fast, and we just slowed down a little bit. They got some momentum and ran away with it. That's really it on that.
On what he said to his teammates after the game...
I just told them that I love every single one of them. All of those seniors, this was their last time playing here. I know they're feeling awful about it. I feel awful, too. I know I have four more years until I have that moment where it's my last time. I don't know what they're feeling right now, but I know they do feel bad. I just told them to keep their heads up. We've still got two more games to go out in the right mindset. We've just got to keep on going.
On how fragile this game is, based on this game and last week's game versus Wake Forest...
Every game is not going to be a W. It's just not realistic. Every team is not perfect. We're going to have those losses. It's about how we respond in the next game. We've just got to go out swinging. Every play, we've got to have that mindset that we're the best team on the field. I am disappointed, but like I said, just trust in the Lord and know that every single thing is not going to go our way every time. We've got to respond from it.
On if he got frustrated and rushed some things...
I wasn't playing my best game. I feel like I did play hard. I feel like I did play with a lot of heart. There were some mistakes that I made that I wish I wouldn't have made. Like I said, everybody's not perfect. Everybody is going to make those mistakes, it's just how you go from now on.
On if there's an immediate takeaway he can take from this loss...
I've had a loss before. It's like I said; it's how you respond for the next one. We're just going to watch the film tomorrow. We're going to learn from it. We're going to fix those mistakes that we made, and we're going to get better. As long as we learn from it, then it's a win. I've just got to keep staying humble, keeping my head down, and keep working. I've still got four more years to show everybody who I am. I am disappointed, but I'm going to keep my head down and keep working.
On what losing Grant Gibson meant...
It did mean a lot. He's a big piece of our offense, but we're always ready to have the next man up. I feel like Dylan [McMahon] played a great game. All of his snaps were perfect. He blocked his tail off. That's all we can do. We can't look back when one man goes down. We can't put our head down. We've got to go with the next man, whoever is there, and just keep fighting. I feel like we did that. We did a good job of that.
Never miss the latest news from Inside Pack Sports!
Join our free email list