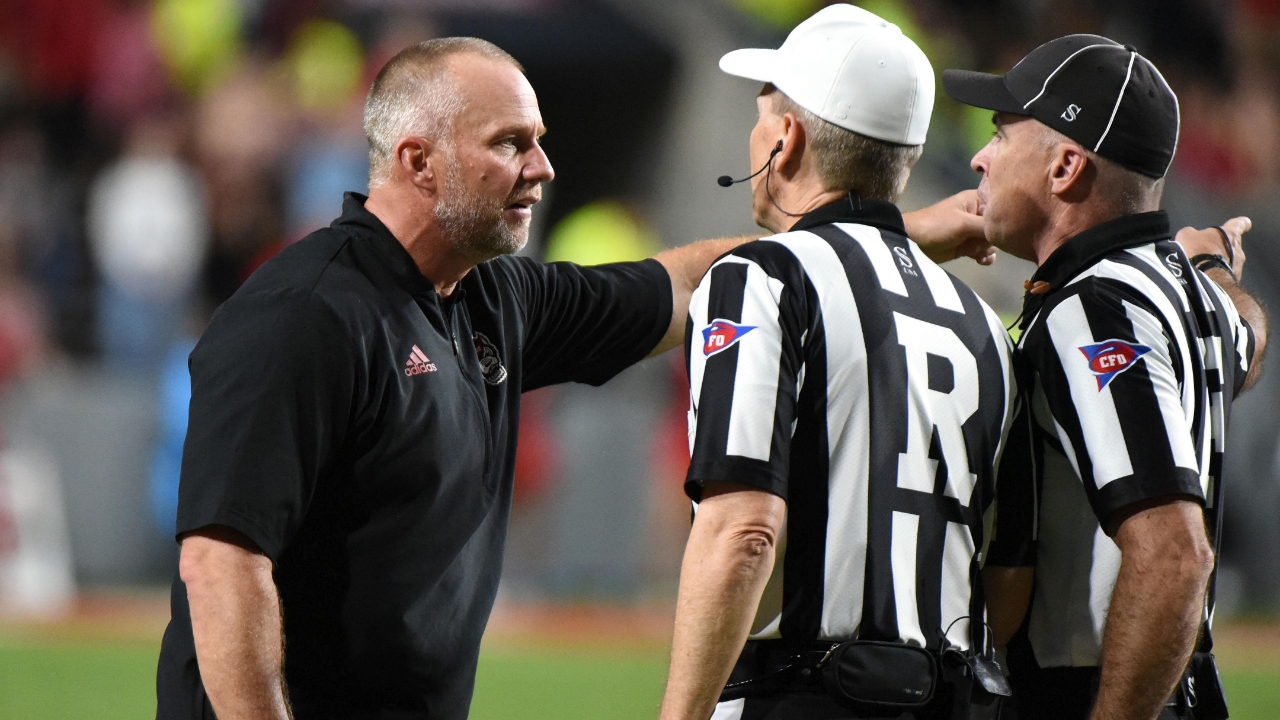 Photo by Rob Kinnan-USA TODAY Sports
NC State Football
Dave Doeren: "We Didn't Play Well Enough to Win. We Didn't Coach Well Enough to Win."
---
No. 16 NC State head coach Dave Doeren met with the media via Zoom following the Wolfpack's 21-20 loss to Boston College Saturday evening.
NOTE: Click on the video in the player above to watch Doeren's press conference.
---
Opening Statement
I don't know really what to say. I'm pretty down for these kids. Obviously, we didn't play well enough to win. We didn't coach well enough to win, and I'll always put that on me. Turning the ball over three times in the second half changed the game in their favor. I hate it for these seniors. It's a great group of young men, and we didn't get it done. Give Boston College some credit, but at the same time, we had plays there. We got stuffed on fourth-and-one on the goal line in the first half. I thought Drake [Thomas] made a fantastic play. I'm disappointed a flag was thrown on a play like that. I thought it was a bang-bang play to win the game, and I don't know how you throw that flag. It was a really disappointing call by that official. There were other plays in the game that we could have made so it wouldn't have come down to that, but we didn't. There were other calls we could have made. It's going to be a tough night. We'll get back together tomorrow, regroup, and work hard to finish.
On the offense losing rhythm in the second half…
Looking at the stats, we were two of 12 on third down, so I think that was the biggest thing. They were doing a good job in coverage. We had a hard time getting open. We tried to get open a couple of times down the field, and we gave up some sacks. Their defensive end, [Donovan Ezeiruaku], beat us multiple times, and we just didn't get the job done. It was a combination of a lot of things. If you turn the ball over three times and can't convert on third down, it's hard to find a rhythm. We were in negative yardage situations several times in the second half. We did a poor job after those first two scores.
On losing Grant Gibson…
It hurts. Grant's played more football on this team than any player on our roster. He's a leader. He's a three-time captain. It hurt not having him in the middle. It forced Dylan [McMahon] to move inside. Obviously, that's a key loss in the game. I don't yet [have an update on him].
On what encouragement he can offer M.J. Morris…
I told him he's going to learn a lot from this film. He's going to learn a ton watching it tomorrow, and he'll grow from it. He'll be better as he moves forward. Those kind of mistakes are going to happen with a young quarterback. There were a lot of them, not just on him. It wasn't just things that he did. There were things that could have been done to help him more, and that's the thing we did really well in the last two games. We helped him. We protected for him. We got open. We made plays. It just didn't happen tonight. He'll definitely learn from that experience, grow from it, and be better because of it.
On the senior class…
They're incredible people. I love every one of them. I'm thankful they've been in my life, and I'm blessed to be their coach. I hate we didn't get that win for them tonight. They've done a ton for NC State, for this program. They're going to have very successful lives because of the people that they are, not just as players. They're incredible people.
On Emmett Morehead's performance…
We had to prepare for [Morehead and Phil Jurkovec], and obviously their quarterback made some key plays with his legs and his arm, and he gave his guys the chance to make plays. Obviously, Zay Flowers was a difference maker. He had 130 yards and two touchdowns. We knew he was special. Their quarterback gave them a chance to win. He did turn the ball over a couple of times, but we didn't get enough points out of the turnovers we created.
Never miss the latest news from Inside Pack Sports!
Join our free email list