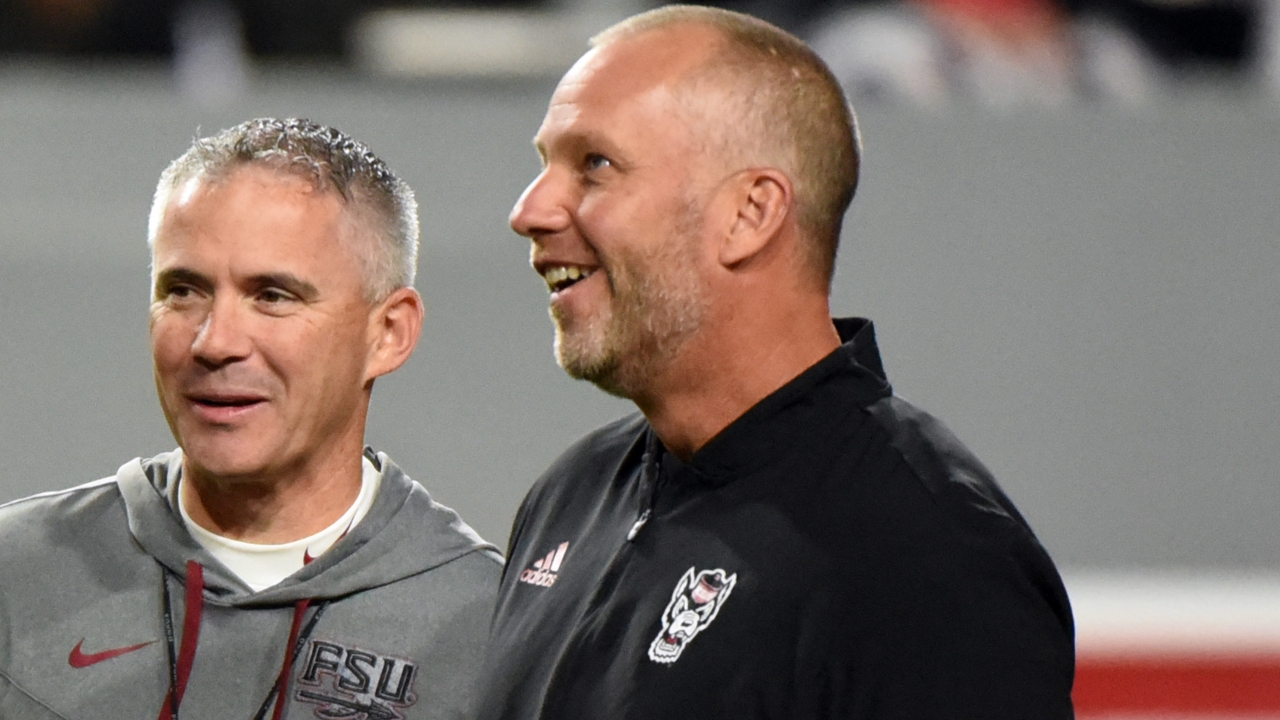 Photo by Rob Kinnan-USA TODAY Sports
NC State Football
Dave Doeren: "It Showed a Lot of Resiliency, Toughness, and Grit"
---
No. 22 NC State head coach Dave Doeren met with the media following the Wolfpack's 30-21 win over No. 21 Wake Forest Saturday evening.
NOTE: Click on the video in the player above to watch Doeren's press conference.
---
Opening Statement
That was an awesome win. I want to start out giving God the glory, first of all, and the way these kids fought, the way they practiced, the way the defense kept us in the game, and how M.J. [Morris] got his jitters out, came flying in there in the second quarter, and sparked us again, it was fun, man. That was fun to watch. That was a team win. I thought our fans were fantastic tonight. The electricity that you brought, the cheering, and the noise made a difference tonight, so thank you for that. That was special. That's what we need every week. When you bring the encouragement and crowd noise, you're helping our team win. Continue to do that because this team just tied the school record for consecutive home wins, and next week against Boston College, we'll have the chance to have the longest streak in school history. I want this team to have it, and I want you to witness them doing it and help us along the way. We had three interceptions on defense and constantly pressured [Sam] Hartman throughout the game. There were key stops in the game. The goal-line stand was huge, and they missed the field goal during that segment. Caden Noonkester, a walk-on punter, comes in for Shane [McDonough]. Shane's thigh was bruised, and [Noonkester] delivered in his first college game punting. He did a tremendous job. Chris Dunn was automatic again and gave us that two-possession lead. Keyon Lesane had some great catches out there tonight. Devin Carter had a big-time contact catch. It was just a team win, and that's what it takes to beat a good team. Wake Forest is a good football team, a well-coached team with good players. That was a really good win for our program tonight.
On winning the last two games after a potentially demoralizing loss versus Syracuse…
Obviously, we had high expectations, and when we lost Devin Leary and had to go to Syracuse — for those of you who were there, you know where I'm coming from — we walked into a fire storm there. We hadn't had a bye. We were beat up. It was the loudest environment we'd played in this year with a new quarterback. We had a lot of false start problems. You saw that today with Tennessee at Georgia. [Syracuse was] healthy. They played Wagner, had a bye week, then played us. That was a very difficult setup going into that game. As far as being 'left for dead,' I don't know what you really mean by that. There's a lot of football left in the season, and these kids are going to keep playing. We're not going to quit. If people want to quit watching us, that's up to them, but these guys just keep playing. They've got guts, they've got heart, and I'm proud to be their coach. It's fun to watch.
On Morris stepping up…
I couldn't ask any more from a true freshman quarterback. He just beat Sam Hartman. I don't know how old Sam is, but Sam's a great player for Wake. He's been playing a long time. For a true freshman to lead a team over their quarterback, those were two good quarterbacks on the field. He's done it in practice. He's done it in games. He's got the players playing hard for him. They believe in him. He's taking care of the football. With the exception of one delay of game, I thought he managed the clock. He got us in and out of some plays. He's way ahead of where we thought he'd be at this point in his career. I'm super proud of him.
On Michael Allen and Terrell Timmons' impact as true freshmen…
They've got fresh legs, and they're fast guys, so they give you a change of pace. Michael Allen's been impressive. Terrell didn't have the catches, but he blew the top off the coverage twice and scared the corners. He got a P.I. call out of one of them. It helps when you can loosen people up that way. To answer the question, there's three pretty good true freshmen out there playing on offense right now. That's pretty exciting for the future.
On the development of the receiver corps…
I think it's just sticking with them. When you make mistakes here in our program, we talk about them whether it's framing the catch, seeing the ball touch your fingers, tucking it quicker, timing the jump better, eye-tracking, or maybe ball placement by the quarterback. We just keep working on it. Sometimes, it's a confidence thing. Guys sometimes will body catch instead of what I call 'Dennis Rodman catching' where they go up and snatch the ball like they would on a rebound. Some will challenge the guys to do that, to have the confidence to go up and snatch the football out of the air. You're starting to see that. I think Keyon is playing with tremendous confidence right now. He had a great week in practice. I'm happy for Darryl [Jones] because he had a chance last week to make a play in the end zone and didn't, and it was good to see him respond with two catches in the end zone today.
On the advantage Carter-Finley Stadium and the Wolfpack fans give the team…
When the Carter's full and rocking like it was tonight, it's hard. We have really tight sidelines, so the fans are right on top of the bench. The student section is right over there in their ear and yelling at them. Our parents are right behind them, yelling at them, I hope. It's a great environment when it's full. As far as the players, I think they enjoy playing at home. It's a great field. Everyone has their affinity for their routine at home. It's a big deal. I think we're fifth or sixth in the country, and I'd like to keep it going for a long time.
On having someone like Dunn who can relied upon to put points on the board…
I've lived the other side of this thing, so for me, it's an incredible luxury to have Chris Dunn. I'm so happy for him. He's been through a lot. To have the year he's having, that's why he came back for this extra season: to be the best kicker in college football. That's what he is right now. Nobody has one better than we do right now. He's really performing at a high level on short kicks, long kicks, the flight, the timing, operation time, the whole thing. I'm super proud of him and happy for him right now.
On holding Wake Forest to 17 rushing yards for the game and scoreless on a drive that reached the one-yard line…
The front deserves credit for, one, knocking them back and getting off blocks and, second, the tackling. We tackled really well tonight in the box, and their backs had nowhere to go. When they had a little daylight, guys closed those gaps up, got off blocks, and finished the tackles. When they got down to the one and we knocked them back, knocked them back, knocked them back again, and they missed the field goal, that was a huge moment in the game. It showed a lot of resiliency, toughness, and grit. That's what we're made of. It was great for them to do that defensively. It's an area in the field we haven't been as good. We've done a lot of good things on defense this year. Red-zone defense was an area we wanted to improve, and we did that tonight.
Never miss the latest news from Inside Pack Sports!
Join our free email list