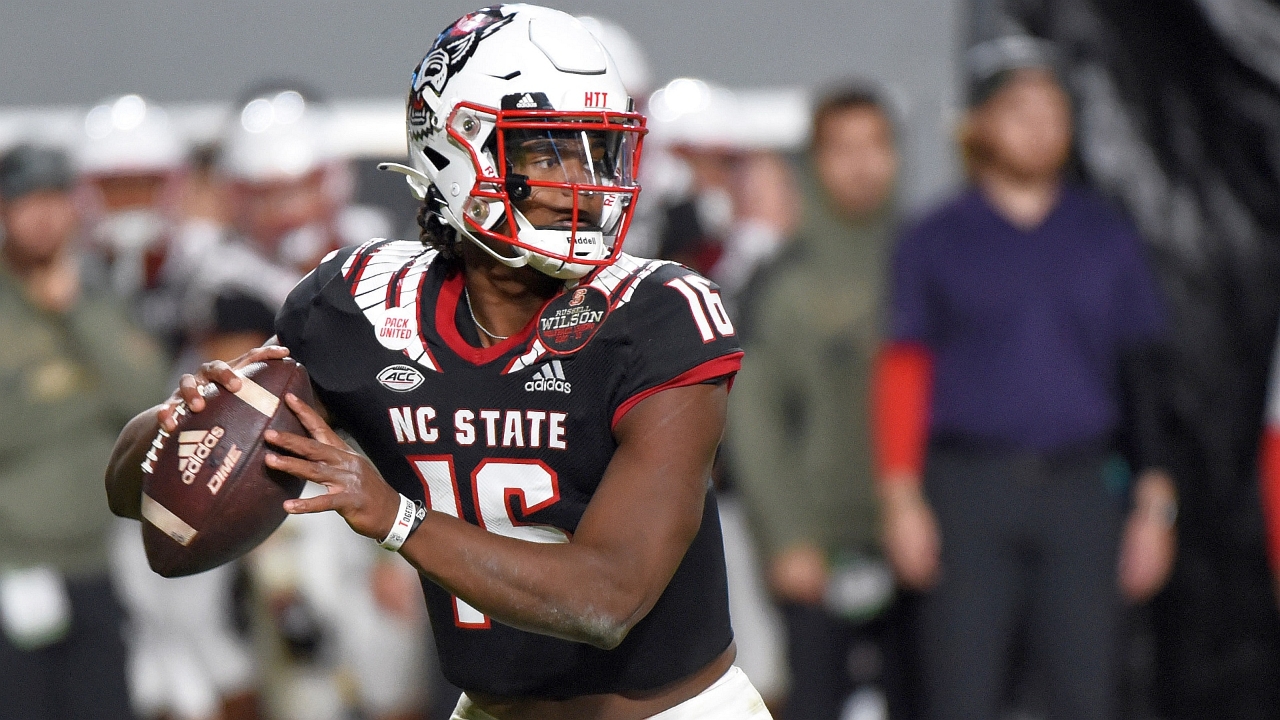 Photo by Rob Kinnan-USA TODAY Sports
NC State Football
NC State QB MJ Morris: "We Play A Lot Faster"
---
NC State quarterback MJ Morris met with the media to discuss the upcoming matchup against Wake Forest.
NOTE: Click the video above to watch the interview.
---
So how's life changed? You go from being somewhat anonymous in some ways, to being the guy all of a sudden, almost like overnight. How's life changed? Just campus, practice, everything.
It has changed a little bit. Of course, I'm getting a lot more notice now. A few more people know me around campus, but I'm trying to not let it get to my head. My parents always taught me to be humble, stay level-headed the whole time, so I can just be the best I can on the field.
I'm not worrying about none of the fame, none of the notice. I'm just going out there and doing my job for the team so that we can execute on our best level.
How much did it help you... You've had practice reps, but now you have practice reps after game reps, you know what I mean? You've seen things in a game and now you're building off that. How much has it helped that game experience now, as you prepare this week?
it does help a lot. I would say it really helps me be more of a vocal leader. That's really one thing I've been trying to do is be more vocal to the team, my energy level be way through the roof. So it just makes the team practice a lot faster. We play a lot faster. I feel like playing the game, it helps me really see the defense better. I see the field better. I know what it's like to be in the game down against a real football team, instead of just scout team reps. So it did help a lot.
You had a former college coach as a high school coach.
Yes sir.
How much did that speed up your development? Anything you see that translated?
That really did help a lot. Coach King, me and him, we became like that. I know he put Trevor Lawrence in the NFL, so I was just trying to pick his brain every day I went in there. I would get in there at 6:00 AM, we'd watch film for about two hours. So when I came here, his offense wasn't too much different from the one in high school. So I was able to process it quickly and then come up here with Coach Beck, Devin helping me, teaching me, learning something new every day. It just helped me a lot better so I wasn't just totally, totally confused when I got up here.
What was it like realizing you didn't know the exact protocol of the victory formation, the way to knee and just the whole process?
Yeah, I was just so excited that we was up and I knew that we just had to do that victory formation. A couple things I forgot, but we just go to sideline and went over it. I knew what it was, but I was on the sideline and went over it, so we make sure everything went right.
Can you just see the metaphor there of literally learning how to win? I mean, Do you feel like you've learned how to win a college game and how does that feel?
I would say I've learned a little bit. It's still only one game. It was just one game. My first college, really first college experience. But I'm going to get a lot more experiences, keep on learning how to win those games, learning how to do the best for my team, how to keep on doing my job to be the best quarterback I can be for my brothers.
Speaking of Devin, how big has he been during this whole transition process?
Man, Devin, I see him as a big brother that I never had. Ever since I came up here, first day I came up here, I was like, "Yo, can we go in the indoor and throw?" And just asking him what's Cover 2? How do you see these defenses? Because I was trying to be as mentally smart as he was, so I can be as good a quarterback he is one day. So just being around him and he's helped me so much, it's not even funny.
The fan perspective or media perspective, you see Wake Forest they think this might be a shootout, who knows if that's the case. But how do you control that part of your mind to not maybe take unnecessary risks or try to get into a shootout, if it doesn't even need to be one? How do you kind of approach that kind of mindset?
I kind of approach that just taking every play 1-0, that's what we were taught to do. Each play, do the best you can to the best of your ability, and the rest will take care of from there. But I'm not really getting in too much of that. As long as I can do my job, get the ball to the receiver, read the right read, I know that we're going to be very successful.
I know when you are a recruited, talking you might even try to play baseball.
Yeah.
That's still your plan to try to play baseball today?
That is still a dream of mine to play both. My dad really wants me to play both and I really love baseball myself. Me and him have a strong passion for baseball. So if I get the opportunity, I am going to try it. Yeah. That's the plan, as of today.
What were you shortstop? Centerfield?
Centerfield.
You hear a lot about the baseball stuff, Patrick Mahomes, Russell Wilson, Kyler? I mean, does it help you throw with your arm angles and those different things?
I would say it actually does a little, because when I was younger I did play infield, so you got to get a little bit of the arm angle. So that did help a lot. When you got a screen pass, just flip it out, side arm it. It did help a lot.
Were you always number 16? Or what did it kind of mean to you when you got number 16?
Yeah, I was never number 16 in high school. My freshman, and sophomore year, and junior year, I was number six. And then my senior year I was number seven. So when I came up here, it was my first time being a double-digit number, but I didn't know, I thought it was just a random number.
Then I looked up on a stadium and it said, 16 Russell Wilson. I was like, "Oh, snap." Then I saw the patch said Russell Wilson. So it's really a honor to wear that jersey, and now I just try to do it best I can in that jersey. But I do like the number a lot now.
Never miss the latest news from Inside Pack Sports!
Join our free email list