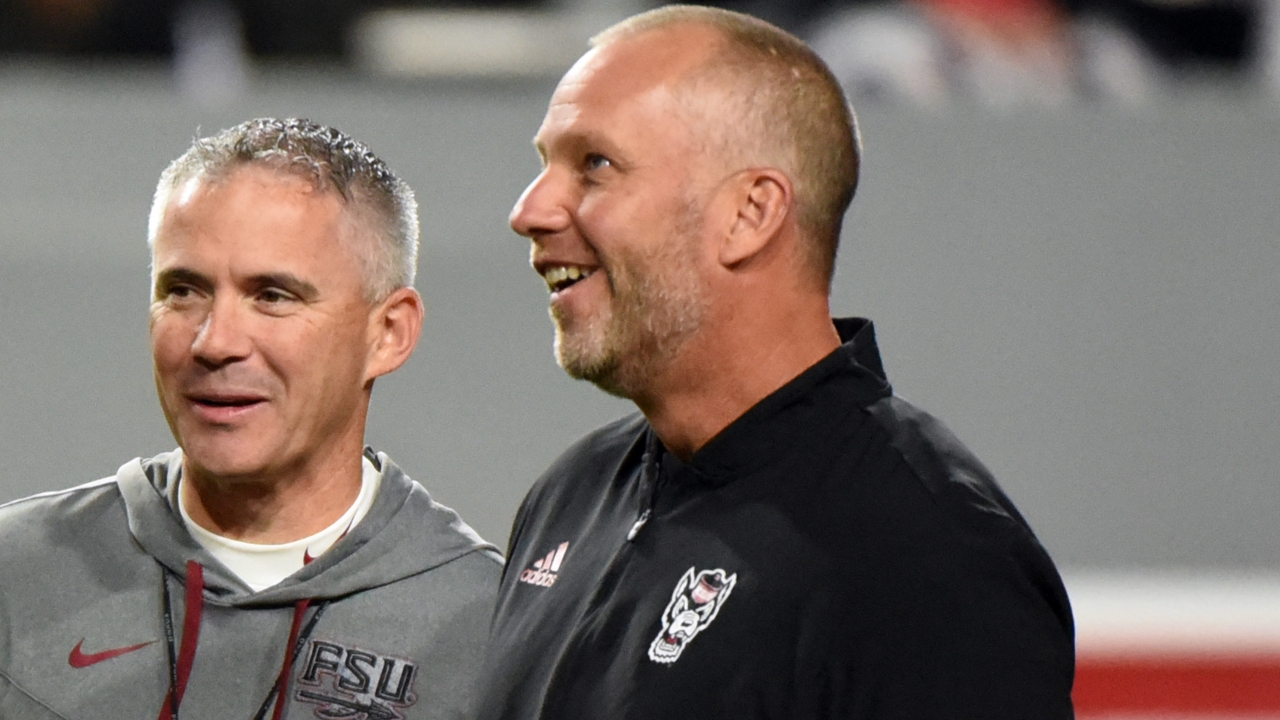 Photo by Rob Kinnan-USA TODAY Sports
NC State Football
Dave Doeren: "We Won't Give Up. Period."
---
No. 24 NC State head coach Dave Doeren met with the media following the Wolfpack's 22-21 win over Virginia Tech Thursday evening.
NOTE: Click on the video in the player above to watch Doeren's press conference.
---
Opening Statement
What a great comeback win. I can't say enough about the grit and determination of our guys and staff. To be down 21-3, it's a pretty incredible victory. The way M.J. [Morris] sparked us, brought us back, and made plays, and guys making plays around him, it's pretty impressive for a true freshman to do that. It was a great night. I thought the military appreciation piece was special. Our game operations folks definitely deserve a shoutout for that. For our fans that stayed for four quarters, thank you for not giving up. When a team gets down like this, they need everyone they can get behind them. I thought our guys had grit and a lot of toughness. Thayer Thomas had huge plays. Trent Pennix, coming back, made some huge plays. The defense had first-half and fourth-quarter shutouts. You've got to give Virginia Tech's quarterback some credit; [Grant Wells] made some nice throws in that third quarter, and some guys made some nice plays. We just kept playing. That's one thing about NC State going back to Jimmy V: "Never quit." I think that is something our team and university has embraced, so Chancellor Woodson: light it red, man. Light it red. That was a pretty special win tonight. I promise, for the future with that quarterback, it's pretty exciting to see what he's done on really only a week and a half of reps. We have a big one coming up. I'm going enjoy the Friday and Saturday without football for me, and I'm going to enjoy this one tonight.
On the momentum in the third quarter...
We gave up some big plays at corner and had a couple penalties that hurt us that gave them momentum. We were able to get back on the rails, but they completely won the third quarter, but we won the fourth. It was a heck of a football game.
On the importance of establishing the run on the final drive after success through the air in the drives prior...
I was proud of the O-line, tight ends, runnings backs, the way Jordan Houston ran, and M.J. That was big, not giving them another opportunity. That third-and-three by Jordan, I thought, was an excellent run. He just grinded it out and did what was necessary to win. I thought Coach [Tim] Beck really called some key playcalls there in the fourth quarter. The tight end pop pass that we ran off the quarterback run to Pennix that was uncovered — we got them confused — was a really nice play call timing-wise. The screen out of empty trips formation, we got them in Cover 0, and as soon as I saw them lined up that way, I was like, "Throw it to Thayer," and he did the rest. Coach [Tony] Gibson was really aggressive in the fourth quarter. We moved Tyler Baker-Williams out to corner, so there was some really good adjustments made by our staff in the second half, and they deserve a lot of credit for that.
On what gave him confidence to put Morris behind center from the start of the second half through the rest of the game...
He was moving us better. He was 5-of-6 passing, and I thought Jack [Chambers] missed some throws. I just felt like he was more accurate. They both ran the ball fine, but we need to be able to throw the football if a team is going to pack the box like that. They were playing Cover 3, and they had a true freshman corner out there, and we had to be able to throw to win, and he was more accurate. That's what kind of led to that. Both of them practiced well, so it was really more just a feel in the game.
On Payton Wilson's performance...
I thought Coach Gibson called a couple of timely blitzes. Payton finished two plays and got two sacks. It was awesome seeing him play like that. I was excited for him to make those plays. He was super happy in the locker room, having an ear-to-ear smile. I love that kid. He played his butt off tonight.
On if there are any common denominators between this win and the win versus Florida State...
I think it says a lot about the heart of this team, the chemistry of this team, and the love of this team. Florida State, it was Jack that brought us back, and this one, it was M.J. The kids just don't quit here. We've built a culture here of persistence, perseverance, and love, and it shows. That was a tough moment; we were down 21-3, and I'm running up and down the sidelines, hitting guys, saying, "Don't quit. We're gonna find a way to win this football game. Just keep playing, You're the magic in this thing." They started doing their jobs. There was a lot of time left in the game still. I looked up when we were down 21-3, and I think there was eight minutes left in the third quarter, so there was lots of time to come back and win that game. I knew our defense could hold them. It's hard to put in conversation to understand what these guys feel for each other. There's not many teams that can do what we just did. There's not. It takes a special group of guys and leadership to do that.
On if there was any discussion about rallying back from 18 points down that was similar to what was discussed during the bye week...
We won't give up, period. That's never going to happen as long as I'm the head coach at NC State. We're never going to quit, man. As far as readjusting goals, the focus was on winning this next game, getting bowl eligible, and keeping our home winning streak alive. This team can still win 10 games. All of those things were discussed. More of it was just, "How do we win this football game? What do we have to do with our quarterback injured to give ourselves a chance to win? How can we get better." Some of it was really good. Some of it was really bad. We found a way to make a few more plays than them.
On the third-quarter momentum swinging back toward the Pack...
I'm going have to watch the game. Right now, it's kind of surreal. I think it was our first touchdown we scored late in the third quarter. That's where i felt like the sideline, all of a sudden, believed. I think he threw a touchdown to Thayer on a slot fade, so we finally completed a downfield pass, more than 20 yards down the field. I think that was kind of like, "Hey, we can do this." We'd been dinking and dunking with throws, but once that happened, you could just feel it. Sometimes, all it takes is proof.
What have you seen out of Terrell Timmons in practice and tonight especially?
He's a very gifted ball catcher. He can go up, track the football, and elevate. He's got really good speed, and he's just coming on. Our defense has been raving about him on scout team. I felt like we needed another playmaker on offense that could stretch the field. Anthony Smith is out, so we're looking for another vertical threat in the pass game. You saw a glimpse. This guy is really special, and once he learns the offense, he's got a huge upside.
Never miss the latest news from Inside Pack Sports!
Join our free email list