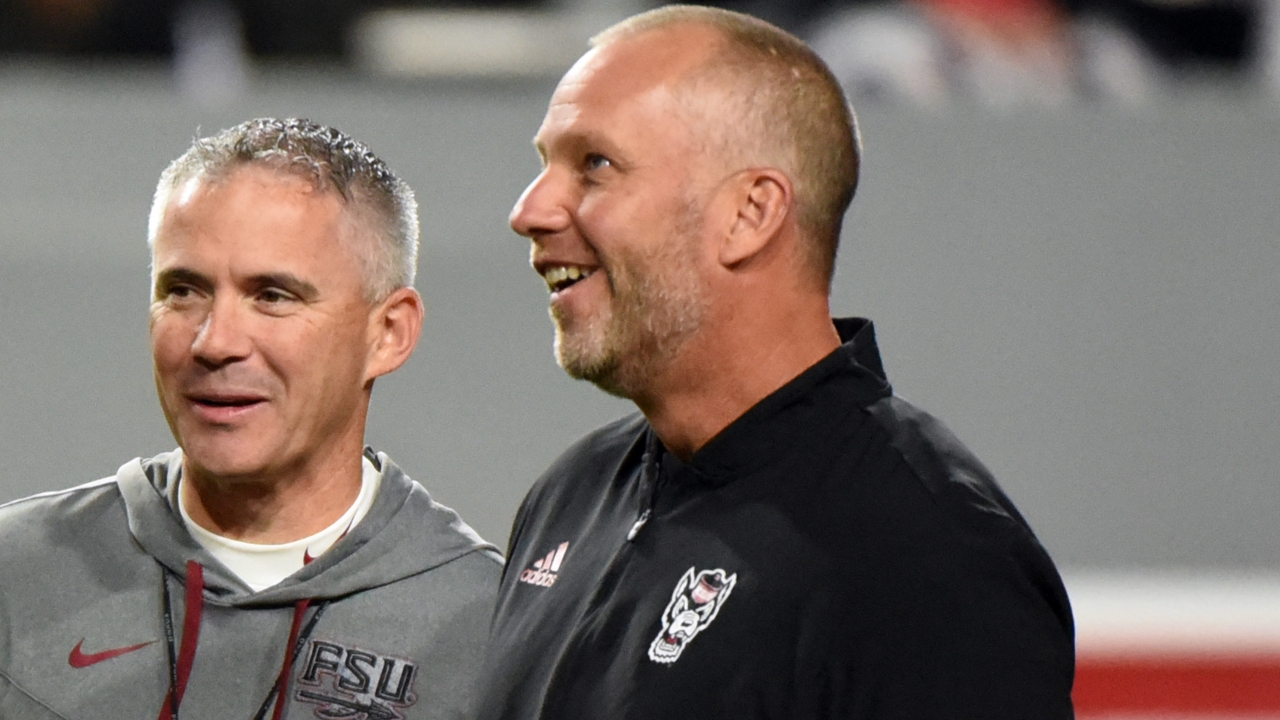 Photo by Rob Kinnan-USA TODAY Sports
NC State Football
Dave Doeren: "You Have to Reassess Each Week"
---
No. 24 NC State head coach Dave Doeren met with the media ahead of the Wolfpack's upcoming matchup versus Virginia Tech.
NOTE: Click on the video in the player above to watch Doeren's press conference.
---
"Much better than we were in the second half of the last game. They're practicing. Guys were running around. I thought we had really good energy. Even though it's Monday, it's game week Wednesday to us just because we're playing on a Thursday. Sunday was our Tuesday. Guys came back and had really good energy, enthusiastic about playing. It was a good week for our guys to mend up, too. We had a lot of guys in the recovery aspect that came back feeling good."
"It was hard going into the Syracuse game. You can't change a lot in three days of practice, particularly when you're playing in a place where you can't audible and make checks because of the crowd noise that they had. It was nice to get home and have some time to study what we've done well and things that we can do differently like how to use the legs of your quarterback differently. You saw some of that in last week's game. That was just kind of the beginnings of what we can do. We're not going to turn into [a team that runs] the triple option, but we have a quarterback that can do some things and utilize that. We still want to feed our receivers, running backs, and tight ends. You'll see it grow as it goes, but we've got to be careful about doing too much and then not doing things right."
"It was hard, so [the bye week came] at a great time. That's the longest I've gone since I've been here without a bye. Physically, mentally, all of it, we were fatigued. Even if Devin [Leary] were playing, it'd be a good time to have a bye. Because you start at the end of July basically with your players, there's not a lot of time for them to reset, spend time with their families, and get out of town. I think it came at a great time for Coach [Tim] Beck and the offense to be able to tweak things and have a little bit more time to evaluate and study other people's film."
"Yeah, [the team's rallying around Jack Chambers] and M.J. [Morris]. I think Jack has a lot of poise. He's calm. He's competed in a lot of settings in his career. Nothing's too big for him that way. He doesn't get rattled, and I think that's good for the guys to see. They definitely cheer for both of those guys in practice. They all know they have to do their job. I think that's the biggest thing when you get in these close games, and they've been in a lot of them. You just do your job well and play well, and you usually come out on top. When you start trying to do someone else's job and yours, inevitably you get exposed, and it's happened a couple of times this year in one-possession games. At the same time, we've come back and had a comeback victory doing it the right way. There's a lot to learn from and reflect on over the week."
"I think you have to reassess each week of the season. What do you have left? How can you achieve the greatest things you can. For us, we're 5-2 with five games left. Three of those are home games. There's a lot to play for. We're just taking it one game, one week, one day at a time. We're focusing on that. If you spend your time on what we could have done, you're not going to get anything out of what's left. There's a lot of banter on the past and things like that for all teams involved, but for the team that's actually playing, sweating, and fighting, you can't worry about that. You have to worry about, 'How can I get better? How can I do better than I did the last time out? How can I make one more play or one less mistake? How can I be a better teammate? How can I handle my academic work?' You just have to, one day at a time, try to be the best you can be. That team usually looks really good when the scoreboard is completely filled out at the end of the game. That's what we're trying to do: move forward in a positive direction."
"[Virginia Tech is] a physical team. It's a really good third-down defense. They're No.1 in the league on third down. They're in their first year with their coach. You can see their schemes have advanced as the weeks have gone on. Their quarterback has a really good arm. He's mobile. It's a super experienced team. When you look on paper, you see a lot of sixth-, fifth-, and fourth-year players playing for them. We know they'll come down here excited to play us, and it's going to be a physical game. Playing Thursday night, you've got a lot of people watching you."
"There's several leaders like Bryson Speas and Grant Gibson offensively, but within the position groups, there's different guys rallying the troops. Devin Carter does a great job with the receivers. You can hear him and his energy. Thayer [Thomas] is behind the scenes, talking to guys: 'We've been through this before when [Leary] went down and Bailey [Hockman] came in and led us.' We've been through this with some of our older players, and they can lean on that. We didn't just hang up our cleats. We went to work and still won some games."
"Yeah, I just walked off the field with [Leary]. He's out there helping the guys, coaching, and taking it all in. He's sick of people asking him how he's doing. One day at a time, he's getting better. He's in a good head space. He's healing up. The surgery was successful."
"We had a tough stretch with those three in a row. We've played some good defenses this year. That was a good football game, watching those two guys play and those two teams fight. You've got to give Clemson a lot of credit for coming back. As far as who's better, they're different. They're both really good. They both do different things with different schemes. One's playing with four-down. The other's playing with three-down. It's hard for me to give you that, but they're both really good defenses."
"I don't think that's something I have to ask for. I think they know. They're cheering those guys on, but they know they can't give up scores. They have to keep it a one-possession game. Offensively, we've got to grow and find ways to get to the end zone. On special teams, we've been able in some games to score in the last two years. We have to play complementary football. Offensively, we're settling for field goals. Really, both sides of the ball, if we can improve our red zone performances on offense and defense, we'll have a better scoreboard in the coming games."
"The defense, in almost every category, is excelling. Where do we want to get better? Red zone defense. We're not giving up explosive plays for touchdowns. It's drives that get down there, and then you're fatigued. We've got to make the plays so we can be better down there holding people to field goals or less. We're taking the ball away at a high rate. Our interceptions are great. We're defending the run well. We're really good on third down. There's a lot of really positive things. Would we like to get more sacks? Yes, but we're getting a lot of throwaways, too. It's a little bit of a byproduct of missing some tackles in the backfield, but also offenses are doing a good job throwing the ball away and avoiding the sack."
Never miss the latest news from Inside Pack Sports!
Join our free email list